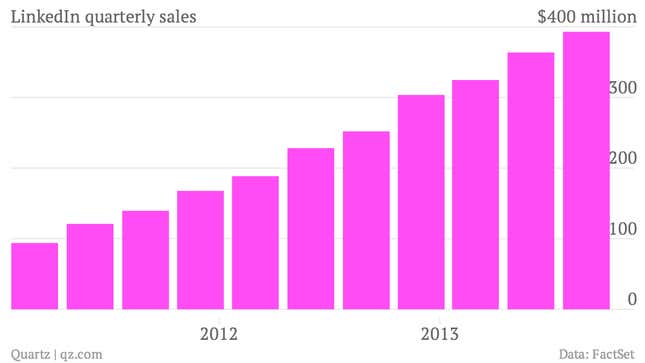 The numbers:  LinkedIn swung to a third quarter net loss of $3.4 million, from a profit of $2.3 million last year, as the corporate social network ramped up investment in its platforms. But revenue for the third quarter surged 56% to $393 million. Together with an upbeat forecast for the next quarter, this was enough to drive shares up by 1.7% in after hours trading.
The takeaway: Those pesky emails from LinkedIn asking you to upgrade from free to paid service may drive you mad, but they appear to be working. Revenue from premium subscriptions jumped 61% to $79.8 million. The talent solutions division, which is mainly specialist products for recruiters, still accounts for the bulk of the business, with revenue growing by 62% to $224.7 million. Marketing solutions—mainly advertising—was up 38% to $88.5 million.
What's interesting: During the quarter, LinkedIn membership climbed through the 259 million mark, an increase of 38% on last year. The gap with Twitter, which has 218 million monthly active users, has widened. But the corporate social network is still way behind Google Plus, with 540 million active monthly users, and Facebook, with a whopping 1.2 billion.