It's Golden Week in China—which means hundreds of millions of Chinese are on the move.
With seven days off to commemorate the National Day holiday, which celebrates the founding of the People's Republic of China and began on Monday (Oct. 1), it's the perfect opportunity for China's residents to get some sightseeing done—often to the dismay of locals, or even one another, as tourists pack popular destinations and bring traffic to a halt.
The Chinese travel-booking site Ctrip estimates that more than 700 million (link in Chinese) people, or about half of the country's population, are traveling this week. In just the first day of Golden Week, 122 million people were on the move, a 7.5% increase compared with last year, according to state-media outlet Xinhua.
The cities that receive these travelers have a love-hate relationship with them. For businesses both inside and outside of China, Golden Week can mean a golden opportunity to boost revenue. But such an exorbitant number of travelers strains the country's transit systems and challenges tourist officials' ability to handle crowds.
Here are some of the places Chinese tourists are visiting this week:
The Great Crowded Wall
Badaling, the most-visited section of the Great Wall of China, was packed to the brim with 37,000 tourists visiting that span of the historic monument on the first day alone, a 40% increase from a year earlier. Even state television channel CGTN called the surge "absolutely terrifying."
An overloaded Summer Palace
Beijing, one of the top travel destinations during the holiday, saw huge foot traffic to the Forbidden City and Summer Palace. The latter, the most-visited monument in the city over the holiday's first few days, had to limit the number of people it let in after receiving roughly 120,000 visitors (link in Chinese) yesterday (Oct. 3). Some other parks in Beijing also had to stop selling tickets.
Swarms in Shanghai
In Shanghai, the famous Bund and shopping areas were crammed. At the Bund, local authorities dispatched soldiers and police officers to form a human wall to prevent people (video, link in Chinese) from randomly crossing the street.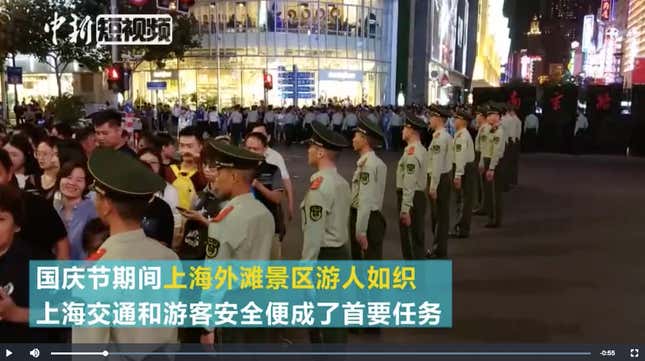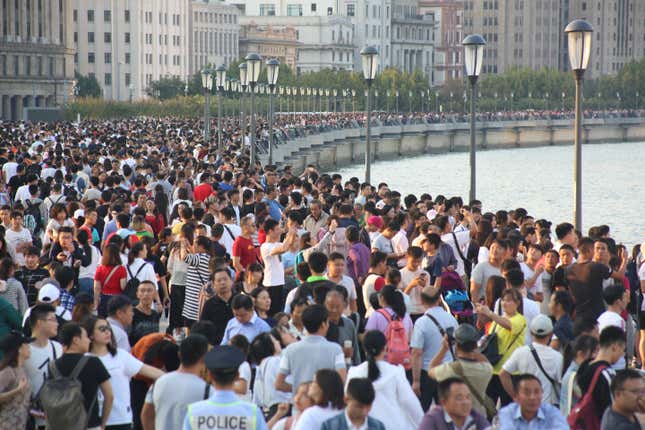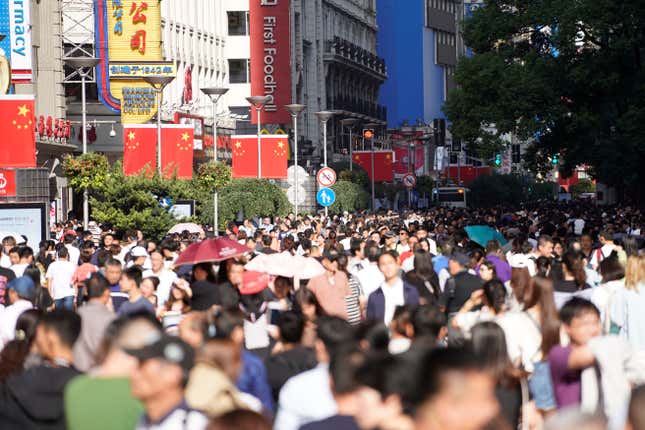 Chinese highways at a standstill
Many people decided to hit the road because tolls are suspended during Golden Week. But congestion got so bad at times that it trapped cars on highways for hours. Some, however, decided they wouldn't let bumper-to-bumper traffic get in their way.
A woman was spotted practiced tai chi for an hour on a highway in southwestern Sichuan province on Monday, Xinhua reported (link in Chinese). Another man nearby decided to play basketball.
As a result of the heavy traffic jams, China dispatched more than 160,000 police officers (link in Chinese) throughout the country to keep traffic flowing—to the best of their abilities, anyway.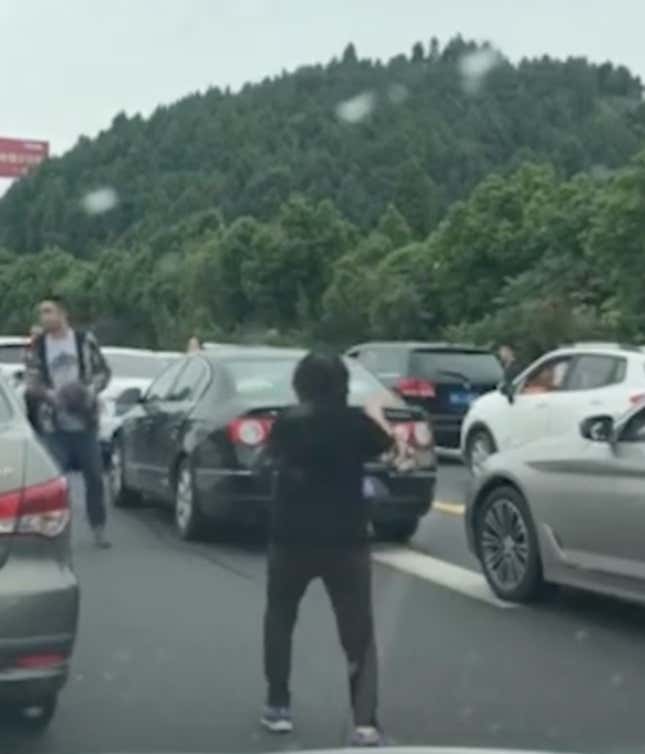 Flooding Hong Kong
Hong Kong has long been a popular destination for visitors from the mainland, and the opening of a high-speed rail has made it even easier for travelers to come into the city. On Monday, some 78,000 people—59,000 of them tourists—took the bullet train to Hong Kong. Overall, about 750,000 mainland visitors—about 10% of Hong Kong's population—entered the city in the past three days, according to figures from Hong Kong's immigration department.
Aside from the usual destinations, like shopping malls or Disneyland, many decided to venture on off-the-beaten paths just for the 'gram. The city's Choi Hung public-housing estates, with its Instagram-friendly, rainbow-colored backdrop (paywall), and a swimming shed, were popular places for mainland visitors to take selfies.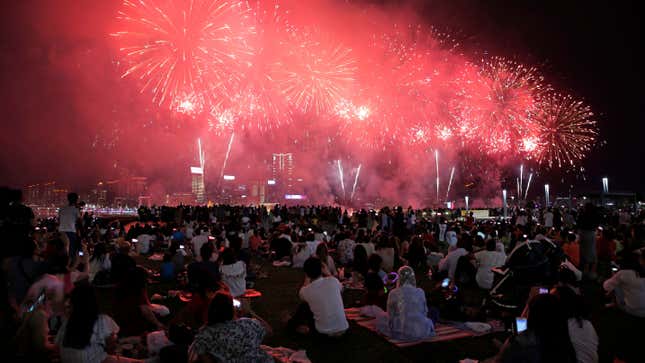 Gamblers flock to Macau
Macau, which like Hong Kong is a special administrative region of China, saw about 111,000 people visiting on the first day of the holiday. Over Golden Week's first two days, Chinese arrivals rose by 27% from the year prior—the best two-day start in at least six years, reports Bloomberg (paywall). And while some people may gripe about the influx, the territory's biggest industry is feeling relief after Typhoon Mangkhut had shut down casinos temporarily last month.
Politics deters travel to US and Taiwan
An estimated 7 million Chinese are traveling abroad for Golden Week, with Japan, Thailand, and South Korea making up the top overseas destinations, according to Ctrip.
The US, however, saw a sharp decline in Chinese visitors, with flight bookings to the country down 42% compared with last year's Golden Week. It seems likely that politics played a role, given the ongoing trade war between China and the US. Last year, South Korea's Jeju island, a favorite tourist destination of the Chinese since it relaxed visa rules in 2008, saw a dramatic drop in Chinese tourists over Golden Week amid a diplomatic spat over South Korea's decision to allow the US to install a missile-defense system in the country.
Likewise, as tensions between Taiwan and China have escalated this year, the territory has anticipated a fall in Chinese visitors. In its southern coastal city Kenting, hotels saw a drop in occupancy rates due to a decline in Chinese tourists.