Nintendo is perfecting the art of moving ahead by capitalizing on its past, with updates to products old and new-ish.
The company filed a recently discovered patent application earlier this year for a Game Boy phone case, which could hint at another retro goldmine for the Japanese gaming giant. As first spotted by Siliconera, the proposed device is more than a simple protective shell. The casing described in the filing replicates the original Game Boy design, right down to its familiar button layout and window display, and could manipulate a device's touchscreen while the case itself stays shut.
If Nintendo actually takes the design and runs with it, the company could gather up yet another surge of nostalgia-fueled cash.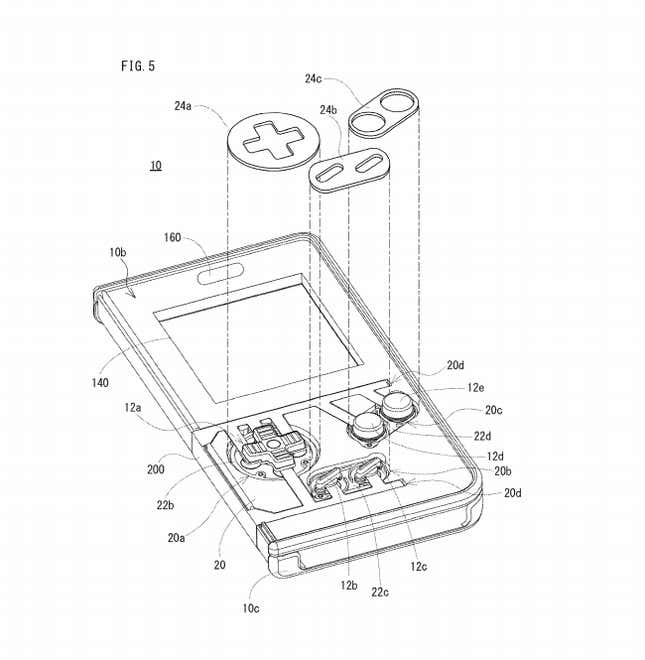 It's frankly about time Nintendo looked into such an obvious product: Developers and third-party manufacturers have been selling their own Game Boy apps and smartphone hookups—some with built-in software—for quite a while.
Exactly which games could work with Nintendo's own setup (and the app support or emulation it would require) isn't clear. Nintendo's current iOS/Android library is rather light, but a select range of Game Boy titles might easily be reworked to take advantage of the case's tactile features.
Meanwhile, in Switch developments
Nintendo also is reportedly working on the next version of its best-selling Switch console, which is anticipated to be released sometime in late 2019, likely before the holiday season. It hasn't been that long since the Switch launched to surprisingly overwhelming success, spending most of last year sold out and famously falling victim to scalper-driven price hikes.
Yet an update to the popular hybrid mobile/TV console seems more a practicality than a necessity. Although Nintendo's console is still going strong on monthly sales—and bound for a boost when the next Pokémon and Super Smash Bros installments turn up—an upgrade is just the thing to keep boosting sales and turn older Switches into hand-me-downs.
There's also the piracy aspect to consider: The Switch is a particularly vulnerable piece of gaming tech. Nintendo has been working overtime to stay ahead of hackers and emulation fans using Switch hardware as a one-stop shop to house less-than-legal gaming libraries. A new console could put some critical distance between Nintendo and its more tech-savvy fanbase.
Then there's Nintendo's major competitors going all out on mini consoles and older gaming titles, no doubt eyeing the sales of the NES Classic Edition and Super NES Classic. Sony has its highly anticipated PlayStation Classic in the works, Microsoft maintains a healthy backwards-compatible lineup of Xbox games, and even Sega—long out of the console race—is pushing its 30th anniversary Mega Drive Mini to next year.
That considered, a smartphone-specific Game Boy accessory would be a good bet for Nintendo. It spent years resisting the smartphone era before eventually caving to investor pressure—and common sense. The turnaround has gone extremely well, yielding hits like Super Mario Run and Fire Emblem Heroes, not to mention the massive hype train around Pokémon Go.