Nintendo is riding Pokémon Go's 90s nostalgia wave straight into stores.
Almost three decades after its original release, Nintendo will start selling a mini version of the famed Nintendo Entertainment System (NES) on November 11, the company announced today. With the NES Classic 1, the Kyoto-based company is hoping to feed off the success of Pokémon Go, which has increased the company's value by billions of dollars since its release just over a week ago.
The to-be-released gaming console, which has a suggested retail price of $59.99, "is a near-identical, mini replica of Nintendo's original home console and plugs directly into your high-definition TV," Nintendo said in its press release. Turning up the charm, Nintendo is preloading the system with 30 games (which means new users will never know the joy of blowing on their games to try to get them to work). Some cult classics include The Legend of Zelda, Donkey Kong, PAC-MAN, and various editions of Super Mario Bros. As an added throwback, the company has included an original NES Classic controller with every system. By dishing out $9.99 for an additional controller, you can take the trip down memory lane with a friend.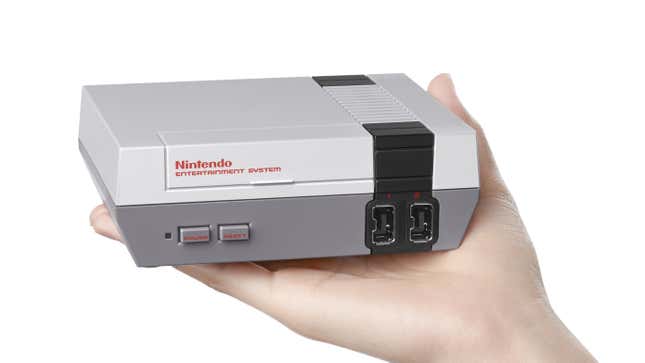 "We wanted to give fans of all ages the opportunity to revisit Nintendo's original system and rediscover why they fell in love with Nintendo in the first place," Nintendo of America president and COO Reggie Fils-Aime said in the release. "The Nintendo Entertainment System: NES Classic Edition is ideal for anyone who remembers playing the NES, or who wants to pass on those nostalgic memories to the next generation of gamers."
The NES, which was sold worldwide between 1983 and 1987, remains one of the company's great success stories. Its total sales were almost double that of modern iterations like Nintendo 64, Gamecube, and Wii U.