You might have known a bit, but you hadn't seen it all.
At an event in downtown Manhattan today (Oct. 9), Google hosted its now-annual hardware event, unveiling a slew of new gadgets intended to compete with the likes of Apple and Microsoft. There were an usually high number of leaks ahead of the event (the company's new phone was reportedly stolen and then leaked months ago), which Google acknowledged in a video at the beginning of the event. Still, there were a few surprises at today's show.
Here's a quick rundown of everything that was announced:
Pixel 3 and 3 XL
Although we knew what the Pixel 3 looked like before today, we didn't know much about the devices. The new phones, which respectively feature 5.5-inch and 6.3-inch displays, retain much of the design language of Google's last two phones. The larger phone, the XL, joins the growing design trend kicked off by Apple last year of wrapping the display around the cameras to create a "notch." Both phones feature 12.2-megapixel rear-facing cameras, wireless charging capability, 4 GB of memory, water-resistance, as well as 40% louder speakers. They come with six months free of YouTube Music, the company's music-video streaming service.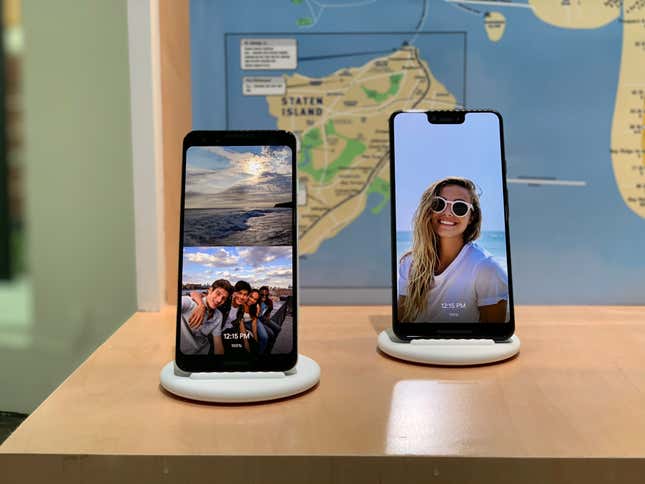 Many of the updates focused around the camera's software. The Pixel's new "Top Shot" software will use machine learning to help users automatically get the best version of their shots. If your timing is a bit off, it'll take shots before and after yours, and suggest a better one if possible. Another new mode is called "Super Res Zoom," which combines the cameras on the phone and software to take higher quality zoomed-in photos, which will be useful for anyone trying to take photos from the back of the concert venue or up in the stadium stands. There's also another software mode called Night Sight that uses technology to brighten nighttime photos without the need for flash. This will be coming to all Pixel phones soon.
The Pixel 3 will also feature a second front-facing camera that's intended just for group selfies. According to Google, it features "184% more of the shot" than Apple's recently launched iPhone Xs.
Google is also trying to make its phones feel a little less anxiety inducing. It introduced Call Screen, a new software that will use AI to answer calls that the phone thinks are spam, and a function called "flip to shush," which turns off phone notifications when it's flipped over so the screen faces down.
Google also released a new wireless charging dock for the Pixels. When a Pixel 3 is placed in the dock, it turns into an a pseudo-smart hub, acting as an alarm, music player, voice assistant, and photo frame. It's supposed to act like a mini version of the new Google Home Hub (more on that in a second).
The Pixel 3 starts at $799, and the dock will run you $79. The new phones will be available from Verizon and Google on Oct. 18. The phones will come in black, white, and light pink.
Google Home Hub
Building on the successful Google Home smart speakers first released at the same event two years ago, the Hub is a voice-controlled speaker with a 7-inch touchscreen display, much like competing devices from Amazon, Lenovo, and Facebook, albeit a fair bit smaller. Like these devices, it can control internet-connected gadgets around the home, answer search queries, display photos, and play videos from the web. But unlike these devices, Google decided not to include a camera in its hub. Perhaps the world's largest internet company, which makes its money by tracking all of us online and in the physical world to sell ads, was being sensitive to privacy concerns.
The Hub is available from Google's website for preorder today, and will cost $149. (That's about $80 less than Amazon's offering.) It comes in white, black, "aqua" (turquoise), and "sand" (pink).
Pixel Slate tablet
Google started offering a version of its Chrome operating system for tablets earlier this year, but the new Pixel tablet is the company's first stab at building one itself. Leaks gave us a pretty clear view of Google's new tablet before today, but the company showed off a bit more of what it can do.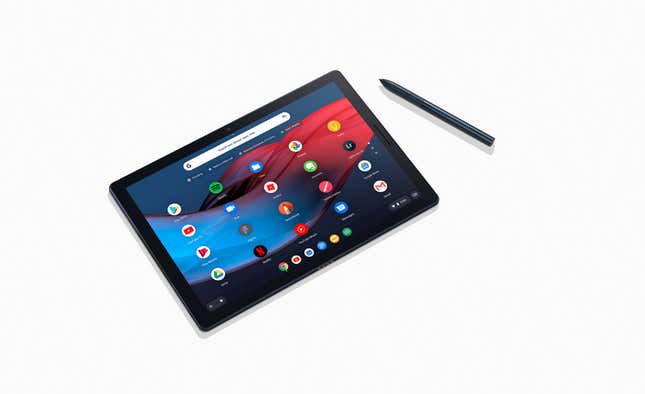 The tablet has a high-resolution display, and two front-facing speakers, so you can effectively binge-watch Netflix in bed. It comes with a three-month subscription to YouTube TV, Google's cord-cutting answer to live TV. Unlike the Hub, it features a wide-angle front-facing camera, in case you want to take selfies with your tablet.
The tablet is not just a blown-up Android device, Google claims, instead running its Chrome operating system, redesigned specifically for its tablet. The user experience is meant to feel tablet-like, but uses Google's AI to show the apps it believes you need at any given moment, and runs full versions of Chrome apps. But, like other Chrome devices, Google expects users will spend most of their time in the Chrome web browser, adding that you can "open as many tabs as you need."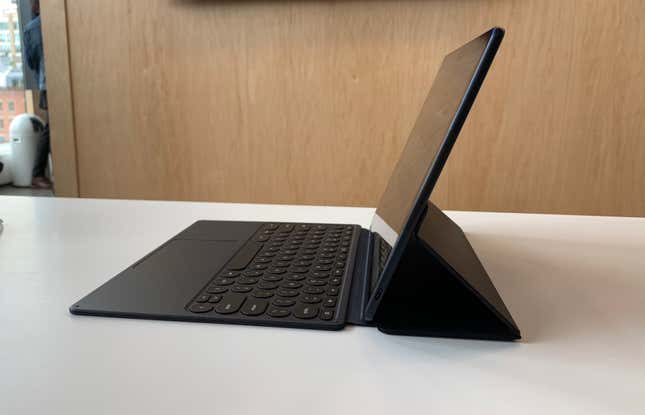 Google also introduced a keyboard cover with an adjustable folio design that's meant to let you type with the screen at any angle, unlike most other tablet keyboard cases, which tend to just lock in at one angle. The case attaches to the back of the tablet's metal back with magnets, which allows it to slide up and down into different positions.
The device comes in "midnight blue," and costs $599. The keyboard cover will set you back another $199, and a compatible stylus will run you $99, making this a nearly $900 device, all-in. It will launch later this year in the US and Canada.
New Chromecast
Google didn't announce this at the event (even though it's already in stores!), but a new version of its Chromecast streaming device also launched today. Perhaps it was skipped from today's proceedings because other than a slight design update, nothing really changed from the last model released in 2015. It still streams 1080p video, and still costs $35.