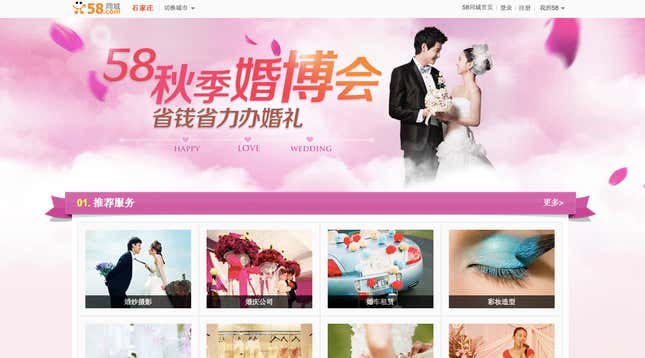 A Chinese e-commerce site that's often likened to Craigslist, 58.com, just listed on the New York Stock Exchange today. The one-stop online classifieds listing site for jobs, rentals and second-hand goods for sale is raising $187 million and will be listed under the ticker WUBA.
58.com isn't quite like Craigslist or its Chinese peers like Alibaba's e-commerce sites like Taobao and Tmall; investors hope that its listing will pave the way for other mainland internet companies in the US where public Chinese firms have been tainted by accounting scandals and accusations of fraud. 58's model depends on an expanding demographic that's been somewhat overlooked by other e-commerce sites: small business owners and individuals in second and third-tier Chinese cities who don't know yet how to use the internet yet to sell their wares and services.
This segment of internet users often have little ambition to take their businesses abroad as Chinese manufacturers do on Alibaba.com, or nationally as some merchants do on Taobao or Tmall. But the population in these smaller, inland cities offers some of the fastest economic growth in China. Internet usage is also rising quickly: By some estimates, the rate of people getting on the internet via mobile phones is expanding faster in little-known cities like Fuzhou and Shenyang than in Beijing or Shanghai.
An even bigger differentiator from Craigslist—58.com's founder Yao Jinbo has said he spent time studying the Craigslist model before starting the company in 2005—is that it runs workshops around the country. Offices in over 20 cities teach local merchants how to better use the site. To make money, users can pay 58.com to give their listings higher placement on the site. So far, the site gets about 129.7 million unique views a month.
Quartz continues its series profiling companies around the world experiencing explosive growth.