Hurricane Michael is among the worst storms the US has ever experienced. The Category 4 hurricane brought winds of 145mph, hitting five states and killing at least seven people. Over 1 million households are without power, and much of the Florida Panhandle faces "unimaginable destruction," according to the state's governor Rick Scott.
Video from NOAA's GOES-16 satellite showed Hurricane Matthew as it made landfall. The following day, aerial photography revealed the destruction along the coastal town Mexico Beach, Florida.
Mexico Beach resident Scott Boutwell told CNN, "everybody's homes are gone…There's nothing left here anymore."
Power outages have complicated officials' efforts make sense of the destruction and assist residents. In an interview with NPR, the city manager of Panama City Beach, Mario Gisbert said, "my police chief cannot communicate with my sheriff right now. Cell lines are down, radio towers are down."
At the Tyndall Air Force Base near Panama City, the hurricane tossed a fighter jet on display and ripped hangars apart. In a letter, colonel Brian S. Laidlaw requested that Air Force personnel focus on staying safe: "We can rebuild our base, but we can't rebuild any of you."
Satellite imagery provided by DigitalGlobe offered a glimpse of the tree-wrenching forces of the winds along Long Point Park highway and the Ivy Road Estates in Panama City.
Sailboats and motorboats can be seen piled along the Panama City waterfront.
The storm's devastation was not evenly distributed, with some lower-income people unable to evacuate. This flyby image from NOAA shows a leveled mobile-home community (left) adjacent to a developed suburban cul-de-sac in Panama City (right).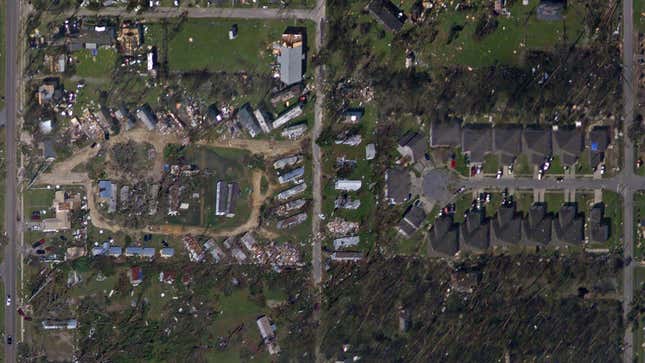 Search and rescue efforts are underway in the Florida Panhandle, and the Federal Emergency Management Agency has dispatched 3,000 employees to the field. Utility crews across nine states as far as Michigan awaiting cleared roadways so they can begin restoring power and communications to the region. Officials expect a long recovery. "This is not stuff that you just put back together overnight," FEMA head Brock Long said yesterday (Oct. 11). "It's unrealistic for people to think it's going to happen in the next day or two."