Quartz continues its series profiling companies around the world experiencing explosive growth.
A few weeks ago, self-diagnosed hypochondriac Cyrus Massoumi tripped and fell, gashing his arm in two places. He got on his phone, pulled out an app and searched for "emergency medicine physicians." A few swipes to book an appointment and eight stitches later, he was back at work.
Massoumi is not just an average patient. He is the founder of ZocDoc, which launched six years ago to get patients in front of doctors faster and maximize efficiency in health care. The platform and its app let him bypass the normal system of referrals and its resulting waiting time. And like many of ZocDoc's users, during an emergency Massoumi didn't log onto a computer; he reached for his phone. Today, Massoumi notes that while the majority of ZocDoc users book preventative care on the website, when it comes to urgent care, they tend to reach for their phone and the app. And so, what started out as a scheduling platform has become a way for patients to take control over their care.
How it works: Anyone looking for a family physician, podiatrist, or other doctors and specialists can go onto the ZocDoc site or app, select a specialty, their neighborhood, and the reason for  visit from a dropdown menu. Within seconds, ZocDoc pinpoints doctors who fit the bill, along with location and availability.
No longer bound to their family physician's address book, patients can can fish in a larger pool of specialists and gain quicker access. Before he got stitches, Massoumi didn't have to wait for a referral or wait on uncomfortable chairs for for an ER doctor. He made an appointment, was treated, took a few iPhone photos of the handiwork to send to his dad (a doctor), and resumed activity.
Zoc Doc now has 4 million monthly users. It's seen a 200% growth in appointments year over year, employs almost 500 people and has raised $95 million in funding. After spending the first three years of its life establishing itself in the New York market, ZocDoc is now available in 1,900 cities across the US.
Expansion mode
Timing is on its side. As health care becomes more affordable and the US population grows, the number of people seeking doctors is also on the increase. The Annals of Family Medicine predicts that the number of office visits to primary care doctors will increase from 462 million in 2008 to 565 million in 2025. One of ZocDoc's most tangible benefits is its ability to connect doctors and patients within 24 to 72 hours.
In an overstretched system, there is no room for inefficiency. According to Judy Hanover, a research director at IDC Health Insights, no shows are "the first waste of productivity of many practices." So the economics works in a doctor's favor: If demand for care increases as the supply of care stays the same, a tool that decreases time wasted in a doctor's schedule and increases her productivity is a welcome addition.
Dr. Barry Cohen, a primary care doctor with a clinic in SoHo in downtown New York City, has seen this firsthand. "It definitely makes our day more productive. The fact that ZocDoc sends out so many reminders helps. Prior to ZocDoc we didn't have any in place, apart from a call the night before; "we do get cancellations, but virtually no no-shows at all," he says.
A Yelp you can trust
The startup is also developing tools to help the growing number of patients navigate the evolving healthcare system. An early feature of ZocDoc is that it offers patients a way to assess doctors just as they would a restaurant or a yoga class on Yelp. They can rate the level of care, bedside manner and wait time as well as leaving comments about physicians they've seen.
Indeed, waiting is no game for patients. As Stefanos Zenios, a professor of healthcare management at Stanford, explains: "There is not necessarily a correlation between the quality of care and the patient's perception of care." That perception, he says, is influenced by factors such as how long patients waited for an appointment, how satisfied they were with the staff and a doctor's bedside manner. "While bedside manner is important, it should be one of many elements used to evaluate the quality of care," says Zenios. Elements such as complications after the procedure, success of treatment, and subsequent hospitalization also matter.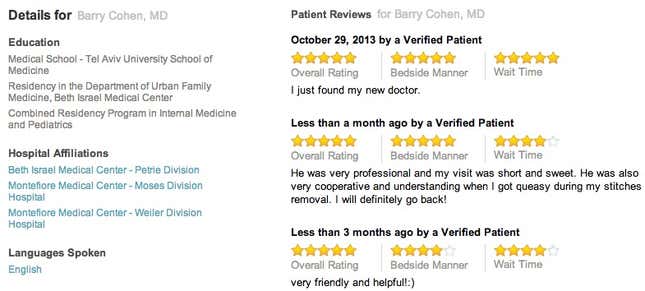 That said, practitioners like Cohen see value in the ratings system (see his above). ZocDoc creates some legitimacy around the process by not giving rogue reviewers and anonymous trolls a pulpit. "I know that these are patients who have come to see me. You can't put in a review unless you've been to the doctor," says Cohen. Patients are verified and while they can remain anonymous, many frequently use their first name and initial by their post.
Helping patients make choices
As a hand-holding device for the newly insured, ZocDoc recently added a tool that helps patients assess the pros and cons of different insurers under the Health Insurance Marketplace. The hope is to make the small print tangible by giving each insurer a letter grade based on a combination of factors. These range from the number of available appointments, how long it takes to get one, the quality of an insurer's customer service and how up-to-date their physician directory is. As of Jan. 1, the company plans to create letter grades for specific plans, turning the lens from individual doctors into much broader scrutiny of the health-care system.