If you're looking for clues as to how to live your best life, nature has the answers. New Zealand's kererū pigeon—also known as the kūkū, kūkūpa, or wood pigeon—is a "clumsy, drunk, gluttonous, and glamorous" creature that was just voted 2018 Bird of the Year in an annual competition held by Forest and Bird, a national conservation organization.
This bird, distinctive to New Zealand, is a true lifestyle icon, giving Instagram influencers a run for their money. Always well-dressed—wearing green and grey feathers and a "smart white vest" as the national government puts it— it knows how to chill and how to celebrate, eats mostly fruit, can brew its own booze, and usually makes a dramatic entry.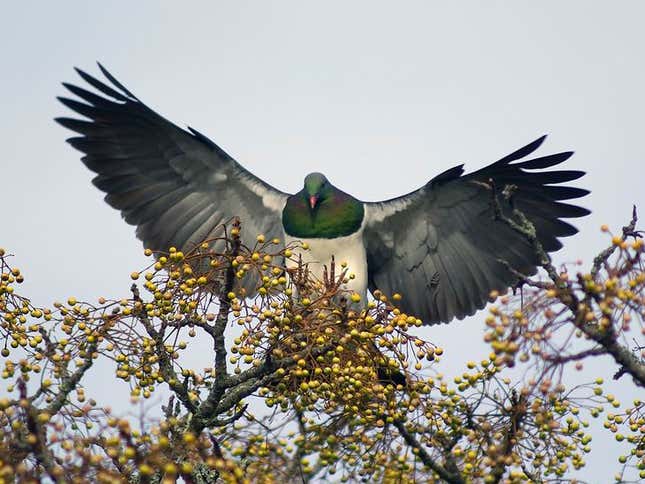 The kererū pigeon announces its arrival with a distinctive "whoosh" of its wings heard only in the forests of New Zealand. And sometimes this party animal gets too drunk and falls from its perch in the trees. See, the wood pigeon lives on berries, buds, flowers, and leaves, and during peak berry season, it gorges on ripe fruit, sits in the sun, and brews alcohol in its own belly until it's so inebriated that it has to be taken to native bird sanctuaries to "sober up."
Besides serving as a role model for those of us who want to have more fun, the bird's also got an important role in local conservation. The fate of many New Zealand forests is linked to that of the kererū, according to Forest and Bird. It's the only surviving native bird big enough to swallow and disperse the seeds of local large fruit from the karaka, miro, tawa and taraire trees.
The 14th annual Bird of the Year competition was popular but politically fraught. While 48,000 New Zealanders voted legitimately, there was also "fowl play," according to Forest and Bird, which had to jettison the votes of 1,800 Australians attempting to get in on the elections against the rules.
The wood pigeon's successful campaign was led by Green Party member of parliament Chlöe Swarbrick. Kererū supporters emphasized the bird's size and prodigious appetite—it grows to about 20 inches in length from head to tail feathers. The kererū earned 5,833 votes for the win, despite a celebrity endorsement from comedian Stephen Fry on behalf of the kākāpō, which earned second place.
Last year's winner was the kea, a native parrot with olive-green feathers and a splash of orange hidden under its wings. "New Zealanders have voted overwhelmingly for change and the kererū pledges to honor this groundswell of popular opinion and govern for the many." Team Kererū campaigner Tim Onnes said in a statement thanking voters for their support. "It has been a long and arduous campaign and we couldn't have done without [them]."
If you're feeling sorry for birds who just couldn't compete with the charms of the drunken pigeon, console yourself with this: The black stilt, or kaki, attracted 500 matches on the dating app Tinder.