This article has been corrected.
Mexico has approved both a soda tax and a junk food tax, which it expects to generate some $16 billion annually. But there's a deeper reason why the taxes, like large swaths of the Mexican populace, are so hefty: Something has to be done about Mexico's eating habits.
Mexico is more than pleasantly plump
Some 33% of Mexicans are obese and 71% are either obese or overweight, according to the country's latest national health survey. According to 2008 data from the UN Food and Agriculture Organization (pdf, pp. 73-79), Mexico at that point had the highest rate of obesity among large countries (though a number of small island states have far higher rates). Since then, though, the US obesity rate has overtaken Mexico's, at 35.7%.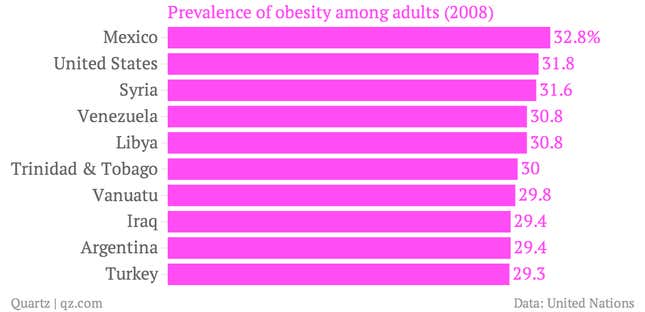 More weight, more health care spending
At present, nearly 15% of Mexico's health budget is spent treating obesity-related ailments. In 2008, the country dropped over 40 billion pesos ($3.2 billion) on the disease, more than double (Spanish link) what it spent in 2000. Nearly 10% of Mexico's population now suffers from diabetes, which is associated with increases in obesity rates—that's the highest rate in the world among countries with populations of at least 100 million. Diabetes is the second-leading cause of Mexican mortality, killing 80,000 people die per year—significantly more than the number killed by country's drug wars. And early death itself can be a serious economic burden. "In 2008, the loss of productivity due to early death that is attributable to overweight and obesity in Mexico was $1.931 billion," one reported concluded earlier this year.
Unless something changes, the problem is expected to get substantially worse in the coming decades. By 2050, a mere 10% of the country's population will fall into the category of "normal weight," driving up health care costs even further. That's disincentivizing unhealthy foods and drinks has become such an important initiative in Mexico's agenda.
"We can't keep our arms crossed in front of a real overweight and obesity epidemic. The lives of millions of Mexicans are at risk," President Enrique Peña Nieto said at the recent launch of a campaign against obesity and diabetes.
But obesity is also a big business.
Nieto has been pushing his countrymen to exercise more as well, but Mexico's woes likely have more to do with its eating habits. Along with more urban lifestyles and rising income levels, the rise of both fast and packaged foods in the country has largely coincided with its ever-widening waist size. Both men and women have gotten substantially fatter since the first fast food outlet opened in Mexico back in 1985; men have gained an average of 15 pounds, while women have gained an average of 19 pounds—both well above the world averages of 11 and 10 pounds gained, respectively, over the same period.
Soda is also a big problem. Mexico doesn't merely enjoy an occasional sugary carbonated drink—it downs the stuff like no other country. Mexico is the world's biggest per capita consumer of soft drinks. Mexicans drink more Coca-Cola products, for example, by a huge margin.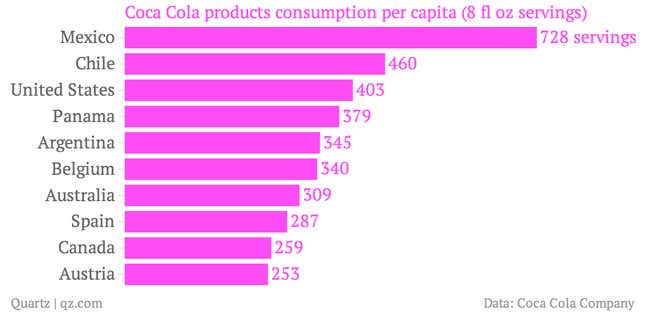 Coca-Cola isn't the only global consumer products giant that has found the Mexican populace ready to and willing to guzzle, chomp and chow down. Check out this slide from a presentation PepsiCo made to consumer analysts earlier this year, in which it highlighted the outsized presence of Mexico in its salty snacks business. "Even with a doubling of [per capita consumption] in India, China, Russia or Brazil, these markets' consumption levels will still be far below where Mexico is today," PepsiCo's CFO Hugh Johnston told analysts.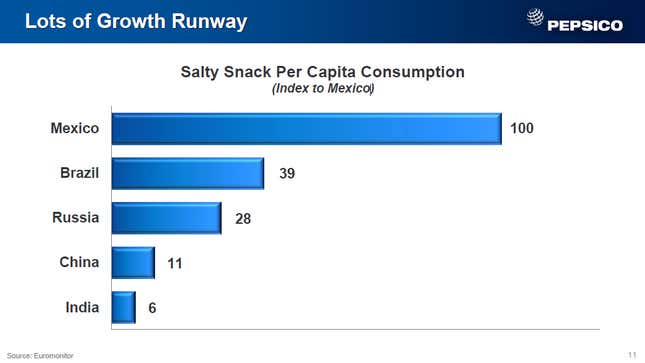 Will taxes be the key to ending Mexico's obesity crisis?
The record of Pigovian taxes aimed at changing consumer food behaviors is somewhat mixed. Denmark, in one prominent example, repealed a tax on products with high levels of saturated fat in 2012 after just one year. Officials found that Danes simply went to Germany or Sweden to load up on ice cream and butter.
But companies in the business of providing sodas and unhealthy snacks to Mexico seem to be expecting the tax to cause a dent to demand. The CFO of Coca-Cola's largest Latin American bottler, Coca-Cola Femsa, told analysts that the company is considering reorganizing its product portfolio in light of the law, and "even doing some downsizing." There will likely be other economic costs. But if Mexico's population does some downsizing of its own—around the waist—they may be worth it.
Correction (Nov. 5): An earlier version of this article called Mexico "the world's fattest developed country." The UN, however, classifies it as a developing country, so this was changed to "fattest major country." Some details on its obesity statistics were also changed to reflect the fact that the UN's obesity data came from 2008.