Google Maps thinks the electric car revolution is worth mapping. It's a few years ahead of the curve. Just over 1% of the world's vehicles run on electrons rather than fossil fuel. Yet they're gaining fast. Within about two decades, 55% of new car sales and a third of the global fleet will be electric, reports Bloomberg New Energy Finance. A few countries (Norway's car sales are already more than half  electric) and cities (Los Angeles has 1,800 charging stations, the most of any city in the US) have started trading the pump for the charging station in big numbers.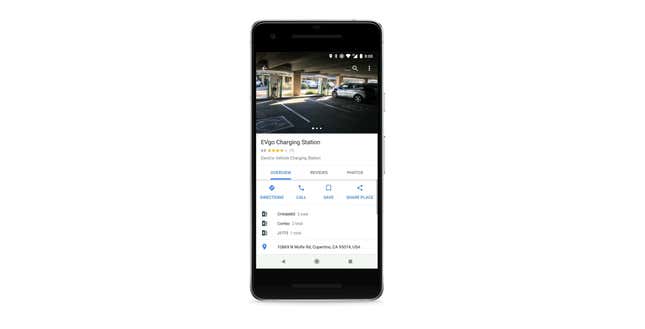 Google wants to own the map that helps you find them. In a feature rolled out on its mobile app this week, users can search Google Maps for "EV charging stations" or "EV charging" to locate a variety of public charging stations. Data on each station includes charging speeds, the number, and type of ports and even availability. For businesses that hope to bring in new customers with the promise of convenient or even free charging, a link will lead to information about what they offer.
The two biggest global charging networks, Tesla and Chargepoint, will appear on maps internationally, while country-specific networks such as SemaConnect, EVgo, and Blink in the US will be shown to domestic users. Since this is the internet, of course you'll be able to review your experiences at each station.