Mexico's new soft drink tax could push the nation's Coca-Cola makers away from the cane sugar that's made "Mexicoke" a cult hit in the US.
Executives from the second-largest bottler of Coca-Cola in Latin America suggested that a shift away from cane sugar might be in the cards as a result of the steep sales tax on soda Mexico's congress approved on Thursday (Oct. 31). American Coke enthusiasts claim the Mexican version tastes better than what they get in the US, which some say is because Mexican Coca-Cola is made with cane sugar rather than high-fructose corn syrup.
On an earnings call with analysts last week, the head of Arca Continental SAB said that the Mexico-based Coca-Cola bottler could "move to more fructose," which is cheaper than cane sugar. Arca Continental's Francisco Garza added "that's a very important part of the savings that we are foreseeing now." The independent bottlers who distribute Coke in local markets use the same recipe but have some latitude from Coca-Cola to tinker with the sweetening ingredients. (Arca Continental hasn't yet responded to a request for further comment.)
Mexico's new soda levy will tack on an extra peso ($.08) per liter to all soft drink sales in the country. The move is part of a growing campaign to address what has become an obesity epidemic—over 70% of Mexico's population is now overweight. And the hope is that it will help curb the country's unmatched affinity for soda. On a per capita basis, Mexicans drink more Coca-Cola products than residents of any other country in the world.
Any decision by Arca Continental—or Coca-Cola's other large Latin American bottlers—to turn more heavily toward high-fructose corn syrup would surely dismay fans of Mexicoke around the world. Over the last decade, "hecho en Mexico" Coca-Cola has acquired cult status.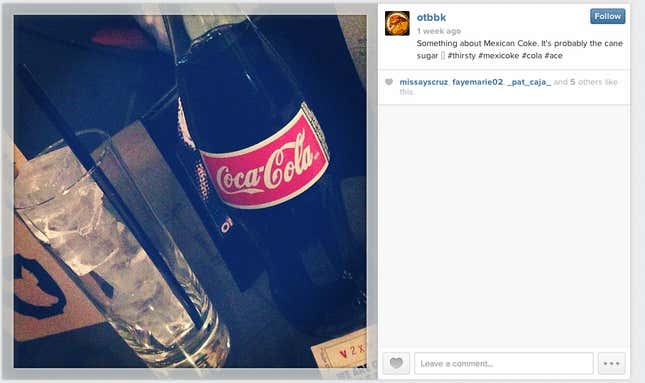 After steadily cutting the amount of real cane sugar in Coca-Cola in the early 1980s, most US Coca-Cola bottlers had switched over to high-fructose corn syrup by the middle of that decade. When Coca-Cola introduced Coca-Cola Classic in 1985—after the disastrous attempt to launch New Coke—it was sweetened with corn syrup rather than cane sugar, which drew the ire of the US sugar lobby.
Latin American bottlers have some leeway when it comes to how they mix up their pop. The largest Coca-Cola bottler in Latin America, Coca-Cola FEMSA, explains this in its annual report: "Under our agreements with The Coca-Cola Company, we may use raw or refined sugar or [high-fructose corn syrup] as sweeteners in our products." Coca-Cola FEMSA opts for different sweeteners in different markets. For instance in Colombia, it uses sugar as a sweetener. In Argentina, it's high-fructose corn syrup.
For the record, while Mexican bottlers might shift their mix of sweeteners toward high-fructose corn syrup, it's unclear what, if any, implications that would have for consumers outside Mexico who've grown accustomed to cane sugar Coke. And it should also be noted that Mexicoke fans might already be getting more corn syrup than they think. Researchers from the University of Southern California's Keck School of Medicine tested Mexican Coca-Cola purchased in east Los Angeles back in 2010. Their findings:
The Mexican Coca-Cola lists "sugar" on the ingredient list, but the laboratory did not detect any sucrose, but rather near equal amounts of fructose and glucose, results which suggest the use of [high fructose corn syrup]. According to the FDA guidelines, the word "sugar" can only be used in reference to sucrose.