East Island is gone.
The 11-acre island roughly 400 miles northwest from the Hawaiian island chain was wiped off the map after a powerful Pacific hurricane swept through the region earlier this month, Honolulu Civil Beat reported.
"I had a holy shit moment, thinking 'Oh my God, it's gone,'" Chip Fletcher, a University of Hawaii climate scientist, told Civil Beat. Fletcher said he knew East Island would be underwater eventually, but assumed it would be decades before that happened. Instead, it disappeared in one day. "It's one more chink in the wall of the network of ecosystem diversity on this planet that is being dismantled."
"""
The island, part of a chain of small islands called the French Frigate Shoals, was a critically important habitat for one of the cutest and most endangered seals on the planet: The Hawaiian monk seal.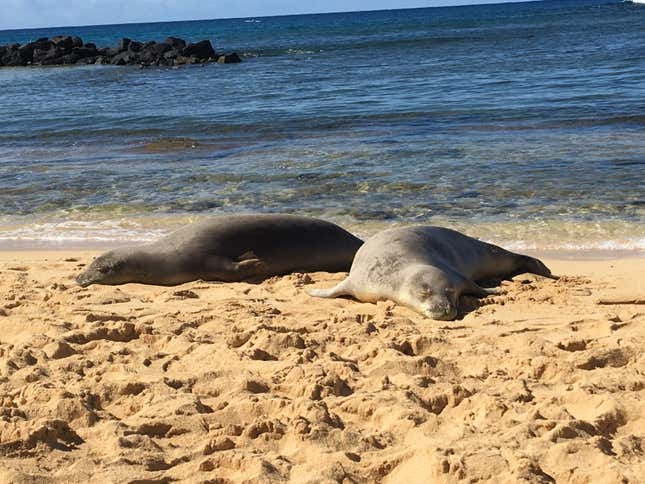 There are only about 1,400 Hawaiian monk seals left in the wild. To give you an idea of how precarious their existence is, roughly 30% of the monk seals alive are alive "due to direct life-saving interventions," according to the US National Oceanic and Atmospheric Administration. In a typical year, 30% of monk seal pups are born on East Island, Civil Beat noted.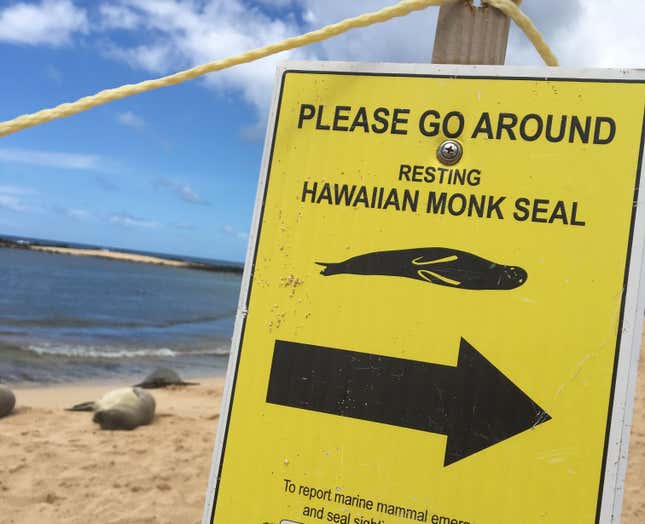 East Island was also the single most important nesting site for the Hawaiian green sea turtle, another imperiled species. The French Frigate Shoals serve as nesting ground for 96% of the Hawaiian green sea turtle population, and approximately half lay their eggs at East Island, Charles Littnan, a conservation biologist with NOAA, told Civil Beat. NOAA scientists estimate that 19% of this year's nests on East Island had not yet hatched and were swept away by the storm, the Huffington Post reports.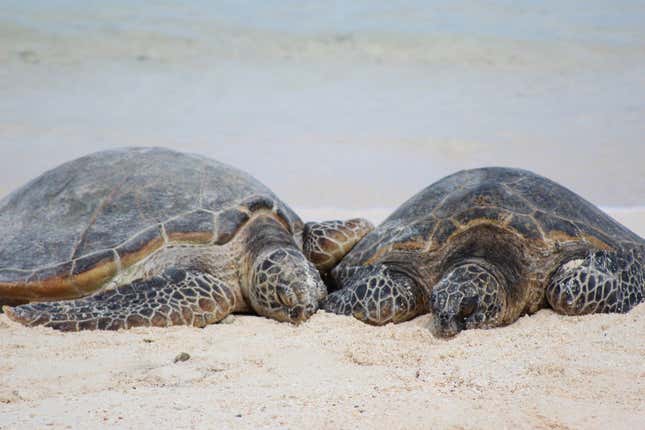 Hurricane Walaka, which wiped out the island, was one of the strongest Pacific Ocean storms in recorded history. As the New Republic notes, its rapid intensification from a 40 mph storm to a 120 mph hurricane in just 30 hours is consistent with the effects of climate change—storms passing over hotter-than-average seas intensify far faster.
Scientists don't know whether East Island could re-emerge from the sea, but if prior events are any indication, chances don't look good: The Huffington Post notes that a small island named Whale-Skate Island vanished from the French Frigate Shoals in the 1990s, and has not re-appeared. It was also an important Hawaiian monk seal habitat.
With seas rising and growing warmer, the rapid disappearance of East Island is likely the fate of other small Pacific islands, too.
"These small, sandy islets are going to really struggle to persist," Littnan told the Huffington Post. "This event is confronting us with what the future could look like."