China might achieve a major milestone for its private space business as soon as this weekend.
LandSpace, a Beijing-based startup founded in 2015, is expected to launch a solid-propellant rocket and put a satellite into orbit on Saturday (Oct. 27), according to space news site gbtimes.com. LandSpace earlier told Quartz it was planning an orbital launch for the last three months of the year, but wouldn't confirm a date.
If LandSpace's launch succeeds, it would be a big step for China's space development. "Overall, if the launch is successful and the satellite can complete its mission in orbit, I think it marks a significant turning point for Chinese private space more generally," wrote Blaine Curcio, founder of Hong Kong-based satellite market research firm Orbital Gateway Consulting, in an email to Quartz.
LandSpace is among a slew of private space firms that have started up in recent years with encouragement from China, as it also advances rapidly with its national space program, which includes an ambitious lunar mission later this year, a future space station, and Mars landing by 2021.
A mini-boom in private firms
In 2014, China's central government (link in Chinese) called for private capital to invest in building, launching and operating commercial satellites, a field till then developed by state-owned firms.
Since then, at least half a dozen firms have been founded, and obtained venture funding. One of them, OneSpace, a Chinese rocket startup founded in 2015, claimed the first private suborbital rocket launch earlier this year. Other leading space startups include LinkSpace, founded in 2014, which is preparing for a reusable orbital rocket launch in 2020. There's also iSpace, which has launched a solid-fueled rocket in a suborbital trajectory.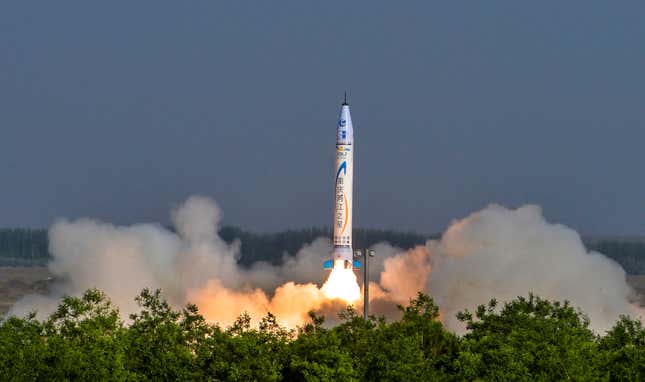 For its orbital trajectory, LandSpace will launch a rocket named Zhuque-1, or "vermilion bird," a mythological symbol that represents fire. The rocket is 19 meters tall (60 feet), has a takeoff mass of 27 metric tons (30 tons), and a thrust of 45 metric tons (50 tons). The rocket needs to fly at 8 kilometers (5 miles) per second to reach low earth orbit, the first 100 to 200 miles of space. Zhuque-1 cost the firm around 100 million yuan ($14 million) to develop, according to Chinese news site the Paper (link in Chinese).
The rocket is designed to have a payload of 300 kilograms (660 lbs). On this trip, it's taking a small satellite that will be used to broadcast a TV series (link in Chinese) called Cheers Science (加油!向未来) by China's state broadcaster CCTV (link in Chinese), on the air since 2016.
The goals for these private firms—more cheaply launching small satellites for businesses—is in line with China's ambitions in the satellite arena, which include becoming a provider for other nations. At home, the country is building a satellite network, Beidou, that it hopes can compete with the US Global Positioning System.
Still, China has a long way to go to catch up with private space ventures in the US. California-based McDonnell Douglas Space Systems Company launched the first privately built rocket into space in 1989, and US space startups are now competing with heavyweights for military contracts.
State support still matters
LandSpace's launching Zhuque-1 from the Jiuquan Satellite Launch Center, a national launch site in the Gobi Desert from where China sent up its two space labs. OneSpace also launched its rocket from Jiuquan. This isn't unusual in the space world—SpaceX also launches from NASA or US Air Force launch sites. The high cost and risks of the rocket businesses mean private firms still count on state support.
LandSpace's technicians are former state-owned aerospace industry workers, according to a CCTV report (video). It built Zhuque-1 in Huzhou, a city of southeastern Zhejiang province. The Huzhou government has helped LandSpace to find factories and build facilities and invested more than 200 million yuan ($29 million) in the firm, according to Zhang Changwu (link in Chinese), founder of the company.
OneSpace's rocket, launched in May, cost the firm under 500 million yuan ($78 million) in private funding to design, build, and launch. It was named Chongqing Liangjiang Star after the state-backed Chongqing Liangjiang Aviation Industry Investment Group, which put money into OneSpace. The state-owned Aviation Industry Corporation of China, meanwhile, paid for the flight.
Is there really a market?
Elon Musk's SpaceX this year won a contract to launch a classified military satellite on its Falcon Heavy rocket. That's costing the US Air Force $130 million, far cheaper than the heaviest rocket from United Launch Alliance, a space launch contractor formed by aerospace giants Boeing and Lockheed Martin. Private US firms like SpaceX and Jeff Bezos's Blue Origin have been early developers of liquid-fueled rockets, which are reusable, and therefore could drive down average launch costs.
Liquid methane is also more environmentally friendly, and has the advantage of being able to turn the engine in a couple of ways, according to Curcio, the space analyst. But a solid fuel engine, once turned on, basically will not stop until it runs out of fuel, he said.
Most Chinese private firms, however, start with solid rockets typical of the military field, which require a less complex design and manufacturing process, and are cheaper upfront. Thought they've attracted investment, cost is still a significant factor driving decisions for these Chinese companies.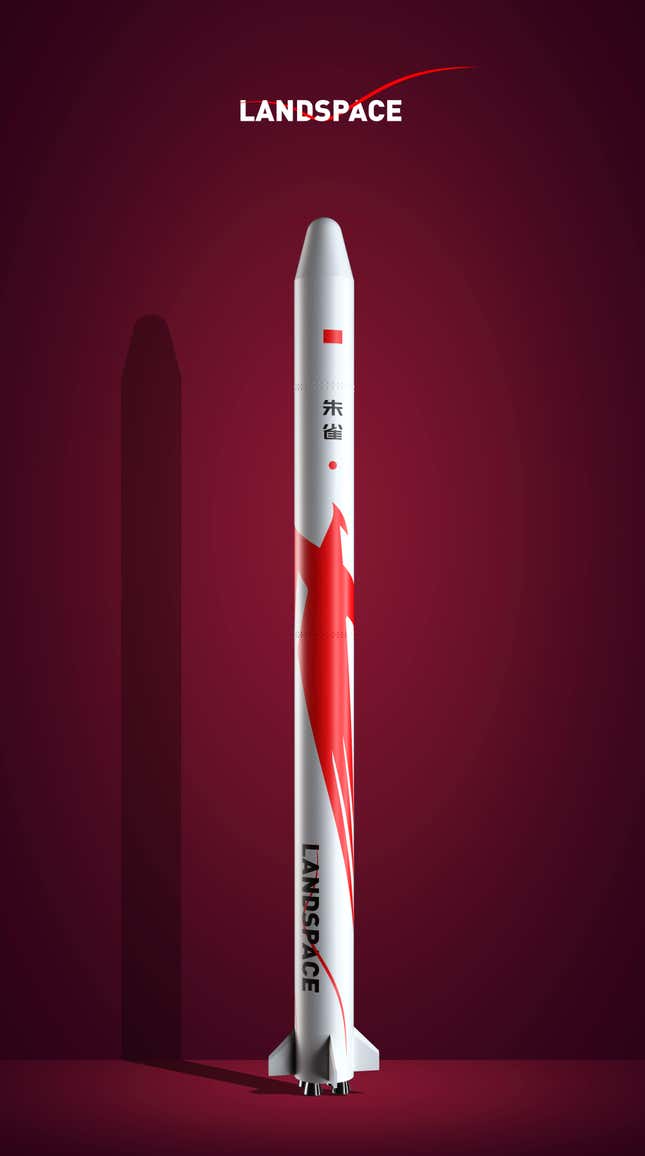 "There's no founder who has a fortune that can be compared with Elon Musk," said a OneSpace employee, who identified himself only as Chen. "That's why OneSpace didn't start at full speed to work on liquid [rockets], or compete with China's national team." The "national team" is a reference to state-run companies. Chen said the company is working on liquid-fueled rockets now.
OneSpace founder and CEO Shu Chang has said he hopes to launch as many as 10 small satellites next year, once the firm's rockets can reliably reach orbit.
In the coming months, LandSpace will work on Zhuque-2, a methane and liquid oxygen powered vehicle that is expected to launch next year. The firm hopes to commercialize the product in 2020 (link in Chinese). LandSpace's Huzhou factory can manufacture 15 liquid-propellant rockets every year, its founder Zhang said.
Curcio questions whether these plans make business sense.
"Over the past few months, we have seen a few more startup launch companies come into existence, a few more smallsat manufacturing companies come into existence, and quite a lot more money poured into these companies," writes Curcio. "It is unhealthy and unrealistic to expect that China can support five private launch companies and 10 private smallsat manufacturing companies."