Director and actor Robert De Niro's New York restaurant and production company is the latest target of a suspicious package that's believed to be a bomb, New York Police said early Thursday morning (Oct. 25); last night a Delaware mail facility intercepted a similar package addressed to former vice president Joe Biden.
The Secret Service, the FBI, and local law enforcement have embarked on a nationwide manhunt to catch whoever it is responsible for sending out "rudimentary but functional" pipe bomb explosive devices. Right now there's no telling how widespread the threat may be, terrorism experts say.
"One thing law enforcement will be concerned about is whether this is just the first act of a longer play," said John Cohen, a former counterterrorism coordinator with the Department of Homeland Security and professor at Rutgers School of Criminal Justice.
It is possible there are more bombs "intended to show up in coming days at other locations," Cohen said, including targeting politicians campaigning for the midterms. "Until you know that this is over, and you don't know that until you have a guy in custody, this could impact any city" in America, Cohen said.
Like the packages sent to prominent Democrats and CNN that contained explosive devices, the one sent to De Niro was in a yellow bubble wrap envelope with Democratic National Convention chair Debbie Wasserman Schultz's office as the return address, according to photos law enforcement shared with the press. Law enforcement also said the package addressed to Biden was similar to ones carrying crude bombs.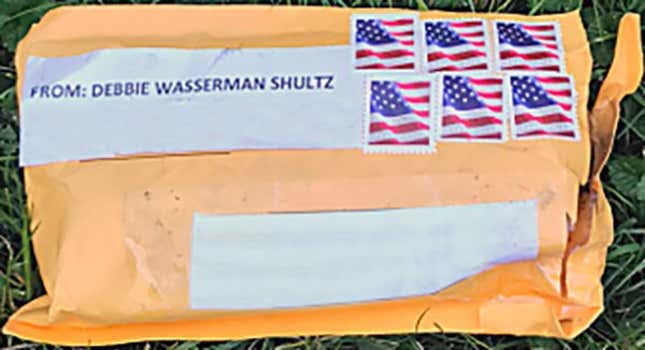 As with other recipients, De Niro was a frequent critic of Donald Trump, calling him "an idiot, a national disaster, an embarrassment to this country." During the Tony Awards in June, De Niro got a standing ovation for a speech that he ended with "Fuck Trump."
The New York Police Department has vowed to find the culprit:
On Thursday morning, Trump renewed his attacks on the press, blaming the "mainstream media" for the "anger seen in our society."