Jair Bolsonaro, the right-wing candidate who once said in a newspaper interview that a fellow lawmaker was "too ugly" to rape, has won Brazil's second-round presidential election.
The run-off election on Sunday (Oct. 28) took place after Bolsonaro failed to win an outright majority in polls three weeks ago, leading to the face-off against his closest rival, Fernando Haddad, of the left-wing Workers' Party.
Bolsonaro, a former army captain of the conservative Social Liberal Party, has expressed admiration for Brazil's past military dictatorship, and says the country needs tough leadership to deal with its problems. It's a message that seems to have resonated with voters fed up with ever-expanding corruption scandals and violent crime (paywall)—underscored by the nearly fatal stabbing of Bolsonaro during campaigning.
On Sunday, he defeated Haddad by a margin of more than 10 percentage points, winning 55% of the vote. After his victory, Bolsonaro told supporters (link in Portuguese): "The Brazilian people understood the truth in this election." He'll take office in January.
Haddad responded to the defeat with this message (link in Portuguese) to supporters: "Don't be afraid. We will be here, we will stand together."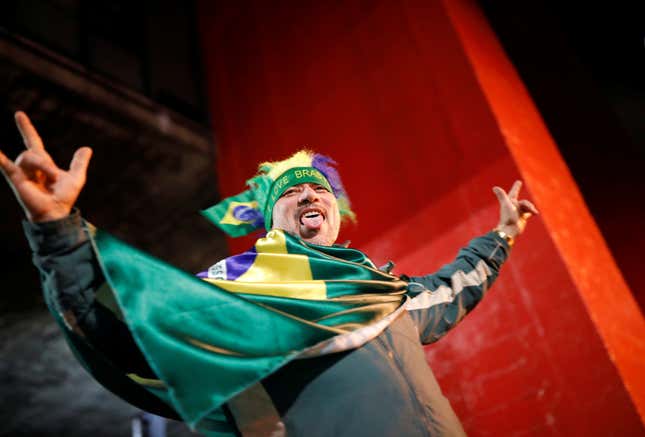 The win has capped, for now, the Workers' Party era in Brazil, which grew out of the country's labor movement and opposition to the 1964 coup that brought in two decades of military rule. Its charismatic leader, Luiz Inácio Lula da Silva, became president with more than 60% of the vote in 2002 (link in Spanish). The Workers' Party brought in a slew of new social-welfare benefits, including cash transfers for families, and expanded workers' rights. In Lula's first term, Brazil saw a sharp reduction in poverty (those gains now appear at risk).
But the moves also weighed on Brazil's finances, while a string of corruption investigations unfolded around the party. They included a massive scandal involving the country's oil giant Petrobras and construction major Odebrecht, dubbed "Operation Car Wash." In 2016, Brazil's first female president, Lula protegé Dilma Rousseff was impeached. Lula himself is serving a 12-year prison sentence for corruption, including receiving more than $1 million in bribes (paywall).
Bolsonaro is the latest candidate to find that deeply sexist comments are no bar to holding the highest office in a country. In 2016, revelations that Trump had said he could "grab [women] by the pussy" didn't cost him the election, while in the Philippines that same year, Rodrigo Duterte's crude remarks about rape also didn't dent his popularity, including among women.
Bolsonaro's rape comments in 2014 were directed at lawmaker Maria do Rosário, a former teacher who became Brazil's secretary of human rights in 2012, after she praised a 2,000-page report cataloging torture, rape, and disappearances under the military regime. He accused her in congress of calling him a rapist a decade earlier, and said she wasn't worth raping; he then followed that comment with a newspaper interview in which he said she was "too ugly" to rape.