It was just in June that Indonesia finally got the all-clear from the European Union, which removed all of the country's airlines from its safety blacklist.
That was supposed to mark a major moment for the country's booming aviation industry, which had for years suffered from a poor safety record with the EU blacklisting all Indonesian airlines in 2007. The US also barred flights from the country's airlines that year, but raised Indonesia's safety rating in 2016.
But the crash of a Lion Air flight today (Oct. 29) with 189 people on board has raised the alarm once again over the safety of the country's airlines. It is the worst air disaster in Indonesia since a Garuda Indonesia plane crashed in Medan in 1997, killing all 214 people on board. Lion Air said in a statement that it is working with the relevant authorities to respond to the tragedy and has set up a crisis center for passengers.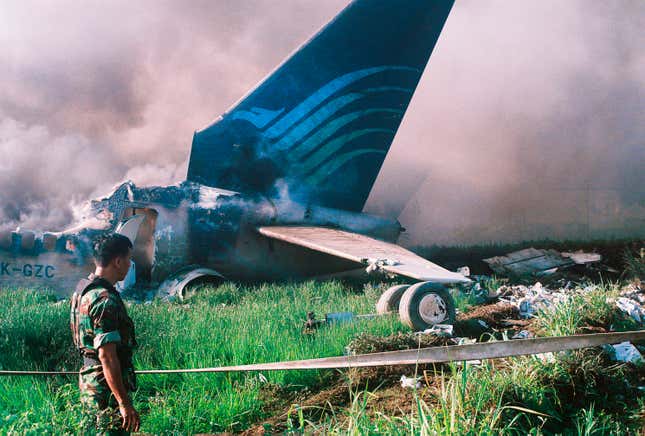 Lion Air itself was removed from the EU's blacklist in 2016, but until then, it had a poor safety track record. The airline has recorded at least a dozen accidents since 2002, most of them resulting in no fatalities with the exception of a crash in 2004 in Solo that killed 25 people on board. In 2013, a Lion Air Boeing 737—an older model of the aircraft that crashed today—crashed into the sea near Bali, with passengers forced to swim for their lives.
In addition to crashes, Lion Air was rapped by the country's aviation regulator in 2016 for running up long delays (paywall) and other operational problems, including an incident in 2016 when passengers on a flight from Singapore disembarked at the domestic terminal in Jakarta by accident, allowing some passengers to exit the airport without getting their passports stamped.
Other notable accidents in Indonesia include a Garuda Indonesia flight that crashed in Yogyakarta in 2007 killing 21 people, a military aircraft crash in Medan in 2015 that left over 100 people dead, and a Trigana Air crash in Papua that left over 50 dead. AirAsia, a Malaysian carrier that has a good safety record, also crashed in Indonesia en route from Singapore in 2015, killing all 162 people on board.
Pilots who use drugs—including two Lion Air pilots who tested positive for crystal meth in 2012—have also been a worry in Indonesia.
Those incidents have not stopped Indonesians from taking to the skies in huge numbers. The country is the world's fifth-largest domestic aviation market, according to research provider Centre for Aviation, with domestic passenger numbers more than tripling since 2005. A surge in foreign visitors to Indonesia, in particular to Bali, has also helped fuel the aviation boom. Lion Air's parent company, Lion Group, dominates the market with over 50% market share.
In response to that growth, Indonesian airlines have been among the biggest customers for aircraft, with Lion Air this year placing an order (paywall) for 50 of Boeing's brand new 737 Max 10 jets—the aircraft that crashed today. The carrier also signed (paywall) Boeing's biggest-ever commercial deal in 2011, ordering over 200 planes.
The Indonesian government has attempted to impose new regulations to improve the safety record for the country's carriers, including setting a floor for ticket prices following the AirAsia crash, which some have argued does not improve safety and merely impedes competition in a vast archipelago country where many rely on planes to travel and where growing income levels mean many more people are now able to afford it. Instead, the government should invest more money in airport infrastructure, argued the Centre for Aviation.