A commemorative Brexit coin is in the works. Following the UK's "true blue" redesign of its passports, minting the coin is a small, but definitive statement from the government that despite dissent across the country, all plans are pushing through for its historic departure from the European bloc on March 29, 2019.
At budget hearings today (Oct. 29), UK Chancellor Philip Hammond is expected to confirm that the Royal Mint will produce a commemorative 50 pence coin bearing the words "Friendship With All Nations," the Sun reports. Some point out that the conciliatory slogan echoes a line from a speech by Thomas Jefferson, the principal author of the US Declaration of Independence.
The heptagonal 50 pence coin, made from an alloy of copper and nickel, is the largest coin in circulation in the UK. Its reverse (tails side) has been used as a canvas to fete all sorts of events, including Olympic games, the Beatrix Potter anniversary, and ironically, the year when the UK joined the EU in 1973.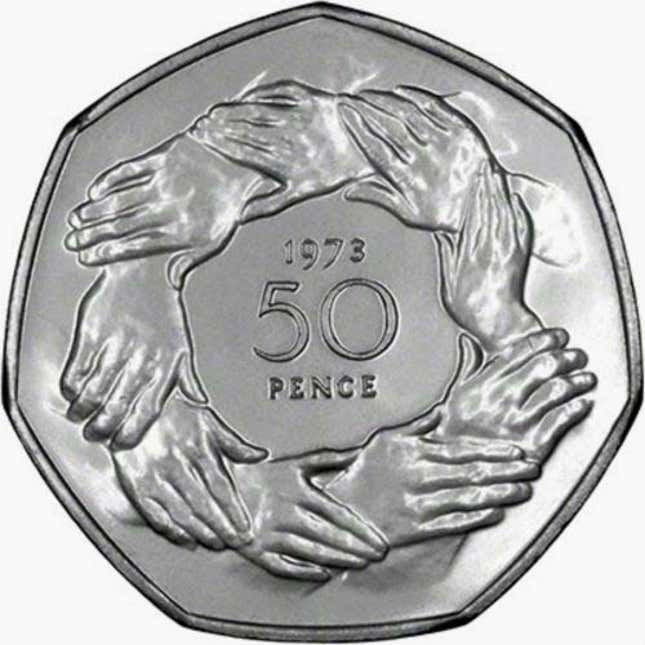 Compared to the more than 60 beautifully rendered 50 pence commemorative coins the Mint has issued, the proposed design of the Brexit coin published in The Sun is pathetically lackluster.
The Sun published the "exclusive" description of the coin on Sunday. Accompanied by a rather crude Photoshop rendering, the tabloid called the new coin a "victory for Britain." It has been campaigning for some sort of official Brexit memorabilia for months, and its foiled push for a Brexit postage stamp in January has given fodder for meme makers to create savagely funny alternative designs.
Once news broke of the Brexit coin, the internet wasted no time in similarly mocking it:
Several commentators, including Labour MP Wes Streeting, referenced the continuous devaluation of British currency since the EU referendum.
Queen Elizabeth, whose portrait is on the coin's obverse, will have to approve the proposal.