Commemorative postage stamps are the cookie crumbs of history. In the UK, specially-designed stamps honor cultural fixations and key anniversaries. It's comes as no surprise that many Brits were bothered by the Royal Mail's decision not to issue a special stamp to mark the  UK's withdrawal from the European Union by April 2019—arguably the most defining event in its recent history.
David Gold, Royal Mail's director of public affairs and policy, argued that issuing Brexit-themed postage would be against its mandate for "strict political neutrality." But many were quick to cite a 1973 commemorative set that marked the year the UK joined the European Economic Community (which became part of the EU in 1993).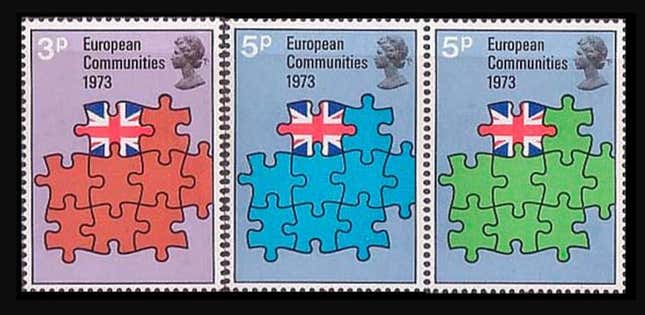 Riding the swell of outrage, the satirical website the Poke (tagline: "Time Well Wasted"), launched a call for the public's best attempt at designing a Brexit stamp, and boy did the Brits deliver. Under the hashtag #BrexitStamps, are mini masterpieces of savage British humor (and impressive Photoshop skills).
Collectively, they capture anxiety, regret, anger, and sorrow for the impending separation with the rest of Europe—all delivered with characteristic dry wit.
Some enterprising Britons are even riding the #BrexiStamps meme's popularity to promote their causes. Academy of Rock founder Peter Cook, for instance, designed a stamp to draw attention to his crowdfunding campaign for "Rage Against the Brexit Machine," a playlist of Brexit-themed pop songs.
Chris West, author of First Class, A History of Britain in 36 Postage Stamps attributes the popularity of #BrexitStamps to two quintessential British obsessions: political humor and philately. "There's a great tradition of political cartoons going back to William Hogarth, Thomas Rowlandson and George Cruikshank," he explains. "And we're very proud of our stamps. We started the whole business with the Penny Black!"
West thinks the growing gallery of satirical stamps is brilliant. His favorite is a gloomy picture created by Free Say for All, an organization lobbying for second Brexit referendum. "Dark and biting, but that is how the M20 (road to Channel tunnel) will look on March 29, 2019, if the hard-line Brexiteers have their way."
West also applauds the mordant humor and verbal pun in this early submission.
"All in all, this shows the classic British response to adversity," says West. "Find something funny in it!"