If it feels like you remember recently reading a post just like this, you're not experiencing déjà vu. A little over a month ago, Apple held an event at its Cupertino, California headquarters, where it unveiled its latest slate of iPhones, and the new Apple Watch. Many were left feeling as if Apple didn't have much ready to show off at its event, given the number of rumors that had bubbled up before it took place.
But now it's ready.
Apple announced a second event, this time in New York, set for Oct. 30 at 10 am US Eastern time (2pm London time). In typical Apple style, it didn't really give much indication of what it would be showing off, just saying, "there's more in the making" on its invitations. (You'll be able to follow along at Apple's website.)
Here's a quick run-down of everything Apple might announce, based on recent reports and analysis of its product line:
New iPad Pros
Apple unveiled a new iPad at an event in Chicago earlier this year, meant for students and more casual iPad users. But people looking to replace their laptops with something a bit slimmer have likely been waiting for an update to the more powerful iPad Pro, which was last updated in the summer of 2017. Leaks and rumors over the summer and more recently have suggested that Apple will release a thinner iPad Pro, lacking a home button and mirroring the design of the iPhone XS it launched last month. It will likely have FaceID, the facial-recognition technology in the newer iPhones used to unlock the phones, and may have USB-C support, like its newer MacBook computers.
There's also talk of a new Apple Pencil, the stylus used for drawing and navigating on the iPad. It will apparently be as easy to connect to the iPad as a pair of AirPods (which use Bluetooth to detect a nearby device and automatically connect), and may feature a button to bring up menus on the iPad.
Some are also suggesting that there might be an update to the iPad Mini, which last saw a refresh in March 2017. While it's possible that the small tablet might be refreshed, it's worth noting that the screen size of the new iPhone Xs Max is only about 1.4 inches smaller than the last iPad Mini. Consumers may not want to carry around a small tablet that's only a little bigger than their large phone.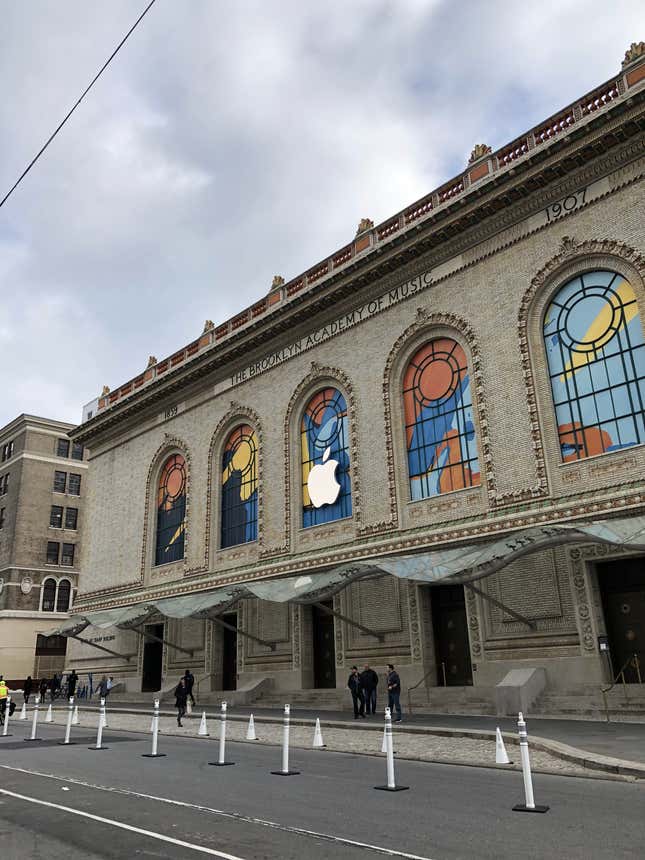 New MacBook Air
Apple hasn't updated its cheapest laptop in what feels like an eternity (it did give it a small power bump last summer, but they hadn't been touched at all for the two years prior to that), and rumors indicate that the company is overhauling the model or releasing a replacement. Apple is reportedly going to release a new low-cost (read: under $1,000) laptop at this week's event, which will have an HD Retina display, a fingerprint scanner, and a slimmer design. It's unclear yet whether it'll retain the Air name, or if it'll just be a cheaper version of the MacBook it first unveiled in 2015.
New Mac Mini
Apple's other forgotten computer, beloved by anyone trying to hide a Mac behind a TV screen, may also finally be getting a refresh after four years of neglect. It will likely be a smaller box than when it was last produced, and hopefully still contain a bevy of ports for users looking to hook it up to their AV systems. It's unclear how much the new computer (which does not ship with a display, keyboard, or mouse) would cost, but the latest version currently sells for $500.
New AirPods?
There's a chance that Apple will release a new version of its AirPods wireless earbuds, which have been a bit of a sleeper hit since they were first released in late 2016. There's not much information on how the new buds will differ from the original models (other than a more powerful chip), but there's also talk that the new Pods could be released alongside the missing AirPower, Apple's wireless-charging pad it first announced in September 2017, but hasn't provided any updates on since.
One more thing
Apple likes to save surprises for last, when it has them, and there's always a chance it will have something up its sleeves. There could be other iPads, other Macs, or accessories not discussed recently that could also be refreshed. And who knows, maybe there could be something completely out of left field at the event, like smart glasses, other wearables, or maybe even a car. One can dream.