Last year, I bought a piece of what Apple was calling the future. It felt half-baked.
Apple announced the iPhone X in grand style last September, at its brand-new campus in a theater named after its late founder, Steve Jobs. Current CEO Tim Cook described the phone as the "future" of the smartphone for Apple. He's said since that it will set the company up for the next decade, following the most successful decade the company has ever had. But the device felt rushed. It did away with the home button, changing the way people interacted with and navigated through iPhones after 10 years. It replaced the fingerprint unlock with facial scanning that wasn't always accurate. And it cost $1,000.
A year later, Apple has returned to the "S cycle," the product schedule it maintained for the decade of iPhones before the iPhone X, where it would release a revamped phone every two years, with a moderately updated model each intervening year. This year it introduced the iPhone Xs and the larger Xs Max. Is Apple any closer to something that feels like the future, or at least something that just works?
Quartz has spent the last few weeks with the Xs Max in order to figure out if the massive phone is worth it. Here's what we found:
What's good
Brilliant, big display. Design-wise, the iPhone Xs Max is effectively just a stretched-out iPhone X, meaning the majority of the front of the phone is a large, sharp display. It features a 6.5-inch "Super AMOLED" display that's among the largest on the market. While it might not be quite as sharp as the display in Samsung's enormous Galaxy Note 9 phone, it's still a giant, high-definition display that feels like holding a tiny television in your hands. For reference: the iPad Mini, last updated in 2012, has a 7.9-inch screen with a considerably lower resolution than the Xs Max. Apple has effectively replaced its smallest tablet with its largest phone.
That giant display makes doing a lot of things that are quite tedious to do on a smartphone a little bit easier. Writing long emails, or even stories (I, somewhat ironically, wrote this on my Xs Max) is slightly more bearable, as you don't have to constantly scroll back up to remind yourself of the last thing you wrote. Watching movies, reading presentations, even live TV (I watched an entire Chelsea soccer match on YouTube TV without straining my eyes) are all pretty pleasant with such a massive display. I'm wondering if I ever need to buy an iPad again.
Solid camera. Just about every iPhone has either had one of the best or the single best camera of its generation, so it's not really a surprise that the iPhone Xs Max has a great camera. Both the iPhone X and Xs feature two 12-megapixel rear cameras with the same apertures, so the majority of the upgrades to the new phone's cameras are in its software. There isn't a massive difference between the two cameras (CNET did a great dive into the minutiae, if you're interested), but the new phones do capture colors and detail a little better than their predecessors. Here are a few examples: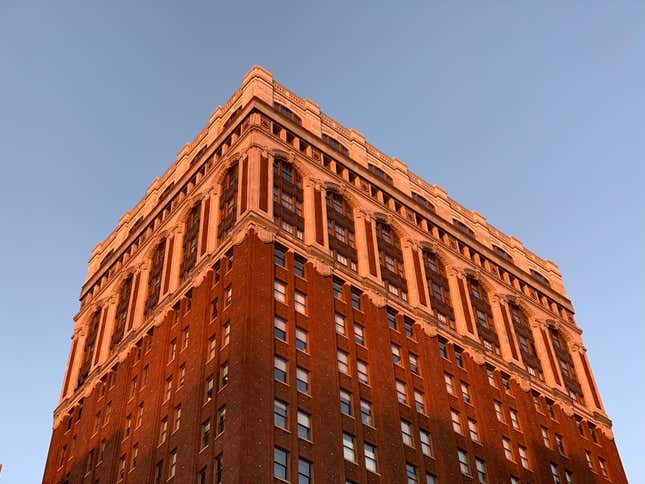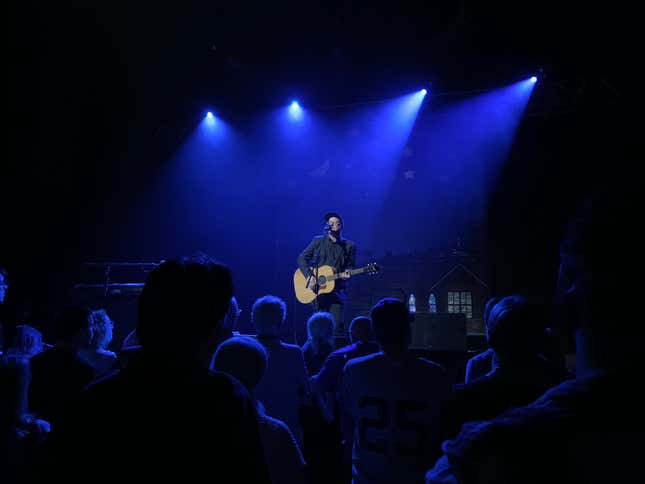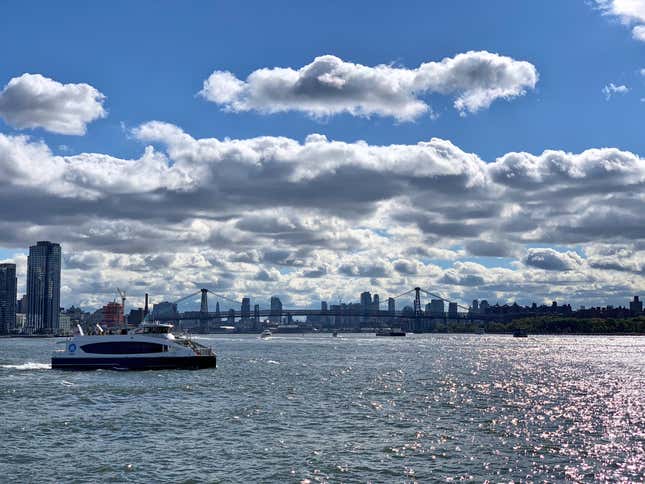 The front-facing camera can still take some excellent selfies, much like its predecessor, using the phone's "TrueDepth" sensors—the same technology that helps the phone recognize your face to unlock the device.
Solid battery life. When it was announced, Apple said the new Xs Max should get about 1.5 hours more battery life than the iPhone X. After a year of using the X, I rarely ran out of battery when I used the phone over the course of a normal workday—sometimes on the weekends, if I was out all day, I would be scrounging for a charger. My experience with the Xs Max, so far, has been about the same. I haven't managed to completely drain it yet, but I haven't really had any epic days where I've been completely reliant on my phone.
Refined experience. Much of the qualms I had with the iPhone X were around features that didn't feel quite ready last year. FaceID, the facial recognition technology used to unlock the phone, wasn't always accurate, some of the finger gestures that replaced older iPhones' home button felt awkward, and some other user-interface features were frustrating on an otherwise great device. But when you're paying upwards of $1,000 for a phone, you want things to work well.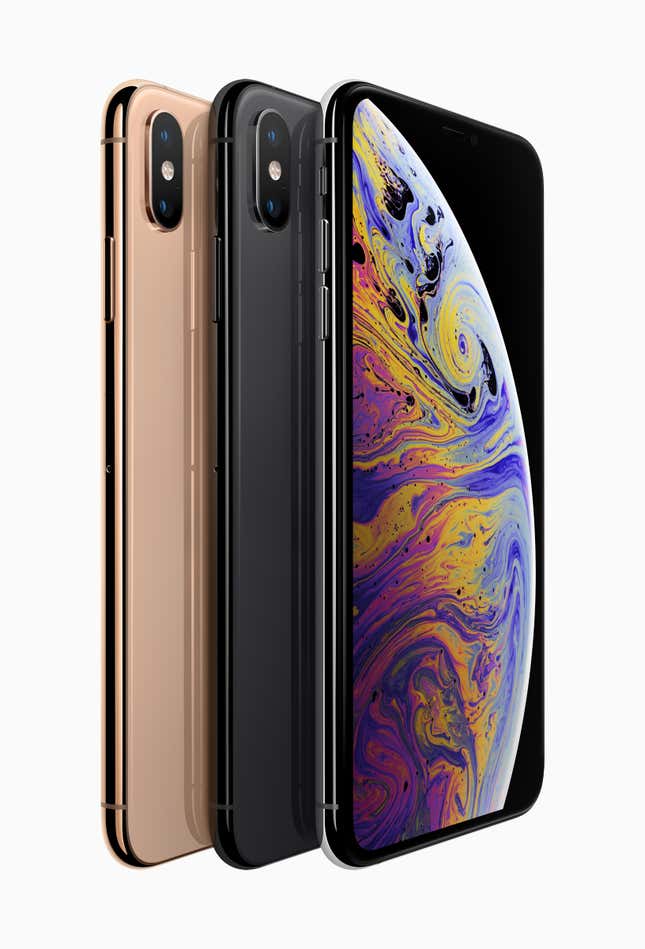 Apple has addressed many (though not all) of the issues I had with the iPhone X over the last year—many of them fixed with software. I set my Xs Max up from scratch—it was not a backup of my X—and FaceID so far has worked perfectly. iOS 12, the new mobile operating system Apple announced at the same time as the Xs, lets you just swipe away an app you want to close (previously, you had to hold down on an open app that you wanted to close, then wait for a red "X" symbol to appear, and then you could swipe the app away); notifications are now stacked into groups so they don't take over your entire screen; the device feels fast and snappy in every app; and it doesn't seem to take nearly as many accidental screenshots as the old one did. In all, it feels like a slightly better version of the "future" Apple presaged last year.
Everything else that was good about the iPhone X—wireless capacitive charging, water-resistance, tapping to wake the screen—has returned for the iPhone Xs.
What's not so good
Camera could be improved. Although this is an S year phone, it still felt like Apple could've done a little more to boost the quality on its latest cameras. Other iterative updates this year (the Samsung Galaxy S9, the Google Pixel 3—more on that soon) have had impressive camera upgrades, whereas Apple's feels lacking, especially when it comes to the portrait modes. The dramatic "contour light" and "stage light" modes it debuted on the iPhone X last year were very bad, and I regret to inform you that they are still quite bad:
Connectivity issues. Apple switched from Qualcomm to Intel for the modems in its iPhone Xs phones, and it seems there may be some teething problems. iPhone Xs owners have been reporting—which I also experienced—that the new phones struggle to reconnect to LTE connections when they've lost them. For example, if you're coming up from the subway, out of an elevator, or a movie theater—or anywhere where there's poor cell connectivity—the iPhone Xs either will struggle to reconnect to the internet for a few minutes, or it'll say it's connected, but nothing will load. Eventually, the problem sorts itself out, but it's massively frustrating.
It's not clear yet whether this is a hardware or software issue. Apple wasn't immediately available for comment, but the company recently released a software update to fix some other early issues (the new phones also hesitated to charge when plugged in, and sometimes wouldn't connect to fast wifi networks), but it doesn't appear to have fixed the LTE issue.
It is a very large phone. There's no denying that the iPhone Xs Max is a large phone. While it's not the largest on the market (see the largess above), it's still quite giant. Apple has also released a 5.8-inch iPhone Xs and will soon release a 6.1-inch Xr—both of these are smaller than the Xs Max, and at least in the case of the Xs, there are few differences from the Xs Max, barring the large screen. The Xr, which will be available next month, has a slightly larger, less sharp display, and an aluminum back, for slightly less money. Speaking of which:
It's ludicrously expensive. The iPhone Xs Max starts at $1,099 for a 64 GB model, and the most expensive model is $1,449. For reference: the most expensive iPad Pro is currently $1,149; the most expensive MacBook Air starts at $1,199.00; and the most expensive MacBook starts at $1,599, not much more than the large phone. So when weighing whether to pick one up, it's worth considering whether it's worth as much in your life as your laptop.
Should you get one?
I'm not sure whether the iPhone Xs feels any more futuristic than the X did, but I do know that most of the problems I had with the X have been wiped away, and the device, as Apple products are generally expected to, does just work. (Aside from whatever is going on with the modems, that is.)
If you were considering buying an iPhone X but held off to see if Apple would iron out the kinks next year, then you probably made a wise decision. The Xs Max is a better version of the X, refined and elongated. If you're an iPhone user who's ready for an upgrade, this is a great choice. (But be warned: one of the most common complaints I've heard of iPhone holdouts is that they don't want to lose their headphone jack, and, unsurprisingly, Apple has not brought back the headphone jack for the Xs.)
The iPhone Xs Max will be a excellent device for the majority of people who pick one up—but if you're after a device that isn't the size of Delaware, you'll want to look elsewhere. The screen is beautiful and easy to see, and its battery lasts a day with no problem. It probably won't be the device that will convince those loyal to the Android operating system to switch over, as much of what has made Apple unique over the years has been aped by its competitors, some of whom make truly excellent phones.
But whatever Apple device you currently own, the iPhone Xs Max will likely feel like a massive upgrade. You just have to contend with whether you feel comfortable spending quite so much to get it.