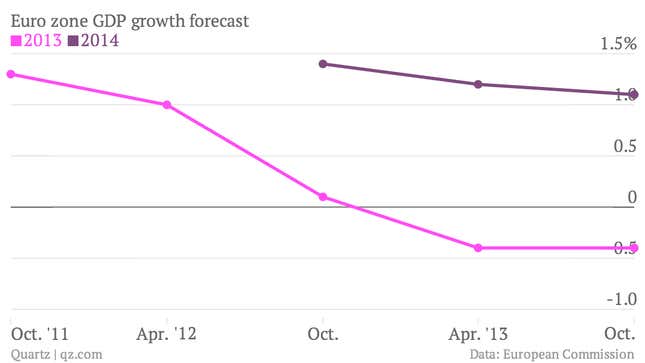 The European Commission's latest economic forecast is sobering reading for anyone who thinks the euro-zone economy is turning the corner. The commission has steadily trimmed its forecasts for GDP growth (see chart above); two years ago, it thought the 17 countries of the euro area would collectively grow by more than 1% this year, but over time it has brought this down to a 0.4% decline. The outlook for 2014 is better, but this too has been cut in successive editions of the commission's semi-annual forecasts.
Today, unexpectedly weak retail sales data reinforces the impression that the euro zone remains in the doldrums. A growing chorus is calling on the European Central Bank (ECB) to cut its benchmark interest rate to support the economy, if not at its meeting tomorrow then perhaps in December. The ECB's critics say its monetary stance is overly stingy given precariously low inflation and a stubbornly strong euro that hurts the competitiveness of exports. And as the European Commission has tempered its expectations for economic growth, it has also revised up its forecasts for unemployment this year and next.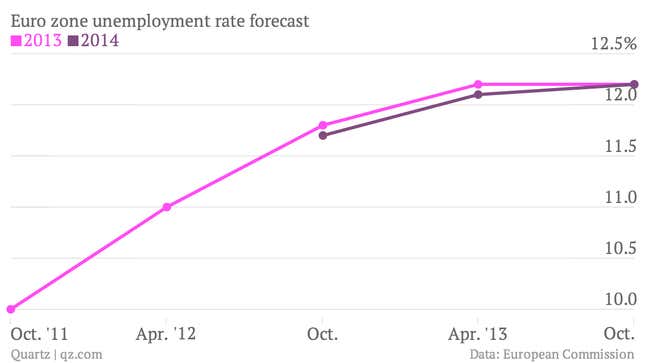 But it's not all doom and gloom. Some forward-looking indicators suggest that a recovery is indeed around the corner:
Adecco, the world's largest staffing agency, reported today that the demand for temps is growing in some of the euro zone's hardest-hit countries. Companies usually take on temps before they hire permanent staff, so this is an encouraging signal.
The Spanish are recharging prepaid mobile phone cards at a faster rate, which some believe suggests a broader uptick in consumer spending will soon follow.
German factory orders rose much faster than expected, according to data released today. That's normally a good sign for the euro zone's largest economy. However, the debate over whether strength in German manufacturing and exports may hurt the euro zone more than it helps continues to simmer—the European Commission and IMF recently supported the US Treasury's criticism of Germany for not doing enough to share the wealth with its less fortunate neighbors.