The past few years have been tough for Spain, and Christmas-time is no exception.
Spending during the holiday season is expected to fall this year by 11.5%, according to Fuci, the Federation of Independent users and consumers (link in Spanish). "This report serves as a picture of the current situation in our country," president of Fuci Gustavo Samaoya said in a statement. "This year, the crisis continues its whipping, which has provoked a sustained easing in spending amongst Spanish families."
The drastic drop in Spanish Christmas-time spending isn't an outlier but part of an ongoing trend for the past five years. Spending in all four major consumer categories—toys and gifts, lottery tickets, food, and leisure—has fallen almost every year since 2008. Holiday leisure-spending (everything hotel stays to family activities) is down a whopping 71% over that period, while Spaniards are doling out roughly 34% less for toys and gifts than they did back in 2008. This year, lottery ticket-buying and leisure spending are projected to be especially weak, some 21% and 23% lower than in 2012, respectively.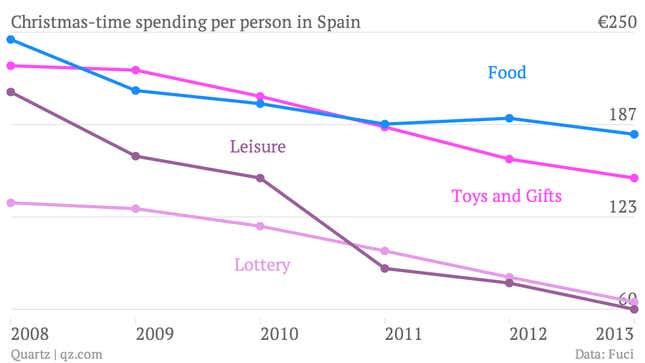 Spain has been hit especially hard by the global recession, suffering more than most of its peers in the euro zone. Drops in disposable income have tightened spending not only during the holidays, but also throughout the rest of the year. Thinner wallets are likely a direct result of Spain's thinning job market. Unemployment has soared since the onset of the economic crisis back in 2008 and is now hovering near 26%.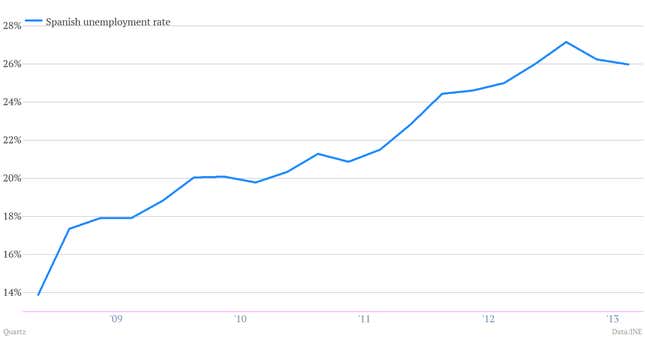 Holiday spending in Spain, while surely being squeezed by the country's sustained economic distress, is also likely falling because, simply put, it was—and perhaps still is—way too high. In 2008, Spaniards spent on average about $1,100 per person, which is, for reference, $200 more than Americans spent. While both countries have seen considerable drops since, contrary to the downward trend in Spain, US holiday spending appears to be rebounding from its post-crisis dip.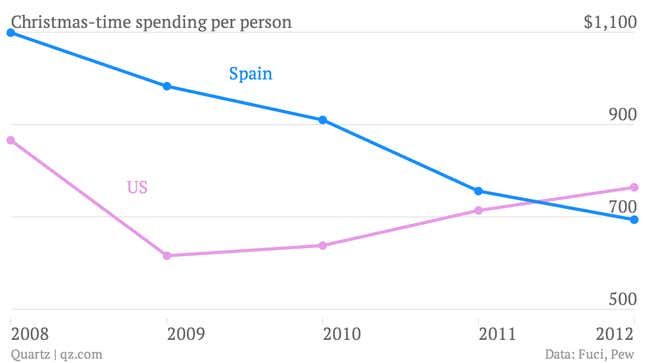 Fuci warns that Spain may still be a bit too intent on piling on the presents. If spending drops again, as expected, the country's toy-makers, retail stores and other holiday-time dependent businesses may have to veer their attention away from cash-strapped Spaniards and instead focus on the country's growing pool of spend-happy tourists.