On May 12, 2016, Samantha Broberg—a mother of two and stepmother to two more—boarded the Carnival Liberty in Galveston, Texas with two girlfriends.
Here's what her family has been able to glean about the 33-year-old's roughly 12 hours onboard that ship, which has a capacity of over 4,000 passengers and crew, and boasts a rum bar, a tequila bar, and a sports bar, as well as a casino and a Mexican cantina. Broberg—who at 5'5," weighed 120 lbs—was served 19 drinks, her husband alleges in an ongoing civil suit (pdf) he brought against Carnival. Just before 2am, after leaving a bar, she climbed onto a deck chair that was pushed up against a railing on the pool deck.
She sat for a few brief moments on the more than 3.5-foot-high railing, with her back to the sea, according to Carnival's trial brief (pdf). Then she fell backward into the Gulf of Mexico, a moment that was caught by the vessel's thermal camera system.
As the night gave way to the early morning, Broberg was simply gone—drifting, sinking, struggling, we'll never know. Broberg's friends woke up and reported her missing to cruise staff sometime between 9am, her husband alleges (pdf), and the "middle of the next day," according to Carnival's trial brief. (Carnival declined to comment on this case.)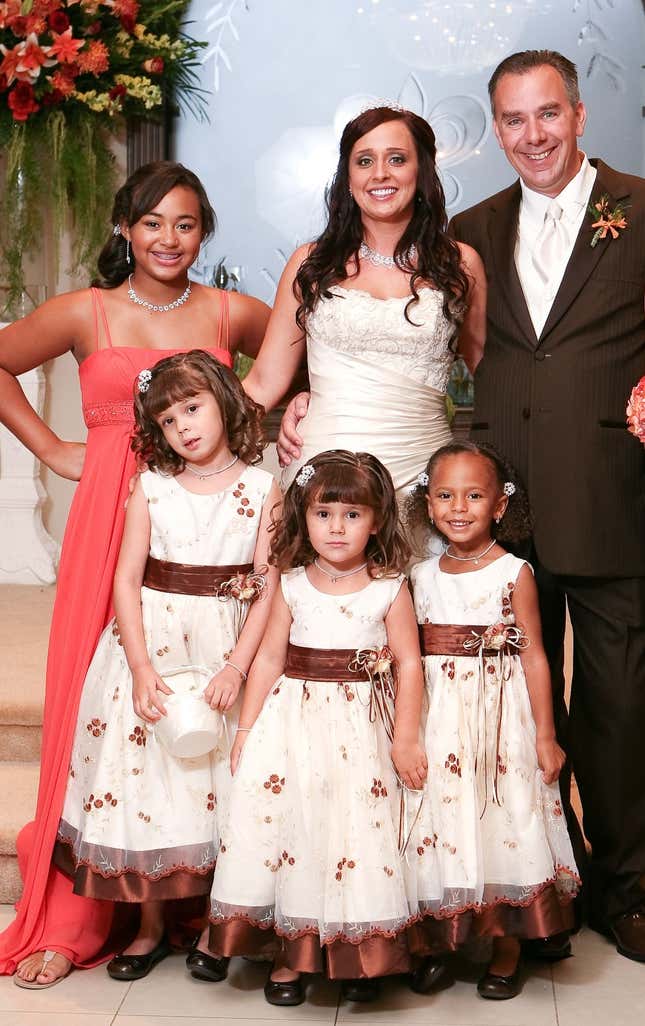 Carnival staff searched the ship, but it wasn't until 5pm on Friday, May 13—a full 15 hours after her fall—Broberg's husband alleges, that Carnival summoned the US Coast Guard (USCG), which launched a search and rescue mission. Broberg was later declared missing and presumed dead. At the Coast Guard's directive, the Liberty continued on its course.
Of the millions of people like Samantha Broberg who step onto cruise ships each year, few are aware that their personal safety is in the hands of one of the world's most globalized, legally complex, and opaque industries. While the vast majority will not meet tragic fates like Broberg's, her story shows how the expectations passengers have about their rights and safety on board a cruise ship do not always match the reality.
Since 2000, 284 people have fallen off cruise ships—and another 41 from large ferries—an average of about 1.5 people per month. The cruise industry says that accidental "falls" don't happen when passengers are behaving responsibly. And online commenters on cruise forums generally dismiss those who go overboard as drunk, careless, or stupid, and see these events, while unfortunate, as no more than a Darwinian culling of the vacationing population.
And yet, even though a relatively small number of people fall from cruise ships into the sea—and critics of the industry tend to focus more on environmental damage and norovirus outbreaks—man-overboard incidents remain a vexing problem.
Why do people still die as a result of them, despite the fact that technology exists to detect falls? And, after a person is swallowed by the ocean, what power do their loved ones have to find out what happened, hold any guilty parties responsible, or demand reform?
The answers to these questions reveal a cruise industry that is surprisingly unencumbered by the accountability and consumer protection we expect from other industries, combined with poor labor practices that advocates and workers say have driven some crew members to suicide. Most of the nearly 30 million passengers (pdf) who travel on a cruise each year, roughly a third of them American, are blissfully unaware of this reality. When "man overboard" incidents get tabloid headlines, they're framed as macabre, bizarre, isolated occurrences—not a problem that an average cruiser needs to worry about.
Looking for more in-depth coverage from Quartz? Become a member to read our premium content and get 40% off your subscription for a limited time!
"Intentional or reckless"
The cruise industry often claims that cruising at sea is safer than vacationing on land. "Last year, almost 27 (26.7) million people took a cruise holiday, and there were nine overboard incidents involving passengers. This equates to about one incident per seven million passengers," the Cruise Lines International Association (CLIA), the industry's trade organization and lobbying arm, told Quartz in an emailed statement.
Thanks to minimum railing heights of one meter (39 inches) and other structural barriers, CLIA insists that man-overboard incidents (known in the industry as MOBs) are only "a result of an intentional or reckless act" and there are "no known cases of someone acting responsibly who has accidentally fallen over the railing of a cruise ship."
Indeed, man-overboard incidents don't happen often enough to deter many passengers from taking a cruise vacation. And yes, it's true that some incidents are intentional acts.
Because there is no official agency or centralized system for tracking MOBs globally, the most comprehensive data available come from Ross Klein, an academic and author from Memorial University of Newfoundland who has been researching the cruise industry and tracking MOB incidents since 2000. His data—which are what tell us that 325 people have gone over the railings of cruise ships and ferries in the past 18 years—are largely based on local media reports and tips from onboard observers, both crew and passengers, as well as those incidents verified by the cruise lines and authorities. (Klein includes passenger ferries that contain overnight cabins and multi-day itineraries due to the similar dynamics at play onboard, including alcohol service and entertainment for passengers.)
Klein has testified in front of the US Congress four times, and been an expert witness or contributed expert opinions in several court cases, including Broberg's. Even CLIA, in its 2018 operational incident report—which is assembled by the cruise and maritime management firm GP Wild and tracks "significant cruise industry casualties identified from the public domain"—cites Klein's data as a source. For the period of 2009 to 2017, that report found 164 MOBs, an average of 18 incidents per year (or, put another way, one to two per month, assuming equal distribution). This figure is not directly comparable to—though also not wildly different from—Klein's, due to a differing time window, and the fact that GP Wild does not include ferries, nor uncorroborated reports that result from direct tips to Klein.
When the cruise industry says man-overboard incidents are all "intentional or reckless," the suggestion is that nothing more can really be done to prevent these tragedies. It would be impossible to predict a person committing suicide, or a passenger choosing to climb on a railing, so how can the ship owners be blamed when a person does just that? As Carnival argued in its trial brief in the Broberg case, it was her "own negligence—in becoming intoxicated, climbing up on and sitting on a deck railing, or both—[that] was the cause of her injury."
But this stance seems to suggest that it's normal to only safeguard people who are "acting responsibly." In fact, it's not hard to come up with examples from modern life (not to mention case law) where safety precautions are meant to protect even those who act foolishly and against their own self interest.
From anti-hazing laws in fraternities, suicide barriers on bridges and other tall structures, and intoxication laws for those operating heavy machinery—authorities do all sorts of things on land to prevent self-inflicted harm or death, and to hold companies and entities responsible if they fail to take measures that could prevent such harm from happening. Furthermore, laws concerning the service or sale of alcohol on land in the US and other countries can hold a business or person liable for serving a visibly intoxicated person alcohol, if that person goes on to cause the injury or death of a third party.
In the global cruise industry, one or two people are statistically likely to fall overboard from a cruise ship each month, and somewhere between 17% and 25% are rescued (according to Klein's data and GP Wild's, respectively). The percentage rescued might be significantly higher, advocates say, if cruise ships were to adopt a relatively new technology that would set off an immediate automated alert any time a person goes overboard. Of course, such alerts—and the likely false positives that would crop up in any such automated system—would also force ships to launch more search-and-rescue missions, potentially disrupting itineraries for thousands of paying passengers, and causing cascading expenses and hassles for cruise companies.
That a cruise passenger's statistical likelihood of dying as a result of an MOB is very low cannot be denied. But Michael Lloyd—a former sea captain with 50 years at sea, and now a marine-safety consultant, victims' advocate, and cruise industry critic—posited a useful thought experiment. He asked me, as a journalist covering the travel industry, to imagine what would happen if, every month, one to two people died on an airplane for a predictable operational reason, such as sustaining a traumatic head injury during turbulence due to failure to wear a seatbelt. It's a scenario I find impossible to imagine, after years of flight-safety demonstrations, seatbelt checks, and back-of-the-seat cards.
"The airlines have got it absolutely right," Lloyd says. "There is a clear chain of command that passengers follow, so safety measures are obeyed. Aircraft rarely ditch into the water and yet, the planes still carry life jackets and they still demonstrate them every time you get on a plane. That's down to a difference in attitude towards safety and shows just how far the marine industry is still behind."
There's also the fact that, as journalist and former airline pilot William Langewiesche hauntingly wrote in Vanity Fair of the sinking of a US-flagged cargo ship in 2015, "disasters at sea do not get the public attention that aviation accidents do, in part because the sea swallows the evidence."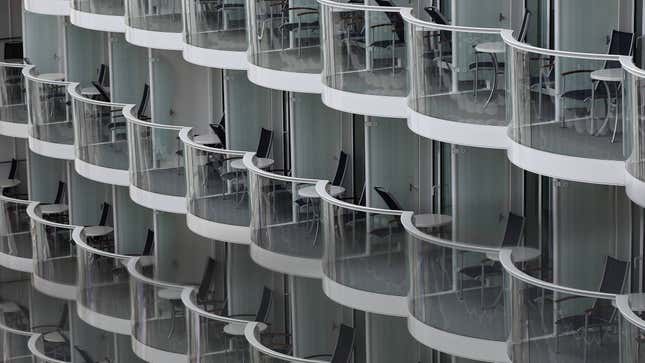 The moment of impact
Even though Broberg's fall was captured on thermal camera, that camera footage was only viewed hours later, after her friends figured out she was missing. The system that captured her backwards topple did not alert the ship's crew, or stop the ship to attempt to rescue her from the water.
Had it done so, it might have made a difference. Any search-and-rescue mission will be reliant on an approximation of the victim's location. But if someone falls overboard without being seen, as Broberg did, "there is little chance of survival," according to captain Lloyd.
Indeed, though most cruise ships have video surveillance equipment installed, someone has to be monitoring those images at all times to know if a person has gone overboard—no easy feat on a mega-ship carrying thousands of people. A so-called "complete" MOB-detection system eliminates the need for a human to witness the incident in real time, either in person or on a CCTV screen. It does this by installing a network of sensors (including radar, infrared, and/or video) designed to detect when a body has fallen overboard. It then sends an automated alert to crew, who can immediately view roughly 10 seconds of footage from the triggered location on the ship to see if a search-and-rescue mission should be launched (or if it was a false alarm triggered by a seagull or wave).
So why did the Carnival Liberty apparently have no such a system installed to detect Broberg's fall? In its only comment for this story, Carnival told Quartz that "All of our ships have man overboard cameras and for several years now our company has been testing man overboard alarm systems. Historically these systems have been unreliable, generating a significant number of false alarms. The technology has been gradually improving and we continue to actively test it on our vessels."
Moreover, Carnival was not required to have a complete MOB-detection system installed. Section three of the Cruise Vessel Safety and Security Act (pdf)—a landmark piece of legislation passed by US Congress in 2010 to regulate the cruise industry—requires that cruise vessels which embark or disembark in US ports "shall integrate technology that can be used for capturing images of passengers or detecting passengers who have fallen overboard, to the extent that such technology is available." Language in earlier versions of the bill did not allow cruise lines to choose between image capture or overboard detection technology. But thanks to wording change—one that, according to Klein, cruise industry lobbyists pressed for—vessels which only install video surveillance are not breaking the law. (CLIA did not respond to a request for comment on the question of lobbying for this change.)
The US Coast Guard, which is responsible for policing cruise ships when they are in US waters, as well as enforcing the CVSSA, confirmed this reading of the law. It's worth noting, as some critics have, that several US Coast Guard officials have gone on to work in high-ranking CLIA posts after retirement. CLIA did not respond for comment on this matter.
On the whole, the cruise industry has argued that the complete MOB technology is not yet advanced enough to be used. That said, cruise lines remain vague when it comes the status of MOB-detection technology on their ships. While some cruise lines have mentioned installations of this technology in media reports, an evidence submission to the Coast Guard, and a press release, those lines declined to discuss specifics when asked by Quartz. In the reporting of this story, nearly every cruise line contacted—other than Royal Caribbean, the CEO of which I interviewed aboard the Azamara Pursuit on Aug. 29–declined to comment on the status of MOB technology on its own lines, instead preferring CLIA to speak for them.
CLIA says that despite testing, "few systems have shown practical application on a cruise ship sailing the high seas." Meanwhile, Richard Fain, the CEO of Royal Caribbean, says his "understanding is the tech is not yet at a viable stage. Like many areas of technology, the promise is often better than the actuality today … You do need technology to work. And actually work in real life, not in a laboratory and not in a sales brochure."
In 2016, after the US Coast Guard asked for a status update on MOB-detection technology, three commercial providers submitted evidence detailing the efficacy of their systems. The best-known of these systems is the MARSS MOBtronic, which has been commercially available since 2012 and is currently in use on one cruise ship and in development on another (MARSS did not reveal which cruise lines use its technology). It's also used on mega yachts and commercial ships, according to the company, and soon will be deployed on New Zealand's navy ships.
Using radars and infrared cameras, the company says its system has been shown two false positives per week on average (which it notes is low compared to other systems) and has been tested extensively in all maritime conditions. MARSS senior vice president of research Alberto Baldacci told Quartz that all installations of the system "have been successful and the clients have shown high appreciation for our technology," though he notes no real-life MOB incidents have yet occurred on vessels using the system.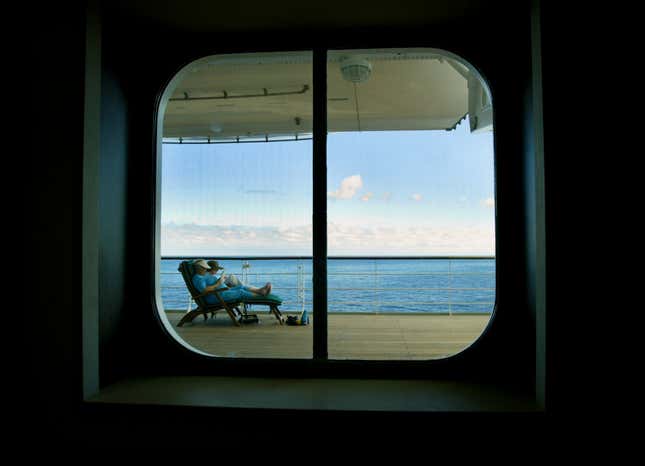 For cruise industry critics who want to see these systems installed across the entire industry, there is a glimmer of hope. The International Organization of Standardization (ISO) has been working with stakeholders in the industry—including Klein, cruise safety advocates, and CLIA—to establish a non-binding global standard for how these systems should work and be installed. The finalized standard is due in 2019 and, while it will remain entirely voluntary even once finalized, it will in theory provide best practices for companies looking to install this tech.
The US Coast Guard told Quartz that "once the final ISO standard is promulgated, the Coast Guard will use that standard as the basis to draft enforceable regulations" in the US. Meanwhile, MARSS says its system is already compliant with a draft version of the standard—and falls well under the ISO's maximum false positive rate of one per day on average—based on independent testing done by its clients.
Rob Griffiths, vice president of maritime policy for CLIA, told Quartz that before this standard is finalized, false positives arising in real maritime conditions remain an issue.
"CLIA member lines continue to conduct pilot programs with this novel technology and while some of these systems do show early promise, without an international standard and the associated testing protocols, it's difficult to fully and adequately evaluate the systems," Griffiths said.
According to various manufacturers, the cost of such a system is between $300,000 and $500,000 per vessel—a significant expense, but less prohibitive when you consider that a 1,000-foot-plus mega-ship costs upwards of $1 billion (paywall) to build. Installing a system fleet-wide would be an expense in the tens of millions for the large companies. But in the absence of enforced regulation, Klein says, "why spend money they don't have to?"
Of course, automatic MOB technology could also trigger other costs for cruise companies. It's easy to see how automated alarms—recording real MOBs and occasional false positives—could result in significant disruption to ship itineraries and tours, and routing and port delays, as well as missed flights and other inconveniences for passengers upon their return to land. (While cruise ships do sometimes participate in search and rescue missions, whether or not to so is often a calculation based on how far they've traveled since the incident, as well as guidance from authorities.) The financial consequences to cruise lines of this happening once or twice a month—and more, perhaps, with false positives—could certainly add up.
Robert Gardana, the lawyer for Broberg's husband—who spoke to Quartz broadly about MOB technology, but not the specifics of the case he is trying—argues that cruise ships shouldn't wait until a law and corresponding regulation from the Coast Guard force them to implement what he says is clearly life-saving technology; the companies should install it voluntarily, or do it in response to litigation.
There is some precedent for this happening in other industries, such as chainsaw manufacturers, Gardana points out: "Over the years, certain protections like chain-breaks have been added to chainsaws to diminish that potential risk of human-tissue injuries—which is something the chainsaw industry did on its own; it wasn't forced to by way of regulation."
There's a reason they're called "booze cruises"
James Walker is a Miami-based maritime lawyer who represented the cruise lines as a defense attorney until 1997, when he had what he calls a crisis of conscience and started representing crew, passengers, and other people affected by cruise-ship crimes and accidents. He's also the author of a widely read blog where he closely tracks and critiques the industry. Walker says that in all the conversation about preventing MOB incidences, there is an unwillingness from the cruise lines to acknowledge their role in one obvious cause: "The fact that [people have] gone overboard because they are intoxicated from consuming the cruise line's alcohol."
It's hard to say how many MOB incidents involve alcohol. There is no centralized reporting mechanism and cruise lines are not required to divulge this information to anyone. Of course, there is also rarely a body to recover, autopsy, and determine what an individual's blood alcohol level was when they fell, jumped, or were pushed.
Klein's data only includes a relatively small number where alcohol was definitively confirmed as a cause. But he emphasizes that those are only cases where media could confirm intoxication prior to the incident. Given that media reports are often based on information provided by the cruise lines, he notes that this number likely under-represents the role of alcohol.
Broberg's husband's complaint alleges that "there is a direct correlation between Carnival's over-service of alcohol and falling overboard, particularly in the early morning hours, after the cruise ship's casino and other bars close." It also charges that Carnival failed to follow its own procedures when it comes to an already-intoxicated passenger, which include refusing further service and escorting them back to their stateroom with an hour of supervision. Carnival argues in its trial brief that Broberg's status as a "functional alcoholic" who had a "drinking problem, but could maintain the appearance of sobriety" meant her highly intoxicated state was concealed from crew members, so they couldn't follow the protocol they are trained to carry out per Carnival's Responsible Alcohol Service Manual.
It's no accident that drinking is so central to life on board a cruise ship. Cruises have their roots in the "booze cruises" of the Prohibition era, according to Kristoffer Garin's book about the history of the American cruise industry, Devils on the Deep Blue Sea: "The destination didn't much matter, as long as the ship carried French champagne, Scotch whiskey, and Jamaican rum."
From a business perspective, there's also little incentive for the cruising companies to curb alcoholic indulgence. Each of the big three lines—Carnival Corporation & plc, Royal Caribbean Cruise Ltd, and Norwegian Cruise Lines—made between 26% and 30% of its 2017 revenue on drinks and extras sold onboard, according to their annual reports. One can surmise that is at least part of the reason guests are rarely allowed to bring their own booze—and why cruise enthusiasts spend so much time online dissecting the best drink packages, including popular all-you-can-drink options.
But the fact that man-overboard incidents happen an average of 18 times per year on cruise ships—and that some of them involve alcohol, as Broberg's case does—points to a predictable risk on seafaring vessels that are designed to provide a booze-soaked good time.
"You've got passengers coming on a cruise ship…. they're in an unfamiliar environment, they don't know the rules, they don't know safety, they're naïve," Klein says. "And then the first thing you do is they start plying you with alcohol. There's no warnings around the railing. There is no alert to people about watching their alcohol consumption because it makes you vulnerable to crime."
The main purpose of these ships is clear: "Choose fun" is Carnival's slogan. Norwegian's is "Feel free." That's all well and good, but captain Lloyd says the cruise industry's approach goes against centuries of maritime tradition, in which safety is the main priority, and the operational crew of the ship—not the entertainment and hotel side—is seen as the ultimate authority. He says the cruise industry's emphasis on "fun" necessarily makes providing top customer service, and a good time for vacationers, its main priorities.
"The rise of the modern 'hotel' cruise ships is something fundamentally different than what we had seen at sea before," Lloyd says. "It was as if the ships were becoming part of Las Vegas rather than part of the sea. We saw this shift, and then the operational officers and crew of the ship [became] subservient to the hotel staff, who were seen as the money-makers."
Norwegian declined to reply to questions sent in regards to this story. Carnival did not directly respond to questions about the role of alcohol in MOB incidents. CLIA said "however uncommon, CLIA cruise lines take seriously the possibility of guests engaging in unauthorized risky activity that could lead to them going overboard," and is testing systems to detect when that's happening, as well as enhancing crew training.
Royal Caribbean told Quartz that the cruise line's "staff is trained in 'safe serve' practices and we have strict guest conduct policies to discourage overconsumption." It added: "we see no evidence that these incidents are more prevalent than they are in the general population."
Looking for help in a company town
Let's say you're on a mega cruise ship, one designed to hold 5,000 or 6,000 passengers—plus around 1,000 to 2,000 crew. Then, your travel companion goes missing. What do you do? Of course, you turn to the ship's security team. Which is to say: You turn to a multinational company that is rightly concerned about maintaining its reputation for offering fun, safe vacations for families.
When you step onto a cruise ship, you arrive in a floating city of a few hundred to a few thousand souls that has no independent law enforcement on board. Once you set sail and pass into international waters, your rights are different from where you live, where you booked the trip, and where the brand you bought your ticket from is headquartered. In the event of any wrongdoing, crime, or foul play on board, passengers' first points of contact are employees of the cruise line. In other words: You are looking for help in what is essentially a company town.
With MOBs or serious crimes, of course law enforcement authorities are supposed to be alerted. But once the cruise line escalates the matter, who is in charge? Often, it's the legal and justice system of a country most of the travelers have never set foot in. Thanks to several centuries of maritime law culminating in the UN Convention on the Law of the Sea (UNCLOS), which was signed in 1982 and ratified by 167 states, jurisdiction in international waters—also called "the high seas"—broadly lies with the flag state, or the nation where the ship is registered. Questions of labor, environment, and safety are also determined by the flag state. Should an incident happen while a vessel is sitting in a port, jurisdiction would lie with the port state, and cruise lines often report incidents that occur on the high seas to law enforcement in their next port of call, as well as to their ship's flag state.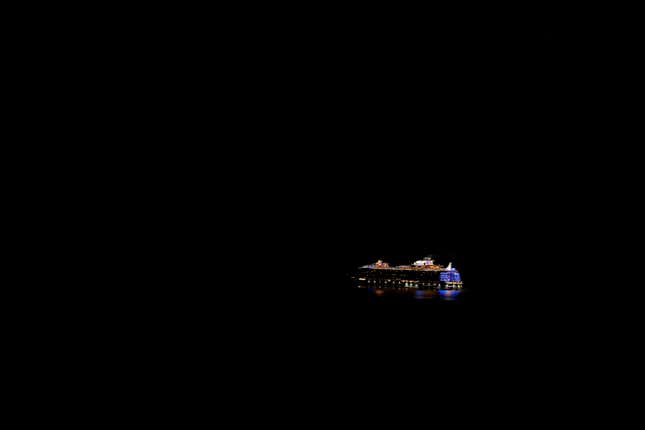 Together, Carnival, Royal Caribbean, and Norwegian comprise nearly 80% of the cruise industry (paywall). And for the millions of travelers who climb aboard one of the big three cruise lines each year, there is a fair likelihood that the Bahamas, Panama, Bermuda, or Malta are in charge of their fate on the high seas. According to a database compiled by the Columbia University Graduate School of Journalism in 2016, 70% of cruise ships are registered in these nations, commonly called "open registries" or "flags of convenience," as ship owners needn't have any meaningful tie to the nation to flag their ship there. The flag states also benefit from this arrangement, in the form of registration fees and tonnage tax from cruise companies who flag their ships there.
US maritime laws and vessel requirements are much more stringent than those of, say, Bermuda or Panama—it's no coincidence that only one large passenger cruise ship, Norwegian's Pride of America, is currently registered in the US. This is despite the fact that Royal Caribbean, Norwegian, and Carnival all have their corporate headquarters in Miami, Florida, giving the impression that they are tried-and-true American brands. Presumably for tax purposes, these lines are incorporated in Liberia, Bermuda, and Panama respectively.
The International Maritime Organization (IMO)—a specialized agency of the UN—develops the standards and regulations that are expected of flag states who have signed onto UNCLOS, as well as other maritime safety treaties. CLIA frequently notes, as it did to Quartz, that it experiences "robust enforcement" from the IMO. But there is actually no entity which polices whether or not flag states enforce these IMO regulations on the vessels they register. In other words, the IMO can't prevent a flag state from continuing to register ships, even if that state is failing to uphold the standards and regulations that the IMO establishes.
This leads to a situation where, in terms of cruise-ship safety and enforcement, "you're only as strong as your flag state," says Dr. Richard Caddell, director of the maritime law program at Cardiff University. "I think the flag of convenience states have improved considerably in many respects, but a high proportion of maritime casualties, especially involving massive pollution incidents, are still often registered to a flag of convenience."
CLIA, Norwegian, and Carnival did not respond to questions about flag of convenience registries. Royal Caribbean told Quartz that "the cruise industry is heavily regulated in numerous jurisdictions" and that it works "closely with regulatory authorities to improve safety laws, and regularly participate[s] in discussions and studies to advance industry best practices." It added that it is compliant with all CVSSA requirements, regardless of where a vessel sails, and that its ships are regularly inspected by flag and port state authorities.
A floating city with no police
Cruise ships position themselves as carefree bastions of fun, with cocktails at every turn. Put another way, though, a cruise ship is a "floating city with no police," which is how one advocate for cruise-ship safety, Kendall Carver, describes them. "If you had a town with 4,000 people, orientated around bars and drinking, without any presence of law enforcement, would you expect more things to go wrong than in the next town over?"
In 2006, Carver founded the International Cruise Victims Association (ICV). For him, the cause is personal: In 2004, Carver's 40-year-old daughter Merrian went missing from the Celebrity Cruises ship Mercury (owned by Royal Caribbean) while on a cruise to Alaska. Though a crew member reported her missing while the cruise was underway, Carver alleges his daughter's disappearance was not reported to the FBI or to her family, who didn't even know she had booked a cruise.
According to Carver, when police finally traced Merrian Carver's whereabouts to the ship via a credit-card receipt, it took Royal Caribbean three days to confirm she had even been on the ship. By the time police had confirmation, 28 days had passed since she was last seen. And nearly 15 years later, after subpoenas, private investigators, and much anguish, her family still has has no idea what happened to her.
Royal Caribbean told Quartz that, in reference to the Carver case, "the FBI concluded there was no evidence of foul play in the disappearance and several court rulings dismissed any claims against the company. Our guests' safety and security has always, and continues to be, our first priority."
Carver, who received the Ronald Wilson Reagan Policy Award from the US Justice Department in 2017 for his advocacy work, decided to press for change in the industry at large. "If someone has told me when we started off what was involved with this subject," Carver told me in August, "I wouldn't have believed them."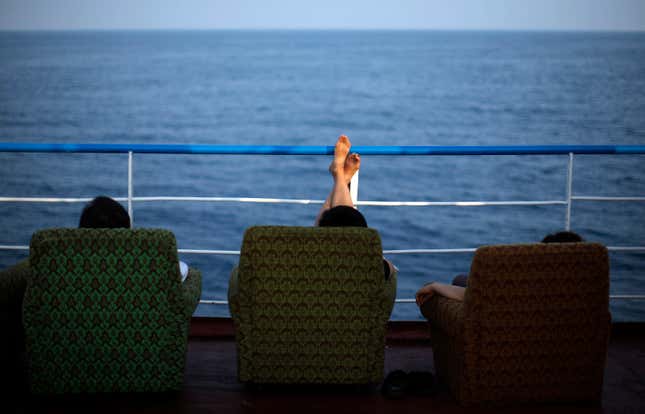 It's true that millions of people go on cruise ships each year, so it's statistically probable that some things will go wrong on board. Cases like Carver's and other high-profile disappearances, have obsessed a corner of the internet and media for years. Did they jump? Were they pushed? Did they just walk off the ship? Did they fall victim to human trafficking?
Despite the mystery and morbid intrigue, CLIA often points to a 2017 analysis (pdf) carried out for the industry group, which found that reports of three crime categories—homicide, sexual assault/forcible rape, and aggravated assault—are much lower on cruise ships than on land.
It's important to note that the crime data analyzed only included statistics for crimes committed on ships that are required to report per the US's CVSSA, the same piece of legislation that governs MOB technology. Among other provisions, the law requires that cruise lines report any of nine crimes—homicide, suspicious death, a missing US national, kidnapping, and assault with serious bodily injury among them—as soon as possible to the FBI when an American citizen is involved, regardless of where the crime occurred. (Thanks to a wording loophole in the CVSSA, another piece of legislation had to be passed in 2014—tacked onto a Coast Guard funding bill—to make sure that reporting meaningfully happened.)
But cruise lines are not required to report crime and incident data for all passengers, crew, and across all lines, jurisdictions, and territories to any one authority or body. Instead, incidents are reported piecemeal to individual flag states and port states where required. The same is true of the maritime shipping industry at large, which is why it's hard to find reliable accounting of MOBs in other shipping sectors. CLIA, when asked if it would support a centralized reporting system, did not respond.
CLIA notes that in addition to being compliant with IMO standards and the CVSSA's requirements—the latter including providing information to guests about their rights onboard a foreign-flagged vessel, and having a crew member trained in crime prevention and evidence collection on board—a victim's home country has "full authority to investigate" in the event of a crime. However, that still requires the crime be reported in a timely manner and that an initial investigation be carried out by cruise-line employees in a way that preserves any evidence for independent officials. It also requires that concurrent jurisdiction be negotiated by the victim's home country with the flag state, as well as the port state where the ship next docked.
And it's not unheard of for all this to happen while the ship—and the floating crime scene on board—sticks to a tightly scheduled itinerary. CLIA, Royal Caribbean, and Carnival did not respond when asked how often cruise vessels divert their itineraries to accommodate flag or port state investigations.
Because of the complexity, some of these mysteries remain unsolved, and some victim's families say the cruise lines aren't doing enough to find answers—or even that they jump to conclusions that fly in the face of evidence. Among the aggrieved is the family of Nathan Skokan, aged 22 at the time of his death.
In public announcements onboard the Independence of the Seas following Skokan's MOB—as well as in a press release and media statements made immediately after—Royal Caribbean said that Skokan had jumped overboard intentionally.
His family disputes this. In a lawsuit against Royal Caribbean, in which a jury trial began on Dec. 10, Skokan's parents alleged that in his last 12 hours onboard the ship (pdf), he was served six martinis, at least seven vodkas, two vodkas mixed with Red Bull, and one cognac. They also allege that Royal Caribbean had already been told by eyewitnesses that the fall was not intentional when it made the announcement, and that a crew member had seen Skokan extremely intoxicated just 20 minutes before his death.
In their suit, the Skokan family argues that Royal Caribbean prematurely and inaccurately called their son's MOB in December 2016 an intentional act, adding to their trauma and anguish. Paul Hoffman, the Skokan family's lawyer, reached by Quartz, declined to comment on behalf of his clients due to the ongoing trial. Royal Caribbean also declined to comment on a case still before the court.
The labor below
Vacationers like Broberg and Skokan aren't the only people who plunge overboard on cruise ships. According to CLIA's operational incident report, between 2009 and 2017, there were 43 MOB crew fatalities. Between 1995 and the first half 2017, 23% of MOBs were crew, according to Ross Klein's data (this percentage was prepared by Klein for a legal case, which is why the date range goes back to 1995). So far in 2018, he has counted seven crew MOBs, with one of those resulting in a rescue.
UNCLOS's flag-state structure not only determines passengers' rights, but the labor conditions of those who work onboard. Jacqueline Smith is a maritime coordinator from the International Trade Federation (ITF), a group of trade unions representing transport workers, including cruise ship workers. She says "the 'veil of secrecy' and lack of legislation or the willingness from the flag state to enforce legislation make it easier for companies that register their vessels in FoC [flag of convenience] registers to exploit seafarers."
It's standard practice for cruise ship employees to sign contracts that commit them to three, six, or nine months of working seven days a week. Employment contracts that force arbitration in the event of any injury, mishap, or wrongful death—thereby limiting the compensation they are entitled to—are also commonly used.
CLIA and Carnival did not comment on any questions regarding labor practices on cruise ships. Royal Caribbean told Quartz that in addition to abiding by all applicable International Labour Organization (ILO) standards for seafarers and negotiating crew contracts through collective bargaining with international unions, "all of our shipboard employees are provided with free room and board during service onboard, mandatory rest hours, medical coverage, sick pay, and disability pay, compensation in the event of death in service, a retirement plan and many other benefits." It added that all onboard standards are agreed with industry bodies including seafarers' trade unions.
A large majority of cruise ship employees is hired from the Philippines—which accounts for roughly a third of cruise ship labor—and other poor countries. But as Walker writes, "few Americans seem concerned with the working conditions on cruise ships faced by citizens of the greater world community." Meanwhile, Americans, British, Australians, and other employees from wealthier nations tend to have customer-facing roles, such as on-board entertainers and events leaders, and work shorter hours than their below-deck colleagues (a pattern mirrored in the US restaurant industry).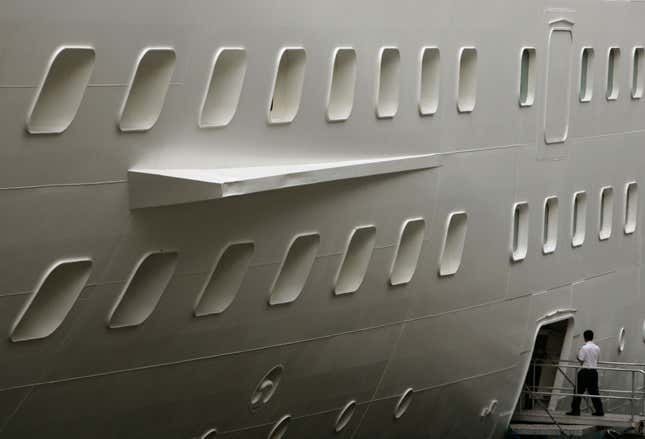 One longtime cruise ship worker from the Philippines, who spoke to Quartz on the condition of anonymity, helps moderate a private Facebook group for Filipinos working or looking for work in the industry, with more than 110,000 members. He says while provisions like the ILO's Maritime Labor Convention, which went into effect in 2013, have helped improve life onboard, there are still plenty of realities that crew often need help adjusting to when they sign up for a job on a ship. Long hours, working seven days per week, the stress of high performance, being away from family, managers who abuse their power (particularly with female crew), and working amidst constant motion are among the stresses he has heard workers complain of.
While pre-ship medical evaluations to screen for mental health are standard, the cruise ship worker said, "If you're hit by depression and too much stress from [your] working environment, it can create emotional stress."
Another former cruise ship employee from the Philippines, who says he completed seven cruise ship contracts in the galley and hotel side, said in a Facebook comment: "Working on a cruise ship, especially an American cruise ship is like a hell, especially in the galley…eight- to nine-month contracts no days off, man you need to be mentally tough or else you might end up in depression that could end up in disappointments and lead to suicide." Reached via Facebook, he says he now works in a tanker ship, where he has found better conditions.
It's hard to know for sure how many crew MOBs are a result of intentional acts or suicide. And of course, enough people work on cruise ships that it's statistically probable some of them might commit suicide even if they never stepped on board. But Walker argues that there is little consideration of the fact that these harsh labor conditions might be leading some to jump.
For example, in 2017 a 24-year-old crew member from Mauritius who worked as a pool cleaner allegedly jumped off Royal Caribbean's Vision of the Seas. Though the CCTV did not capture the moment he fell, the Bahamas Maritime Authority (BMA)—who, as the flag state's naval authority, conducted the investigation (pdf)—alleges he jumped from a blind spot on deck four. The BMA also revealed that roughly seven hours passed from the time he jumped to the time he was reported missing by his supervisor. Another three hours elapsed before a search of the ship was conducted and the US Coast Guard notified.
Though it reported the incident, Royal Caribbean said in the report that it did not know whether the Coast Guard conducted a search-and-rescue mission. In addition, the report suggests no medical records were available on board to determine if the crew member had underlying mental-health conditions. Royal Caribbean told Quartz it reported the incident to the proper authorities and does not comment on employee medical records. The Bahamas Maritime Authority's only suggestion in its report was that "a review of possible impediments to all cameras should be made and rectified where found."
Walker says this is typical, noting that thorough investigations into MOBs that involve crew don't happen often enough and that when they do, they rarely address the underlying issues of mental health that many crew members may be facing. And to that end, there have been numerous calls on popular crew center websites and petitions to put psychologists on board cruise ships to provide mental health support to crew.
However, Royal Caribbean told Quartz that it does not agree with the claim that there is a lack of mental health support for crew, leading to suicides. "Mental health issues are difficult anywhere in society and we see no evidence that these tragedies are more prevalent than they are in the general population." It added that medical care for crew includes referrals to specialists where required. CLIA and Carnival declined to comment.
A way forward
It bears repeating that not many people each year fall overboard on cruise ships. But some do, month after month. There was another incident just last week in which a 26-year-old man went overboard in the Florida Keys, one of at least three MOBs in the last month, including a 69-year-old Dutch woman discovered missing in Martinique and a 27-year-old British crew member lost in Mexican waters. In each of these cases, the person's absence was only discovered several hours after they disappeared.
The familiar pattern of circumstances that tends to surround these incidents begs a question: What responsibility do corporations have in the process of optimizing their business models to become multibillion-dollar floating profit machines? While companies may be able to explain away how one person, or two, or even 100 people end up in the water—at what point does a low statistical likelihood become an imperative to make a change?
And then there is the reality faced by loved ones of the deceased. Unlike in a plane crash, families like Broberg's are limited in the amount of damages they can claim in a wrongful death suit when the death occurred on the high seas, insulating the cruise lines from any major financial fallout resulting from MOBs.
As Walker told me earlier this year, "there is very little, if any, legal or financial accountability of the cruise lines when a passenger dies in international waters." If a suit is filed in the US, it's subject to the Death on the High Seas Act, under which surviving descendants of a maritime fatality can only claim for "pecuniary damages," such as funeral expenses and lost wages the deceased individual might have earned, but not suffering or loss of companionship. This has prevented cruise lines from, say, being liable for the deaths of non-earning children who drown in their pools.
For cruise passengers on cruises that don't visit US ports, the Athens Convention, passed in 1974 and revised in 2002, limits liability for death or personal injury to roughly $350,000 per case (in some cases, it can go up to roughly $550,000). What's more, long contracts, filled with legalese, which cruise passengers agree to when they buy their ticket, can limit cruise lines' liability even further; in the case of Costa Concordia disaster—which killed 32 people—the cruise line's contract stated it would pay no more than $71,000 per passenger in cases of death and personal injury.
There are some avenues for change. US congresswoman Doris Matsui from California was an original co-sponsor of the CVSSA, and in 2017 proposed bipartisan legislation to further strengthen that bill, known as the Cruise Passenger Protection Act. Among other measures, the act would amend the clause pertaining to man-overboard technology to say that cruise lines must implement complete MOB-detection tech, not just image-capture. It would also entitle a deceased individual's family to claim full compensation, similar to aviation accidents.
Other measures that the cruise lines themselves could implement themselves include providing a "specific verbal briefing concerning MOB procedures," which was the suggestion of one coroner in Australia during an inquest into the death of two passengers in the Tasman Sea on the Carnival Spirit in 2013. In addition, Lloyd notes that plexiglass railings could be used, rather than ones that are easy to climb, as Broberg did. Written signage could alert passengers of high-risk areas where people have fallen overboard before.
Cruisers, for their part, are also starting to demand change; some cruise enthusiasts are beginning to encourage cruisers to ask cruise lines why, if this tech is available and MOBs continue to happen, it's not being installed, especially on newer ships.
Klein says that in addition to the cost, cruise lines' unwillingness to implement common-sense measures to reduce the likelihood of MOBs could come down to the fact that doing so would involve admitting they happen on a semi-predictable basis.
"Cruise lines argue these events are not foreseeable," says Klein. "Logically, if they take steps to ameliorate the risk of going overboard, they admit foreseeability, which may introduce greater liability for their failure in reasonable duty of care."
And of course, those steps would require cruise lines to actively remind passengers that amid all that fun and freedom, there's also risk—to acquaint them with the terrifying truth that every so often, a carefree cruise vacation turns into an unimaginable maritime tragedy.
Correction: An earlier version of this post said MARSS MOBtronic will be installed on a US Navy ship. It will in fact be on New Zealand Navy ships.
The US National Suicide Prevention Lifeline is 1-800-273-8255. For a list of international numbers, please see here.
Looking for more in-depth coverage from Quartz? Become a member to read our premium content and master your understanding of the global economy.