The world's largest toymaker is hoping that a violin-playing Barbie will be its ticket into one of the fastest growing game and toy markets in the world. Mattel, which has been selling Barbie dolls in China since 2009, has recently overhauled the doll's image in the country and is tailoring other iconic toys to the Chinese market, according to a report (paywall) by the Wall Street Journal.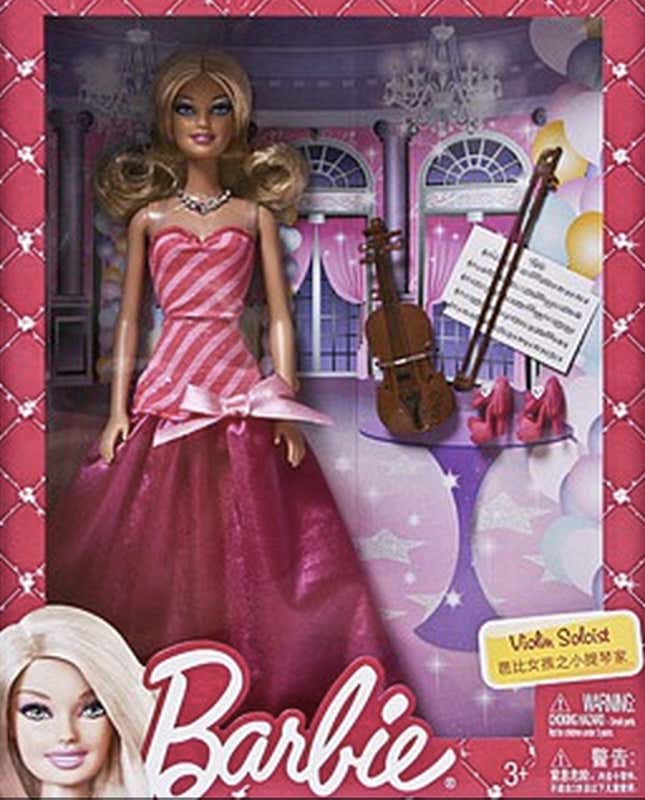 Mattel is one of several global toy firms hoping to sell their playful wares to Chinese parents as sales in developed markets stay flat, and signal a slow holiday season. Mattel has been luckier than its peers like Lego and Hasbro—global sales have been especially strong this year—but the best days of its iconic, 54-year-old brand, Barbie, may have passed. Barbie sales have fallen in five of the past eight quarters, at times pretty dramatically.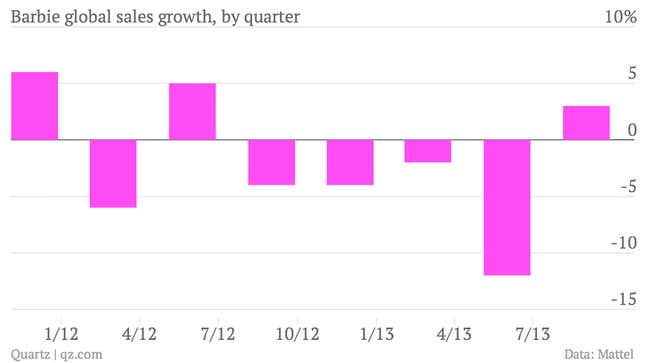 Now in a curious turn of events, Mattel is heavily marketing Barbie and other toys to consumers in a country that previously served as only a manufacturing base. It opened a special shop in Shanghai for its Thomas the Tank Engine trains and began placing a racetrack for its Hot Wheels cars in shopping malls earlier this year. To encourage Chinese parents who may see toys as a waste of time, its Fisher Price toys are labeled "Play IQ" instead of "Joy of Learning" as they're advertised in the West, according to the WSJ.
This focus isn't surprising, given that sales in China for toys and games, excluding video games, reached 48 billion yuan ($7.84 billion) last year, an increase of 18% from the year before. That's small compared to its total sales in the US, which slid to just over $16 billion last year, but in China there's more room to run. The country is already the world's third largest toy and game market, according to Euromonitor. Mattel's sales in Asia have been mostly increasing over the past decade.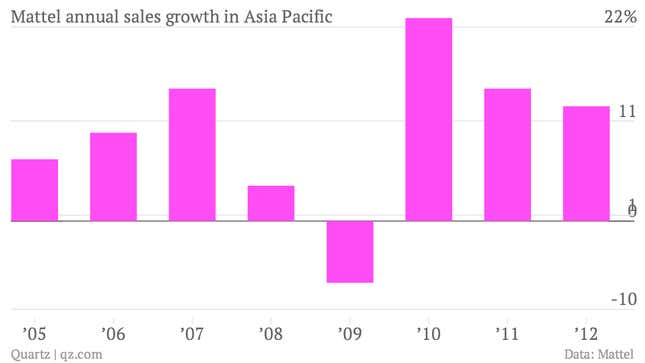 In some ways, Barbie reflects China's shifting role from manufacturer to consumer. But the doll is also an example of foreign firms' struggle to break into China. After investing some $30 million its flagship Barbie store in Shanghai in 2009, Mattel had to close the operation in 2011. It turned out that affluent Chinese girls weren't interested in $100 Barbie jeans. (Nor were adults interested in a Vera Wang Barbie wedding dress that came with a matching doll.)
Some analysts argue that Barbie was too sexy for China's accepted notions of feminine beauty, which center more on cuteness and girlishness. Barbie also lacks the longstanding cultural roots in China that boost its stature in the West. Now, the dolls come with an entire play set and cost as little as 69 yuan ($11), while the international versions sells for $30.
Barbie's renewed campaign in China may be a sign that the writing on her butt may soon change again, or, to put it another way, Mattel may begin shifting its manufacturing elsewhere. The company began manufacturing many of its toys—Barbie included—back in the 1960s, before outsourcing was much more than a whisper in big industry. Barbies, Hot Wheels and other children's fare have historically been made in developing countries where cheap labor and land can easily be had.
Once an economy has developed enough that labor and other costs are no longer considered a bargain, Mattel has moved on. Barbies have gone from being "Made in Hong Kong" in the 1960s to "Made in Indonesia" by the 1990s, and now "Made in China." Chances are, they'll eventually be "Made somewhere else."