This morning, employees streamed out of Google's Seattle campus and into a nearby plaza overlooking the Lake Washington ship canal, nervously milling around. Some wore hoodies representing Google teams—such as Android, Cloud, and YouTube—while others tucked their Google badges away so their names were not visible. Several carried cardboard signs: "Not OK, Google," one read. "Protect victims, not harassers, don't be evil," said another, using Google's own slogan. Others read, simply, "WTF."
Eight hundred miles south, several hundred people gathered in front of San Francisco's Ferry Building, along the city's iconic waterfront. Organizers did a roll-call of nearby offices, shouting out the addresses to cheers from the crowd, and held similar signs, coordinated by campus organizers. Classic protest chants about equal pay for equal work were mixed in with more idiosyncratic ones. "Show me what Googley looks like! This is what Googley looks like!" initiated one of the organizers, referring to the catch-all term that is meant to denote Google's work values.
These walkouts were among dozens held across Google campuses today (Nov. 1) at 11:10am local time to protest the company's handling of sexual harassment and assault cases. The protests come after a damning New York Times investigation revealing that Google not only kept silent about cases in which male executives were accused of sexual harassment, but also actively protected them, spending millions of dollars on "exit packages."
Organizers at both the Seattle and San Francisco walkouts read their list of demands for their employers in an article for The Cut: a new process to report sexual misconduct, a transparent report detailing claims of harassment across the company and their outcomes, more data on pay gaps in the company, and, most notably, that the company remove its policy of forcing employees to relinquish their right to sue in cases of harassment or discrimination.
"The whole world showed us this year that they're afraid of us," one of the Seattle organizers said, a nod to a series of other scandals involving the company this year, including a global surveillance tool Google allegedly pitched to the Pentagon, quietly shutting down its social network Google+ after a data leak, and plans to develop a censored version of the search engine in China. If workers don't show the world that Google employees won't stand for bad behavior, the organizer asked, "then how can they trust us?"
After the walkout, some employees planned to leave for the day in continued protest, while others planned to return to their desks. One Seattle employee told Quartz that her team was very supportive of the walkout, so she felt good about returning to work for the day, but that she was still concerned about "extreme people in the community," who oppose the walkout because it's political, and politics should not be a part of work. "But this isn't just political—it's about rights," she said.
If Google's decision to fire engineer James Damore last year for his anti-diversity memo is any indication, the company acknowledges that politics are part of life at Google, and are willing to intervene when an employee's political beliefs threaten other employees' rights.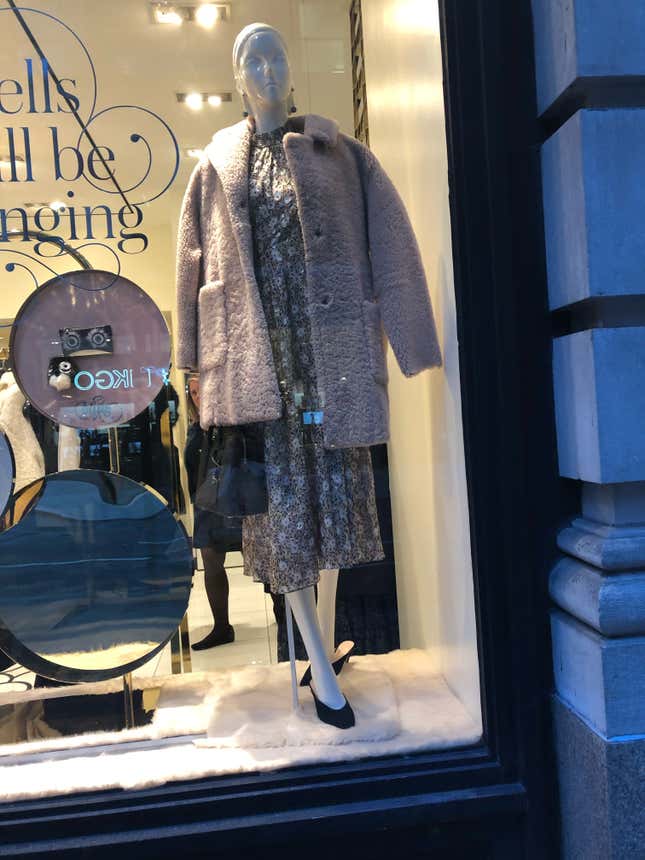 As most others had left San Francisco walkout after about half an hour, Jennifer Brown, 29, remained standing in the Ferry Building plaza with her sign, which read: "I reported, he got promoted." Teary-eyed, she told Quartz that she was "forced to do something she didn't want to." Brown, who has been at Google for nearly six years, says she reported the incident. The man faced no repercussions and is still being promoted, she said, but her career was negatively impacted for several years. She wanted to share her name. "I'm done being silent," she said. 
The protest was instigated by sexual harassment and discrimination, but the organizers underlined in their demands that the two go in tandem with systemic racism to "fuel this destructive culture" that organizers say they feel at the company.
One Google employee Quartz spoke to, a black woman working in the company's own HR department who preferred to stay anonymous, experienced racial discrimination in her own career. She said that there was "no real support" for black women to succeed at the company, and described being treated worse than people with less experience.
"I have issues about how we're able to organize for something like this, when the state of black women at this company is so horrible," she said, referring to the walkout, "but there's never any real resources put behind that."
"I think it's a shame, I'm not proud to work here sometimes," she added. "I do it because it's a job and I need money to survive, but the more and more these issues happen, I'm not sure what the values are anymore."
Google CEO Sundar Pichai discussed the issue with New York Times journalist Andrew Ross Sorkin, who was interviewing him onstage at the Times's DealBook conference as the walkout was happening. "There's anger and frustration within the company," Pichai said. "We all feel it. I feel it, too. Google sets a very, very high bar, and, obviously, we didn't live up to our expectations."
Quartz reached out to Google for comment. We will update this post with any response.