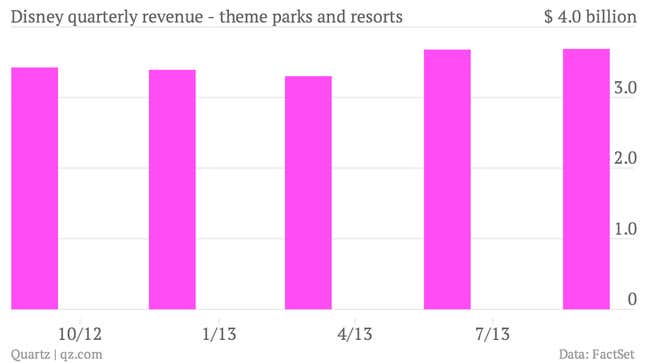 This article has been corrected.
The numbers: Pretty good. Disney reported a quarterly net profit of $1.39 billion, or $0.77 per share, slightly ahead of Wall Street's consensus of $0.76. Total revenue was up 7% to $11.6 billion.
The takeaway: The company's highly-regarded cable business, which includes sports giant ESPN and makes up roughly 30% of Disney's business, actually went backwards for the quarter, with revenue falling about about 1% to $1.3 billion. This was driven by higher costs for new US college football rights and contractual rate increases for the American National Football League, Major League Baseball and the National Basketball League.
In contrast, sales at its theme parks and resorts, which bring in roughly 32% of Disney's business, surged 8% to $3.7 billion, and the division's earnings rose 15% to $571 million. Cash-strapped American consumers were willing to stomach the company's price hikes in June to tickets, food and drink and hotel rooms at DisneyWorld and Disneyland. Abroad, Disney benefited from higher royalties from Tokyo Disney (which is licensed out to a Japanese company, The Oriental Land Company). Enthusiasm for Disney's theme parks isn't felt across the Atlantic, with Disneyland Paris experiencing a decline.
What's interesting: CEO Bob Iger revealed on CNBC following the earnings release that the next installment of the Star Wars movie franchise will hit theaters in December 2015.
Correction (Nov. 7): Correction: An earlier version of this article named Disney's CEO as Michael Eisner instead of Bob Iger