BUENOS AIRES, Argentina—Mariano Rodriguez, the 30-year-old CEO of Joincube, is on a mission: to banish the endless reply-all work email chain forever.
To replace that unwieldy relic of the early internet age, Joincube offers small companies in Latin America a private, internal social media network customized for workplace communication and collaboration. It has a lofty, singular goal: "Replace email entirely in the next three years," Rodriguez says.
Headquartered in Rodriguez's native Buenos Aires, Joincube seeks to harness social media for productivity instead of procrastination. The company combines some of the efficiencies of cloud computing with the ease of social, offering co-workers a common platform to ping, interact, and discuss. The idea, Rodriguez explains, is to replace what he calls "transactional" communication—email sent, email answered—with "dynamic" communication. Here's what it looks like: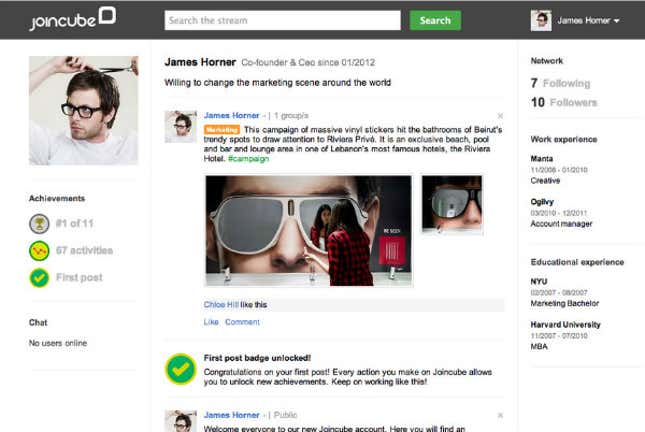 On the site—which looks like a cross between Facebook and Google+ and is accessible via computer or mobile device—colleagues can revise, edit and update documents and chat in real time across hierarchies, sectors, and geographies. It offers project administration and task management for workflow tracking. It borrows from gaming, using points and badges for employee achievements.
Joincube is hardly the only startup in this space. Established competitors offering similar products include Jive Software and Yammer, which was acquired by Microsoft in 2012 for $1.2 billion. But these deeper-pocketed competitors are mostly after large companies, with a focus on the US.
But there's a huge opportunity in small and medium-sized businesses in emerging markets, says Joincube's American chief operating officer, 26-year-old Spencer Coon. That target group in Latin America alone includes more than 5 million companies, with a potential market size of $1.2 billion by 2018, Coon says. Joincube says it currently has more than 7,500 users and about 1,300 organizations in the region on board, adding about 200 companies per month.
The idea for Joincube was born in 2009 when Rodriguez was heading up his first tech company, Factor IT. With employees spread across different offices, he wanted a better system for communication than email and instant messaging. With that need, Rodriguez saw the potential for a new product, so he sold off his shares in his first company and focused on launching Joincube. 
The company was bootstrapped with $100,000 from Rodriguez and his co-workers at Factor IT, and the beta product launched in October 2009. Start-Up Chile contributed some funding in late 2012 and Joincube was among the first companies selected for Wayra, the telecommunications provider Telefónica's tech incubator. The company raised more than $150,000 in 2012 and is near to closing another funding round with investors in the US. It currently has 10 employees: five in Argentina, three in Brazil and two in the US.
Latin America is likely the most receptive region in the world to social media technology. Latin Americans spend an average of 10 hours a month on social media networks, more than double the global average, according to the Comscore report 2013 Latin America Digital Future in Focus. 
Digital access varies widely across the region, however. In Paraguay, for example, broadband Internet connections have a penetration of 25%, compared with Argentina's 80%—though Paraguay has a more comprehensive 4G network. To accommodate this variation, Joincube developed a mobile app that can easily be used from any device with an internet connection.
Joincube has tailored its pricing to smaller operations within this market, offering plans that range from free—that includes five users, 1gb of storage, and one group—to $99 per month for 100 users, 20gb of storage, and 30 groups. A revenue-sharing agreement with Telefónica offers access to the company's sales force and allows for Joincube to charge customers right on their Telefónica bill, so that even companies without corporate credit cards or who cannot pay online can still sign up.
Convincing companies to come aboard was the hard part. "We were trying to impose a new concept for corporate interaction," Rodriguez says. "A lot of companies are conservative, and it's hard to get people to innovate when business is going well."
Clients so far include the mobile phone operator Movistar, as well as Subway and Unilever, but Rodriguez says Joincube has made the most headway with universities and in the insurance and finance industries. Joincube's founders are confident that their product will continue to gain traction, but Coon notes, "This industry is still very green, even in the States."