Rudy Booker, a New York voter, has visited the same polling station for 15 years. But on the day before the Nov. 6 election, she received a text from the voter-registration organization TurboVote, telling her the voting location had changed. She ignored the text. At the station, Booker encountered dozens of angry people who'd been sent a similar message, and were now in the wrong place.
Voters across the United States have been receiving these messages, which encourage them to vote, but with incomplete or incorrect information. The texts, which were received in states from Massachusetts to Wisconsin, told people to vote at a different polling location or on the wrong day. These mistakes seem to have been caused by clerical errors, rather than sinister misinformation efforts. 
Each message claimed to come from legitimate civil society organizations—such as Vote.org, EveryTown for Gun Safety, and TurboVote—which voters should have opted into receiving messages from. All three organizations said it was likely that the texts had legitimately came from them, not a spoof account, and said the incorrect information could have been caused by one of two reasons.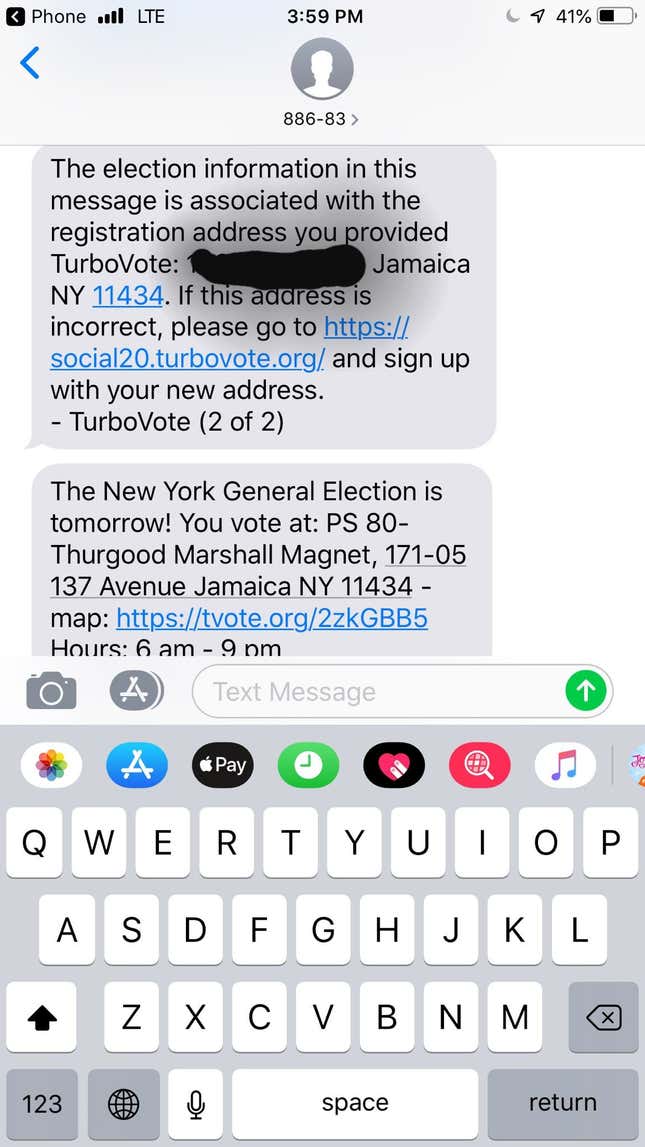 Some texts that were received on election day told people to vote "tomorrow"—which would be the day after polls closed. These were probably sent on Nov. 5 and only received the following day due to a network problem, EveryTown and Vote.org said.
Texts with the wrong polling location were likely due to mistakes in the database used by get-out-the-vote organizations. They all use a Google-powered system with data from Democracy Works, a nonpartisan nonprofit that uses technology to increase voter turnout, using information from election authorities in every state. Brandan Naylor, communications director Democracy Works, told Quartz the organization tries its best to put out accurate information, but that mistakes happen, especially if there are last minute changes to polling stations or if voters have recently moved. "This is the sort of thing that we do see every year, unfortunately," he said.
To find out your correct polling station, dial 1-866-OUR-VOTE. 
This story includes tips from ProPublica's Electionland project, which monitors voting problems around the country. If you had trouble voting, or if you saw something you want to tell us about, here's how.
Annalisa Merelli contributed to this report.