It's never been easier to step up for a highly-coveted position with the federal government.
On Nov. 7, the day after the midterm elections restored a Democratic majority in the House of Representatives, an email from the job site Daybook posted a new job listing for presidentially appointed positions within the Trump Administration. The same site posts jobs for ride-sharing services Lyft and Uber, consulting groups like Booz Allen Hamilton, and several jobs with the federal government that don't require presidential appointment.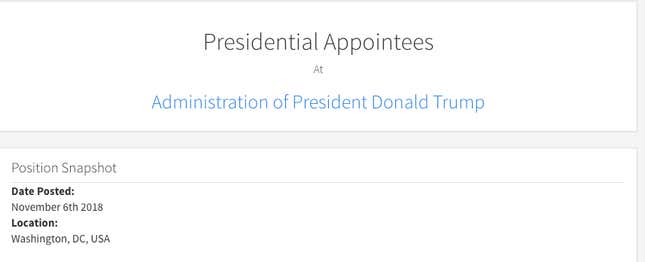 "President Trump has promised to change Washington, DC and that will start with identifying and recruiting the finest men and women from across the country to serve in his Administration," the listing states. The job requires a "significant" time commitment, and "the pace is fast." Each applicant being seriously considered will have to go through a background check by the Federal Bureau of Investigations.
Want to be appointed by Trump, but not sure where you fit in? No problem! On the online application—which requires a resume, cover letter, and additional statement on why you want to serve the Trump administration—you can choose among 40 different departments, ranging from the Corporation for National and Community Service to the Peace Corps to the Office of Science and Technology Policy. Within those departments, you can even select the type of work you'd like to do, like working with human resources, finances, or public policy.
Presidents have had the power to appoint some 4,000 federal officials. About 1,200 positions, including those for the Cabinet, subcabinet, members of regulatory commissions, ambassadors, judges, and members of some advisory boards need to be confirmed by the Senate. At levels like the Cabinet or subcabinet, candidates must have (paywall) relevant education or experience. The entire group should also be representative of the country as a whole. Although some appointed employees work for the entirety of a four-year presidential term, it's common for individuals to stay for only one or two years. When the next president is elected though, there's often a major personnel shift—which may require looking externally.
As of late October, the Trump administration had nominated candidates for just under 500 positions , more than 300 of which had been confirmed. That pace puts him more than six months behind previous administrations. In the past, Trump has blamed Democrats stonewalling the confirmation process. Now that Republicans have gained an even stronger hold of the Senate after the midterms, it may be easier to pass through new appointees.
The online application portal isn't new for presidential administrations. A similar website went live after the 2016 presidential race, along with the URL GreatAgain.gov, which now redirects to the White House website, and a Twitter handle @transition2017 (which has since been deleted and now appears to be a personal account). When candidates click "apply now" on Daybook, they're redirected to apply.whitehouse.gov, which was previously used by the Obama administration. The George W. Bush administration also took online applications for presidential appointments, but on a different website.
In other years, appointed positions have been highly competitive, and don't need advertising on common sites like job boards. However, the Trump administration appears to have had a hard time filling all positions available. The administration has even turned to hosting job fairs.
Trump, however, is not disheartened. "This is a hot White House," he told reporters during a press conference on Nov. 7 "We are a White House that people want to work with."
Justin Rohrlich and Heather Timmons contributed to reporting.