Investment bankers may have spent last night watching online election trackers with the rest of us, but the morning after, they can fire up their spreadsheets and take a shot at telling us what it all means.
JP Morgan Asset and Wealth Management's Michael Cembalest took a look at the vote results (pdf). Adjusted for the strength of the economy, he says they represent the worst performance for a president's party since 1918. He graced us with this chart: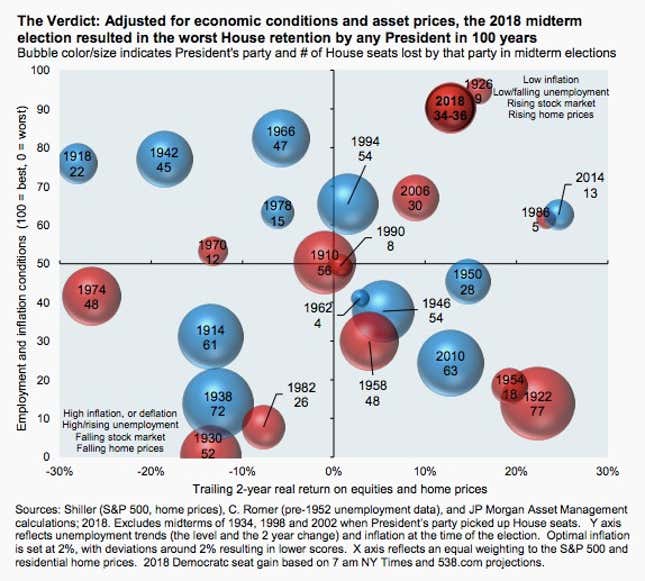 "There have been large midterm swings before, but usually when markets were bad, when the economy was bad, or both," Cembalest writes. "The chart tells the story: midterm House seats lost since 1910 are shown alongside changes in inflation, employment, equity markets and home prices. Based on the hand the GOP started with, they should probably have been able to retain the House. Sometimes, however, money can't buy you love."
Political scientists say that economic performance is an important factor for election results, with a strong economy generally protecting incumbents. In the chart above, you can see that in action—usually happy workers (strong labor markets) or happy investors (strong asset markets) will buoy the party in power. When things go south in one or both quadrants, they take big losses.
You can also see in the chart that voters respond to more than simply economic fundamentals—see 1994 or 2006.  But it's surprising to see a loss of more than 30 seats at a time when economic indicators suggest boom times. It might also suggest that the indicators aren't fully capturing the lived experience of many voters at a time of high economic inequality.
For Democrats, this news is a mixed bag: It suggests how negatively Donald Trump is perceived by the public, also demonstrated in the party's victory march through wealthier and better-educated suburbs. But it also shows how the economy protects the president, with high Republican turnout in states like Florida, Ohio and Missouri checking the potential of the Democratic wave.
If the current good times continue into the 2020 election, the incumbent won't be easy to beat.