In 1999, PayPal co-founder and CEO Peter Thiel stood before a group of mostly male 20-somethings in a Palo Alto, California office space that Google had recently vacated. "Paper money is an ancient technology and an inconvenient means of payment," Thiel told the room. The 21st century, he said, required money that could be accessed from anywhere using an internet connection, according to The PayPal Wars, a book written by former PayPal marketing VP Eric M. Jackson.
Thiel was onto something (even if he was a little early). After a remarkable 1,000-year run, paper money's days look increasingly numbered. The rise of mobile devices and the networks connecting them have already upended countless other industries. Now a competition is underway to grab what may be the biggest prize of all: The global infrastructure that allows people to pay for things.
There's roughly $90 trillion of money circulating around the globe—coins, notes, deposits, and the like. And that is only going to grow as more people move out of poverty and build wealth. As they do, future generations could leapfrog old-fashioned paper currency and move directly to all-digital transactions.
It means there's a lot of money to be made reinventing money. Online payment volume may exceed $50 trillion by 2026, according to Goldman Sachs, generating more than $200 billion in fees. The race for this jackpot crosses industries and continents, pitting old-line credit-card companies against Silicon Valley startups against Chinese behemoths and developing-world newcomers.
In the west, the credit card networks and upstarts like PayPal and Stripe are racing ahead to digitize money. Ad-driven tech titans like Facebook and Google appear relatively flat-footed when it comes to this game, especially in comparison to giants like Tencent in China. Yet those same California (and Seattle) behemoths are charging in aggressively in India—where they are out of reach of heavy-handed US financial regulators, as well as officials in Washington who are wary of their tentacles getting into another industry.
The future of money is the future of the global economy at the atomic level. It reaches from central banks to streetside vendors. For the first time in more than a millennium, one of the fundamental mechanisms of how the world works is being reinvented. Read on to understand where it's going, and who stands to win (and lose) as the pace of change only accelerates.

The future of cash started 40 years ago
Electronic money has humble beginnings. It goes back to that little magnetic stripe on the back of your credit card, which first started appearing in large numbers in the 1980s. Those stripes connected to data networks which are still the backbone of much of today's global payment system.
That's why Mastercard and Visa, which have been around for more than 50 years, are thriving in this new digital age: They own some of the largest data networks—the rails our digital commerce rides on. Visa handled 42 billion transactions last quarter, more than three times as many as it did a decade ago (in the same period, Mastercard handled 23 billion transactions). Consumers spent nearly $21 trillion using payment cards last year, according to Morgan Stanley, an amount that's expected to increase to more than $28 trillion within two years.
And as electronic money takes off, so have such companies' stock prices: Mastercard shares have rocketed more than 1,300% in the past decade, and the networks have a combined market value of half a trillion dollars.
Together, Mastercard and Visa account for around 37% of all payment cards in the world. But there's another company that's bigger than the two US firms combined: China's UnionPay, which is responsible for 43% of all payment cards.
---
DATA POINT
The cables connecting Visa's global data centers are 10 million miles long, enough to wrap around the planet 400 times

Nothing compares to China
The Chinese online market is already vast—and it's only getting bigger. The country has more than 530 million online payment users as of December 2017, and it's growing at around 12% a year. It's also one of the few places where Visa and Mastercard—locked out of the market by Chinese authorities—don't have a presence. That's not to say UnionPay has the entire Chinese market to itself: It's in a fierce threeway contest with Ant Financial's Alipay (which is an affiliate of the larger Alibaba conglomerate) and Tencent's WeChat.
Alipay blew past US-based PayPal in 2013 to become the largest provider of payments via mobile devices and has been sprinting ahead since. The Chinese company started in 2004 as the payment service for e-commerce giant Alibaba and launched a mobile wallet in 2009.
CEO Eric Jing says the parent company, Ant Financial, got its name because ants are small and its service was for the "little guys." Now, however, the firm is humongous. It's seen as the most valuable fintech company in the world, runs the world's largest online payment platform, and also operates the biggest money market fund.
Alipay's direct competition comes from Tencent's WeChat payment service, which is only five years old, but is closing the gap. Each company has more than 500 million users for their payment services. (Many Chinese have both on their phones). To put that in context, it took PayPal 20 years to reach 250 million active accounts.
"Street vendors use them, even beggars use them," said Xiaofeng Wang, an analyst at Forrester. "Consumers seldom carry cash any more. Even some stores won't accept cash."
---
DATA POINT
The payments industry will spin off $2 trillion in revenue by 2020, according to McKinsey

New money: Patrick and John Collison, 
co-founders of Stripe
"Shit, it probably wasn't such a good idea to tell him that PayPal is terrible," says Stripe CEO and co-founder Patrick Collison on his (ultimately successful) pitch to PayPal co-founder Thiel for funding.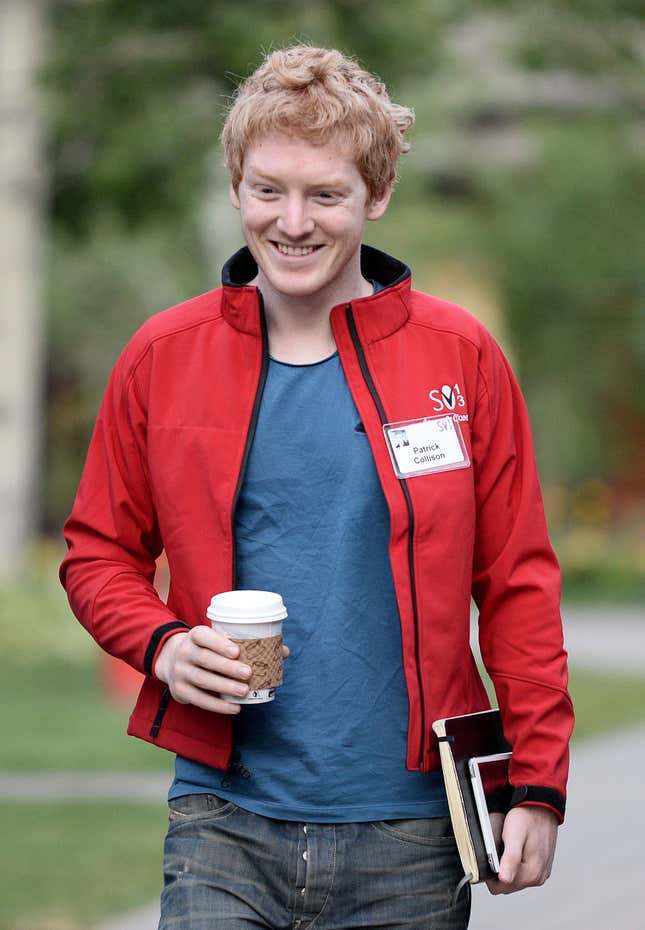 Patrick, 30, and his brother John Collison, 28, learned to code in Dromineer, a village in their native Ireland. The older brother graduated early at age 16 and later enrolled at MIT. The younger Collison arrived at Harvard a few years later. Their first startup was called Auctomatic, an inventory-tracking application for eBay users they sold for $5 million. They eventually dropped out of college to start Stripe, which began across the street from PayPal's old offices. Now among the world's youngest billionaires, their company underpins payments for the likes of Facebook and Amazon.

The next frontier is India
The online economy, which is still nascent at around 3% of global commerce, is forecast to explode in size, with more than 500 million people in southeast Asia and India alone expected to go online in the next three years. These days mobile phones and social media are another nitro boost for the digital payments business.
"We're multiple decades into the digitization of cash, and yet cash is still the dominant form of payment across most of the world," said Bill Ready, PayPal's COO. "That just speaks to just how large the opportunity is."
The opportunity may be largest in India, where e-payments are expected to expand by more than five times to $1 trillion by 2023. For now, only around 5% of Indian consumers use the internet to buy things, which is why tech companies see the nation of 1.3 billion people as a giant pot of gold. Morgan Stanley research analysts say the digitization of India's economy could be a trillion dollar opportunity.
The global giants are moving in. Paytm, the country's largest homegrown digital payments company, is backed by Alibaba. Google, Facebook-owned WhatsApp, and Amazon are all trying to break into a field crowded with at least 100 players. G Pay, Google's service, has more than 22 million active users so far. WhatsApp began testing payments with a million users in India in June.
Despite the heavy competition, investing powerhouse Berkshire Hathaway bought a stake in Paytm earlier this year. With Silicon Valley's biggest companies breathing down its neck, Paytm CEO Vijay Shekhar Sharma said it was an endorsement of Indian entrepreneurship, even as he fights his overseas rivals with whatever weapons he can muster.
Tech companies are bullish on India's electronic payments even though prime minister Narendra Modi's attempt to demonetize the economy in 2016 was, at least initially, a massive flop. The idea was to bring the informal economy out of the shadows and make government bribes and corruption more difficult. But the sudden and poorly executed effort—86% of paper currency was taken out of circulation in just four hours, sparking panic and cash shortages—caused widespread damage in the short run. Cash in circulation has crept steadily higher, but Visa says tens of millions of payment cards have also been activated and mobile payments are beginning to proliferate.
---
DATA POINT
There are 164 official national currencies in circulation around the world. Panama and Bhutan each have more than one currency

The US plays catch-up
The US has lagged its Chinese rivals when it comes to payments, but it has a legacy of innovation behind it.
US company PayPal arguably brought e-commerce into the 21st century. Before the startup co-founded by Max Levchin, Peter Thiel, and others came along (Elon Musk joined PayPal in 2000 via a merger with his online bank startup), buyers and sellers on eBay, one of the biggest digital retail markets during the last dot-com boom, were still sending checks back and forth. Last year PayPal handled more than $450 billion of payments, a double-digit jump from 2016.
---
PayPal's 250 million accounts use both the company's eponymous service as well as Venmo, a peer-to-peer payments platform PayPal acquired in 2013. US banks, not wanting to be left out of the online-payments gold rush, have banded together to create Zelle, a shared payments platform that, by dint of being included in members' banking apps, will overtake Venmo this year.
The smartphone makers are getting in on the action too. Transactions on Apple Pay, which had a lackluster beginning, tripled in the second quarter from a year earlier to more than 1 billion. Then there's Google Pay and Samsung Pay. Facebook has been working on payment features too. But Apple looks like it will dominate at least some of these players. Research analysts at Juniper forecast Apple Pay will have 227 million users by 2020, more than Google and Samsung combined.

New money: Max Levchin, co-founder of PayPal
Cash "is all kinds of things, and a lot of the things are pretty yucky," said Max Levchin in an interview. "Digital payments on the rise is a very, very good thing for transparency, for accountability, for bringing in more intelligent ways of acquiring things."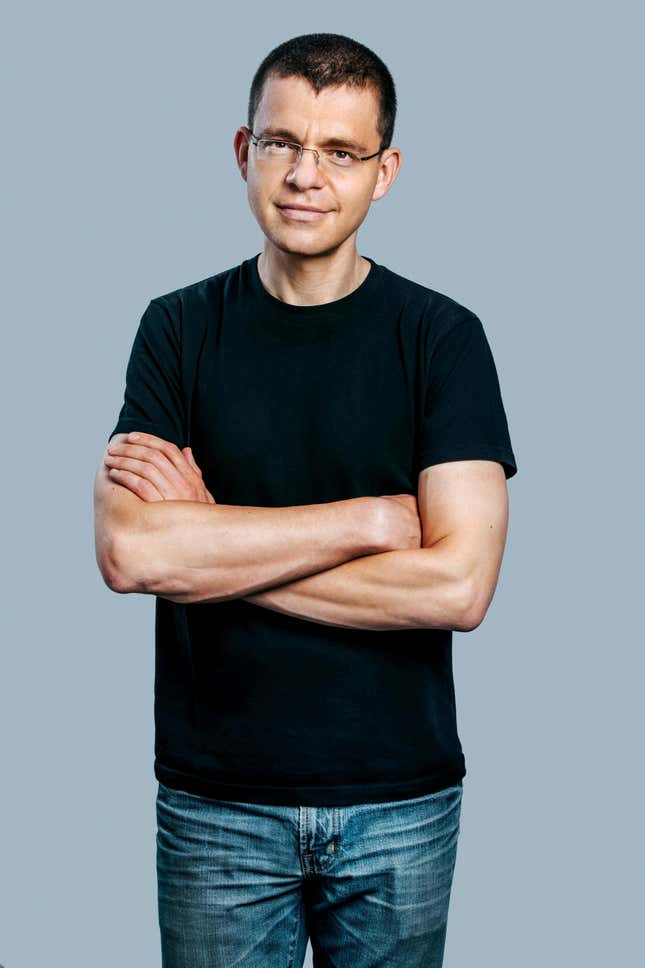 Levchin, 43, is not a natural born capitalist. Literally. He was born in Kiev, Ukraine when it was part of the Soviet Union. Fearing anti-semitism, he and his family fled to the US as political refugees in 1991 while he was in high school. After a streak of science fair wins, he got a scholarship to University of Illinois, where he says he often slept in the computer science lab. He went on to help start PayPal, perhaps the world's first fintech startup, which is now worth more than $100 billion.
He has helped start a clutch of companies in his career—including online review forum Yelp and a fertility app called Glow—and is now the founder of online lender Affirm.
---
DATA POINT
US consumers spend 28 minutes per month traveling to get cash

Mobile payers behaving badly
Tapping a card or pressing an app is an easy way to spend money. Is it perhaps too easy? It lacks the tactile, stomach-churning anxiety (for some) of seeing that $50 bill returned for smaller notes after a purchase. It may also make budgeting more difficult for some people.
A study of millennial mobile payers (ages 18 – 34) found that they were more likely than non-mobile payers to overdraw checking accounts, rack up credit card fees, borrow from payday lenders, or dip into their retirement accounts. "Making payments easy and mindless may induce people to spend more," said Annamaria Lusardi, a professor at George Washington School of Business.
Fortunately, the data also suggest that personal finance education efforts may help cancel out this phenomena.
---
DATA POINT
There are at least two payments cards issued for every person in the world.

Cash is not dead yet
Paper currency is not going down without a fight. Paradoxically, even in an era of increasing digitization, there are more coins and bills in use than ever before. Why? Because nothing, not even bitcoin or its cryptocurrency cousins, has proven to be as universal, foolproof, and—perhaps most importantly—anonymous as cash.
Yet even as cash transaction volumes on a global level are increasing in absolute terms, electronic payment transaction volumes are increasing even faster. It means cash as a proportion of the payments mix is declining in many parts of the world.
---
DATA POINT
E-wallets are the fastest growing payment method in the U.S., increasing at a rate of 25% annually, according to Worldpay.

Wait, what about bitcoin?
You would think bitcoin, the so-called currency of the future, would be coming into its own in this increasingly digital economy. But as an everyday way to pay for stuff, at least, it has fizzled. US digital-payments provider Stripe said in January it was abandoning bitcoin because payments in that currency simply weren't happening very often.
Unlike Stripe or Visa, which facilitate transactions using government-issued central bank currencies, bitcoin is a network and an independent digital asset. It relies on a network of computers (instead of a centralized issuer) to confirm cryptographically protected transactions that are just about impossible to counterfeit.
It sounds perfect, doesn't it? But there's a problem: Bitcoin transactions may be more anonymous, but they're much too slow. The network can process fewer than a dozen transactions per second, while Alipay says it can handle more than 250,000 each second. And bitcoin's value, which has declined by half this year, has also been much too volatile to be useful as a regular means of exchange.
---
DATA POINT
About $500 million of cash is stolen from Americans each year, but ATMs are the real thief: They collect almost $8 billion in fees for transactions outside your bank's network.

Crypto fans do have a point, though
Bitcoin is far from a failure and, perhaps more importantly, it highlights an important aspect about the cashless revolution: Paper money is still the best technology out there for data protection. An increasing number of people are concerned about privacy in a digital world (Apple CEO Tim Cook recently took against the "data-industrial complex"), and as money goes from physical to digital, it does become another data trail for companies, hackers, and even governments to potentially exploit. Bitcoin, for all its user-unfriendly flaws, is a way around the burgeoning new payment architecture that's increasingly in the hands of private companies. It's far from a perfect digital currency, but that doesn't mean it can't or won't evolve into something more effective.

New money: Christian Engström, Swedish Pirate Party
Electronic payments "are another brick in the wall toward total surveillance," said Christian Engström, a former Member of the European Parliament for the Pirate Party in Sweden.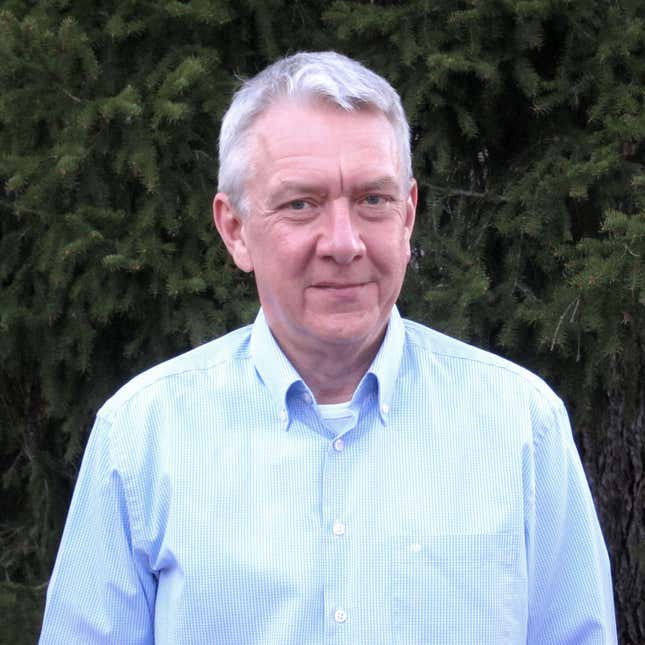 Engström is proof that not everyone thinks becoming cashless in Stockholm is a good idea. The computer programmer says digital privacy has been a core issue for members of the Pirate Party, many of whom are IT professionals, since it was founded in 2006. As technologists, he says, they see the risks and the possibilities. And for Engström, the data privacy scandal that arose between Facebook and Cambridge Analytica just demonstrated what the activists had been warning about all along. "Unfortunately we're seeing in general a surveillance society being installed," he said. "It's way beyond anything in 1984."

The PayPal diaspora
PayPal's most lasting contribution may be the platoon of entrepreneurs and investments that have followed it. While co-founder Levchin now runs Affirm, several of its engineers co-founded YouTube, Thiel founded big data company Palantir Technologies, and Musk has gone into rockets, electric cars, and big tunnels. It also happens that Thiel and Musk invested in Stripe, which could give PayPal a run for its money.
Founded in 2010, Stripe pitches its service as a few lines of code that can be quickly woven into an internet businesses to take payments over the web. Stripe's chief business officer, Billy Alvarado, says payments were supposed to be embedded into the internet's architecture but it never happened. The company suggests that an HTTP error code—402 Payment Required—is proof that internet payments were envisioned in the early days but never realized. Some, like Levchin, think this is a clever metaphor, though not necessarily an accurate accounting of internet history. But the argument has unquestionably convinced investors: Stripe's valuation doubled in just two years.
By next year, Alvarado says more than half of the world's internet transactions will pass outside the major credit card networks as local wallets, from Alipay in China to M-Pesa in Kenya, gain traction. He says the company's ambition is to link all these pieces together, making it easier for startups to go global.
"An entrepreneur in Malaysia doesn't want to just stay in Malaysia," Alvarado said. "They want to be able to sell across Southeast Asia. They want to be able to sell across Europe. They want to be able to sell to Brazil."
More importantly, they want to get paid.