Since 1992, Rockin Fig Surf Headquarters has been a Main Street fixture in Huntington Beach, California, a coastal town some 20 miles south of Los Angeles. Its owner, Rick "Rockin Fig" Fignetti, is a bit of a legend himself: a 10-time West Coast Surfing Champion and two-time national champion who can still be found surfing the Huntington Beach Pier most mornings. From 1984 to 2010, surfers throughout southern California woke up to Fignetti's voice reporting the surf conditions on local radio station KROQ, and his name is chiseled into the stone in the Surfers' Hall of Fame a block or so away at the corner of Main Street and Pacific Coast Highway.
Fignetti, now 62, has sold custom surfboards, accessories, clothing, and sunglasses out of his 900-sq-ft shop for decades. His clientele includes both the international pros who come to Huntington Beach every summer for the US Open of Surfing, and local riders of all levels.
There are only two employees—Fignetti and his son, Rick Fignetti Jr.—and the shop isn't much bigger than a suburban garage. But this tiny outpost is a Huntington Beach institution, and its proprietor unapologetically old school in his attitude toward technology, customer service, and surf. Rockin Fig's relationship to tech is an example of the extent to which a treasured local business can hold on to the old ways, even in a rapidly changing world.
The interview has been edited for clarity and condensed.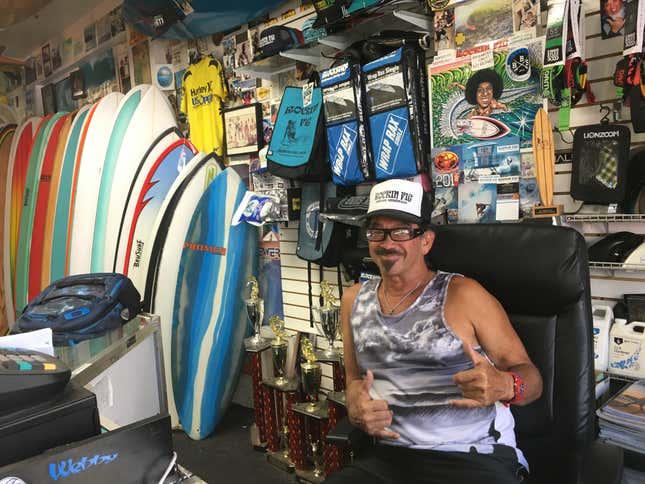 In terms of technology, how has your business changed over the last 10 years?
I use a couple surfboard factories in Orange County and all the shaping is done there. The shaping machines have come in over the last five years. Before, they were all hand-shaped. We used to do hand-shaped boards, and now it's easier just to use the machines because they pop 'em out a little faster. I feel the machine-shaped boards lost a little bit of the soul. Twenty years ago, everything would have been done by hand.
When I did the surf report for KROQ, I used to get up early, drive down to Huntington and check out the waves, then call up lifeguards up and down the coast. I'd have the telephone right there and a microphone in my hand to call up the station.
We used to have reporters up and down the coast standing by pay phones we'd call. I'd record those lines, but then it went to computers, and I'd enter the information in the computers. Eventually they just put in cameras, and they didn't even need someone checking the waves. It's good for people to be able to check waves everywhere. On the other hand, I still like to check out the waves with my own eyes.
Which tech giant has had the biggest impact on your business?
The online sales have hurt all small businesses. Maybe not for surfboards, but as far as clothes, wetsuits, and accessories, now people can go online. A lot of time the prices, free shipping, all that, is no doubt better. We always have good deals in my store, but I think they have better deals online. It's kind of bogus. My friends at the big stores say people come in and try on the perfect wetsuit, then they just order it online for the best price possible.
I'm kind of old school. I haven't switched over to too many online sales as of yet, and it probably has hurt me. My business is definitely not as good as it was 20 years ago. It wasn't uncommon to sell five to 10 boards a day in the golden years. But now, with everyone selling online, and boards coming in from overseas, it's tough.
I'm kinda happy I saw the golden years in my younger days, and the slowdown is happening as I'm getting older. I don't want to live and die in my surf shop, you know what I mean?
What technology or tech service, that is not a giant company like Google or Apple, do you find is most useful in running your business?
The most helpful thing has been my son who graduated from Cal State Fullerton for business and everything. I said until you get that real job, you're working in the shop. He always has a lot of fresh ideas for me.
I'm still old school. A lot of the sales, it's just one-on-one, personal. I'm just stoked to see everybody, at every level of surfing. Just trying to give everyone a good feeling when they leave the place. You go into a lot of places, and I might have the money in my pocket and want to buy something, but if I feel like I'm not getting helped I'll walk out of that store and to the next.
From a technology standpoint, what can't you do that you think you should be able to?
Maybe something for keeping track if there's sharks in the lineup. I heard they're coming out with something new with sonar, where if sharks are in the area it could be relayed to lifeguards on the beach. It does seem like the shark population is increasing. [Ed. Note: Shark sightings at southern California beaches have spiked in recent years. A sonar shark detection system known as the Clever Buoy was installed in October in coastal city of Newport Beach, directly south of Huntington.]
What app on your phone do you find most useful for work?
The WSL [World Surf League]. I like to tune in and watch some of the contests going on. It's streaming so you can watch all the heats live: J-Bay [Jeffreys Bay], South Africa; Pipeline, Hawaii; Teahupoo, Tahiti.
What's the newest competitive threat?
The newest threat to small business? Big business. They can survive the ups and downs of the industry. Surfing rides in waves—up and down. Even with the economy supposedly doing better, I feel like surfing's on a downward trend right now. Everybody wanted to be surfers 10, 20 years ago. A lot of the new generation, the brands don't really matter that much to them. They feel coolness is not wearing the same thing 500 other people have. People are a little smarter with their money these days and a lot of the surf stuff is expensive. Board shorts can be $50 or $100. Places like Target will sell that Mossimo stuff for $15, $25, and it's pretty darn good.
Do you think the availability of self-driving cars might change your business?
Uh, no.
Can you imagine using bitcoin or incorporating the blockchain in your business?
Um, probably not. I kinda hate to say it, but I'm old school, and that's the way it's probably gonna be 'til the end. Win or lose, that's the way it'll be. Some of the other surf shops, they're kind of tech-ing out.
I don't want to be a complainer. I've lived a great life doing my store, the surfing industry and everything that went with it, and I'm pretty happy with the way things have gone. These days my priority is just wake up, be stoked about that, about the power of God. Hopefully get in the water a little bit, catch a few waves, hang with the dogs, tell stories with my friends. Still loving life. Still like to get barreled. And do as much traveling as I can to places with waves.