Amazon's search for a new headquarters (or possibly just an elaborate fishing expedition for 238 cities' valuable data) ended with the company choosing New York's Long Island City and Crystal City in northern Virginia, it announced today (Nov. 13). The ecommerce giant also said it plans to open an operations center with 5,000 jobs in Nashville, Tennessee.
Since last week when the winning cities of the HQ2 contest were first reported, real estate brokerage Redfin says its agents have been fielding a flood of calls, emails and tour requests for properties in both Crystal City and Long Island City. On Redfin.com, online views of homes soared 1,409% in LIC and 217% in Crystal City on Nov. 11 compared to the same period last year.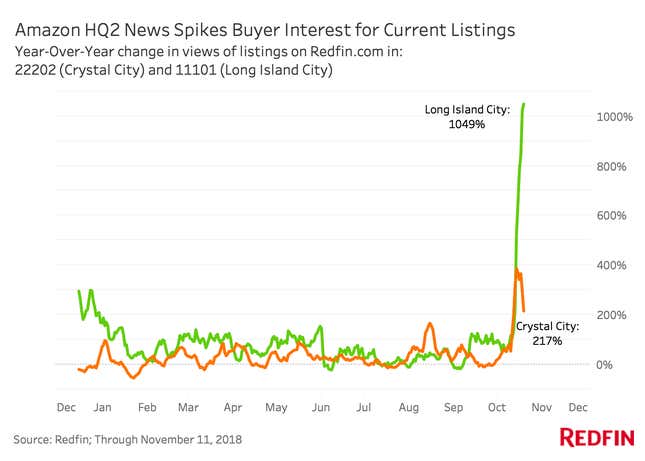 Redfin described the situation as the beginning of a "horse race," as buyers prepare to buy up properties to own and rent as soon as possible. "Primarily, the interest is from investors who want to rent out condos and properties in the future, or people in the market who want to buy a home and their urgency just went up," said Alina Ptaszynski of Redfin. Homeowners are also raising their listing price, or taking homes off the market awaiting higher prices in the future.
For many renters in LIC already barely scraping by in $2,400 studios, the arrival of thousands of new, well-paid techies may send them packing. More than 25,000 new employees are expected to be hired in each location beginning in 2019.
"The project, if it goes through, will have devastating consequences for working class and low-income Queens residents throughout the entire borough," the Queens Anti-Gentrification Project told supporters in an email last Friday. "Indeed, politicians have plans to turn Western Queens into a silicon-valley-like tech hub, which would make rent and daily life unaffordable for the vast majority of Queens residents." That was echoed by Queen's new congressional representative Alexandria Ocasio-Cortez. On Twitter, Ocasio-Cortez described the community's reaction as "outrage" on Nov. 13:
The fear is not theoretical. Amazon has helped drive up rents in Seattle (40% over the last five years), and nearby Tacoma which saw an annual rent hike of 8.8%, or three times the national average. In Amazon's newest cities, infrastructure may stagger under new demands.
But for Amazon, locations like Long Island City make sense. It's commercial and residential rents rates are substantially lower than nearby neighborhoods, and it has seen the most new residential development in New York in recent years (across the New York metro area, Amazon may only raise rents 0.1%, although the neighborhood is likely to see a higher jump). New York's state government is giving away $1.5 billion in tax breaks ($48,000 per job created) over 10 years, assuming Amazon hires as planned. In return, Amazon will pay $850,000 in annual rent on its new offices to the city and state and "payments in lieu of taxes" linked to the property tax rate (although it's not guaranteed those will materialize).
That's a drop in the bucket compared to the $180 million the city is budgeting to build new infrastructure in the neighborhood. Today's middle and working class residents, facing rising rents, lack of affordable housing options, and overcrowded transit, may not be around long to see it.