The future of transport is on its way. It'll be arriving in five minutes—it's just completing a trip around the corner first.
Ford has publicly stated that it plans to have self-driving cars on the road in some commercial capacity by 2021, and has been building out a testing facility in Miami for the last nine months. It now operates dozens of autonomous test vehicles in the city. At a Nov. 14 event in Florida's biggest city, the company gave journalists an early look at how it believes its autonomous-vehicle service might operate, and what the average rider might be in store for in just a few short years, assuming all goes to plan.
The state of Ford's self-driving cars
This was the first time Ford let journalists into its self-driving vehicles since a smaller 2016 event at its campus in Dearborn, Michigan. Then, the company restricted rides to slow trips essentially only on company property. On Nov. 14, I took four separate rides in four different autonomous vehicles, on real roads, with real everyday obstacles. Moped drivers followed the cars I was in far too closely; cars merged around us on both the left and right at the same time; a truck started parallel parking without indicating; a bicycle came out of nowhere, riding diagonally across the street the wrong way. For the most part, Ford's cars handled these situations with the heads-up awareness that I'd expect from a seasoned human driver used to the daily flow of life in a busy city.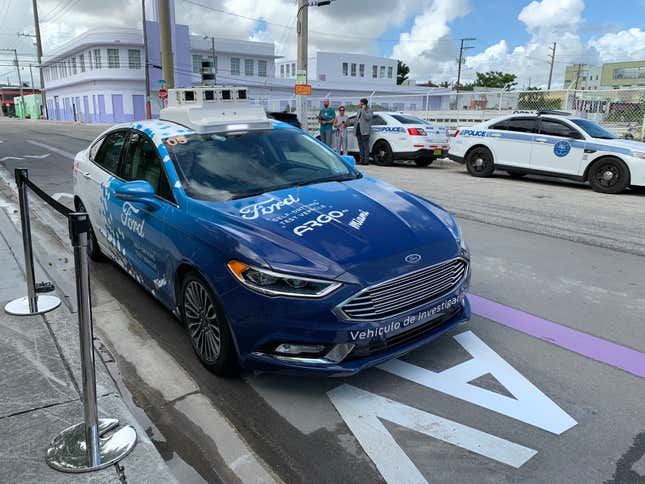 At other times, the vehicles performed rather poorly. Many of their deficits were confusing, given how well they performed in more complex situations. For example, almost every ride I took started out with the car stopping short, apparently because it was detecting Ford's myriad representatives who were at every vehicle stop, and the car's computers for a second thought they might be thinking about jumping out in front of the car. A wise decision for a computer, perhaps, but jarring as a passenger, and unlike how a human driver would respond to the scenario. In one case, when passing a line of parked cars, my car hesitated a few times, presumably thinking that one of the cars might potentially pull out, even though there was no one in any of them. The cars also made a few sharp turns that would've been amazing on a race track, but weren't so great in downtown Miami.
Ford's autonomous rides still need work—that's why it hasn't committed to having a commercial service on the road until 2021—but the company seemed confident that it will surmount remaining technical hurdles in time to hit its goals. However, it's possible Ford chose this particular date to invite journalists into its self-driving cars not just because of the company's progress, but also because of its competitors'. Waymo, Alphabet's self-driving subsidiary, has been testing a ride-hailing service in Arizona for months, and plans to launch a commercial service next month, and General Motors' Cruise AV is a prepping a similar service for 2019.
Multiple Ford executives stressed, however, that when Ford is ready to roll out its service, it will be at a large scale, not just a few dozen or hundred vehicles, like its competitors are in the process of doing. Ford is planning to take what it's learned in Miami and open a similar test facility in Washington, DC, next year.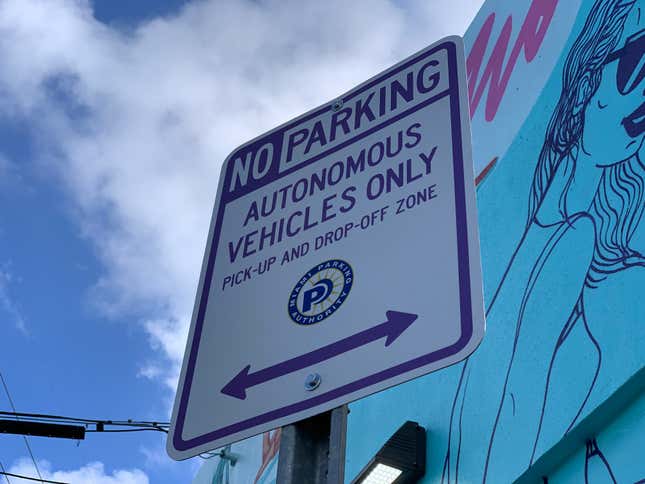 Ford's not just thinking about self-driving hardware; it's also working on specific applications and the software to support those use cases. But it felt as though Ford is still figuring out the specifics of autonomous ride-hailing services.
For the Nov. 14 event, Ford created a version of what it imagines a ride-hailing app for its future autonomous service might look like, and let us test it out. For the most part, the app functioned like Lyft, Uber, or any other ride-hailing service. In remarks during the day, Ford's head of autonomy, Sherif Marakby, said that one of the most annoying things about current ride-hailing services is that they often wildly misestimated when rides would arrive, and this would theoretically not be the case with autonomous vehicles. But Ford's test app didn't really solve that problem. Perhaps that's because 99.9% of the cars on the streets of Miami are not yet autonomous, and the app can't account for the flow of human-created traffic. Just like all ride-hailing apps, it struggled with guessing traffic, but perhaps when more cars are automated, it'll be more accurate.
Ford also took us to its dispatch center in Miami, where it fixes its current vehicles. As it expands beyond a few test vehicles, company reps said, it'll look for local partners to house future vehicles overnight, and other partners to maintain, clean, and repair its vehicles. Ford added it's still working out how it would handle customer-service issues like missed rides, faulty cars, or dirty vehicles.
A full "mobility" solution
Ford, just like every other traditional automaker dealing with the existential question of what it means to be a car company when consumers aren't owning nearly as many cars as in the past, likes to talk about how it's a "mobility" company. This is just jargon for many companies, but Ford is actually starting to live up to the term. The company recently bought Spin, a dockless electric-scooter company, and Chariot, a bus-hailing company. It also launched a docked bike-sharing service in San Francisco (that now includes electric bikes) and a ride-hailing service for medical facilities, called GoRide, in the Detroit area.
Ford also recently acquired Autonomic, a cloud service that can manage fleets of vehicles, and envisions that it will allow the company to operate at a scale previously unseen in the autonomous-vehicle industry. The "Transportation Mobility Cloud," as its called, underpinned much of what the company showed off at its event.
It's not clear what the future of car ownership looks like as the world continues to urbanize. Many companies are anticipating this future by launching services to effectively "subscribe" to vehicles on a monthly basis. At Ford, it seems that as the company's stock price continues to slide and revenues continue to disappoint, CEO Jim Hackett sees a future beyond the standard cars and trucks the company has been producing for over 100 years. When I asked if he'd ever consider changing the name of the company from Ford Motor Company to just Ford (in the same way that Apple dropped "computer" from its name when iPod and iPhone sales started to dwarf its traditional revenue lines), he said that although the company is expanding its focus, he likes the history the name evokes. Plus, he added, "Ford has already earned that shorthand."
Building a sustainable business
Apart from Waymo, which has the seemingly near-infinite revenues that Google generates to replenish any cash it burns to turn self-driving cars into a reality, most companies looking into autonomy have to invest with caution, and ideally, have a solid business plan in place for when they're ready to launch a commercial service.
Ford isn't ready to launch anything yet. It's still working on what riding in one of its self-driving cars will be like, and even how the things themselves will look. But Ford has announced it's working with a slew of partners who presumably will be ready to jump onboard when the company is ready to go. It had previously announced deals with Domino's and Postmates to trail delivery services; on Nov. 14, Ford added an even bigger name to its partner list: Walmart.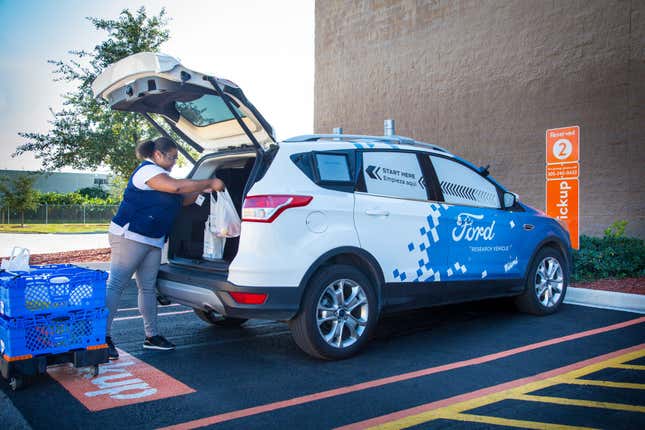 Ford also showed off current partnerships with local small businesses in Miami, including a dry cleaner and a florist. The dry cleaner used the Ford service to ferry laundry between its four different locations, and the florist used it to respond to delivery requests on demand, instead of having to pay for a driver who may spend most of the day not delivering.
In all these cases, Ford and its trial partners are mainly just exploring how regular people will interact with autonomous vehicles. All the cars still have safety drivers (and often technicians) in them, and they're all being tested in relatively controlled environments. The tests suggest what Ford may be able to offer companies in the future, but for now, are really just a series of hypotheses and theoretical scenarios.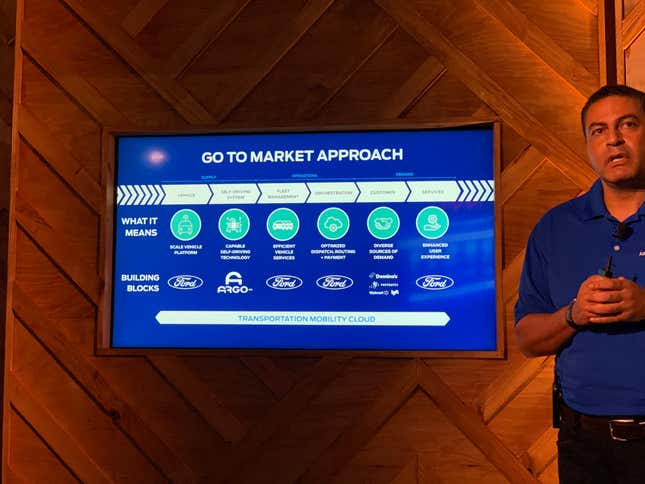 Marakby also hinted that the company wants to drastically lower the cost of ride-hailing with its autonomous vehicles. He showed a slide suggesting that if a ride of a mile cost $2.50 with a traditional service, it would cost $1 with Ford's vehicles—and even at that low price,the company would turn a profit. He didn't say what sorts of margins the company would be making on that $1, but suggested that it would be well above the 6% to 10% margins the auto industry generally sees.
At least in part, Ford will make up those margins by offering advertising within its vehicles. It showed off a range of hypothetical situations, including someone being picked up in a self-driving car at the airport, and being shown a café on the way to quickly stop and get a drink, or a musician offering merchandise to fans on the way to their show. Ford already offers riders option to pay for things en route through its FordPass app—like picking up your regular order at a drive-thru Starbucks on the way to work—so it's not a stretch to see how this could be super-charged for a situation where the audience is entirely captive in the back of an autonomous vehicle. Whether the rider would want to be bombarded with ads while sitting in a car, however, is unlikely—Marakby did suggest riders could opt out of the marketing in some scenarios.
But all of these business ideas, while potentially encouraging to investors who have not seen many bright signs of life recently at Ford, are just ideas for what the company could do when—if—it starts to offer commercial services in 2021.
Hopefully, by then, the cars will have figured out the difference between a car about to pull into traffic and one parked for good.
Correction: An earlier version of this post mislabeled Autonomic's Transportation Mobility Cloud.