Utah's Orrin Hatch, 84, will be the US's longest-serving Republican senator in history when he steps down at the end of this year. Hatch started his career in the Senate in 1976, when Gerald Ford was president.
For one of his final overseas Congressional duties, Hatch traveled to France in recent weeks, days before Donald Trump's rained-out trip from Nov. 9 to Nov. 11 to commemorate the 100th anniversary of the end of Word War I. According to a public database of US federal spending records, Hatch amassed an $11,000 hotel bill at the Westin Paris, a hotel near the Louvre with more than 400 rooms.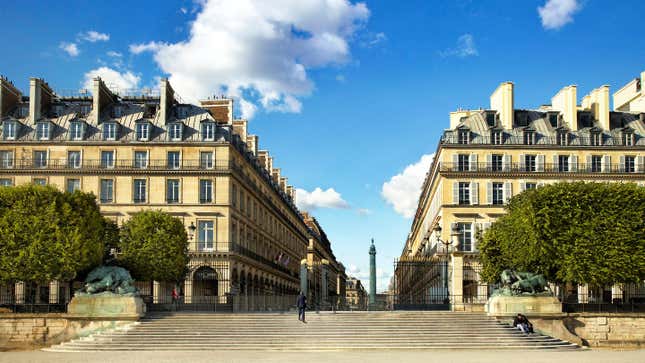 The code on the spending record, "CODEL," indicates Hatch was on Congressional Delegation business.
The Utah Senator was "on official business as President Pro Tempore, along with staff and his required security detail," his spokesman, Matt Whitlock, told Quartz, referring to Hatch's position as an official stand-in for US vice president Mike Pence. Hatch met with French religious and elected officials, and the US ambassador there, to "discuss trade, national security, and religious liberty." 
He also visited Normandy's American cemetery and the nearby Pointe Du Hoc monument "as a tribute to his brother and others who fell in World War II," Whitlock said. (Hatch's brother Jesse was an Army corporal who was shot down over Austria in 1945.)  
Hatch then flew on to Croatia, where he met with the country's president and prime minister, and received the Order of Prince Branimir ribbon from the Croatian government for his "contributions to the independence of the Republic of Croatia and relations between the Croatian and American people," which Hatch's office publicized on Oct. 29. His office did not provide other details on the trip, including its length.
Hatch's overseas trip isn't that unusual, Congressional watchdogs say. The price tag is high, but can be explained because Hatch was traveling with an entourage, said Craig Holman, the government affairs lobbyist for Public Citizen, a consumer advocacy group.
The tab doesn't include transportation costs, meaning the $11,000 is probably a fraction of what was spent on the Paris portion of the trip.