Black Friday is around the corner, and as ever, that means every gadget maker is gearing up for sales on their devices. If you're after one of Amazon's Alexa-enabled devices, but are unsure which of the seemingly endless versions to pick up, don't fear. Here's a handy guide of what's out there.
Amazon Echo
Amazon's original Echo speaker is now in its second generation, and allows you to control the speaker by talking to it. You can ask it to play music, to tell you the weather, to make a phone call, control smart devices like connected lightbulbs or switches, and even to access third party apps, like ordering an Uber or controlling your TV. You control all these things by speaking to Alexa, Amazon's voice assistant that's built into all of its Echo products. The latest Echo is just 5.8 inches tall, and costs at $99.99.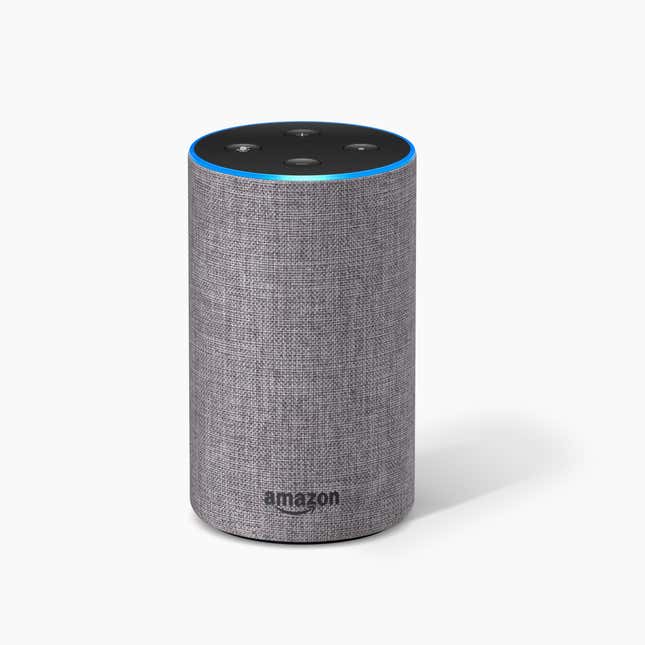 Echo Plus
This is a slightly upgraded Echo model, with better speakers, more microphones, and a built-in ability to connect with smart home devices, which means that even if the internet is out in your home, you're still able to control any smart lights, thermostats, or devices connected to the Echo. These extra features run you an extra $50; the Echo Plus costs at $149.99.
Echo Dot
The Dot is a smaller version of the original Echo, with a far tinier and less powerful speaker. Still, it has all the same capabilities as a regular Echo, and retails at $49.99. If you're less concerned about sound quality and more interested in using Echo for its voice-command features, this is your most wallet-friendly option. Now in its third generation, the newest Dot does have a better speaker than earlier versions, however.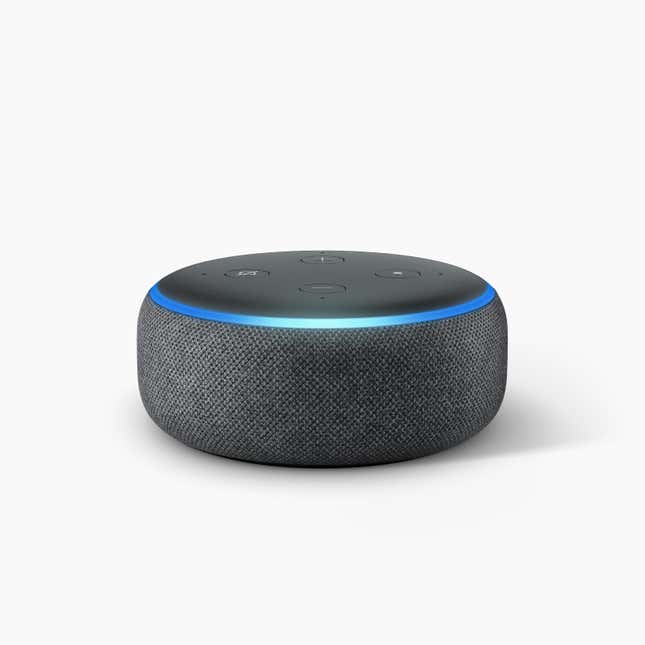 Echo Dot for kids
It's basically the same thing as the Dot, but designed for kids, with a slightly more rugged, colorful design. It blocks explicit songs from music apps like Spotify, and allows adults to set parental controls and time limits on using the device. It also comes with a year of "fun and educational content," including audiobooks for kids. These extra features will run you a bit extra; it retails for $69.99.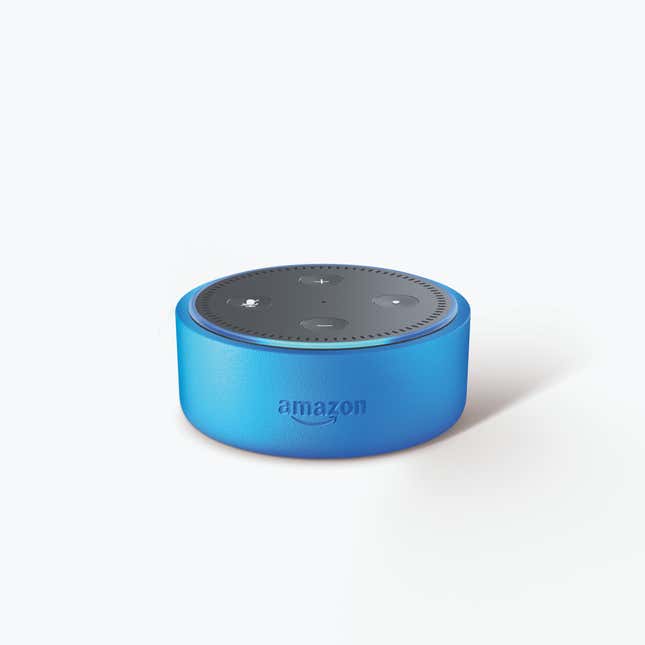 Amazon Tap
Ok, it's not an Echo, but Tap is an Alexa-enabled device, much like the Echo. It's designed to be portable: it's smaller, lighter, and connects to Alexa via wi-fi. It costs $129.99, but it's currently unavailable on Amazon, though you can pick up a refurbished version for $69.99.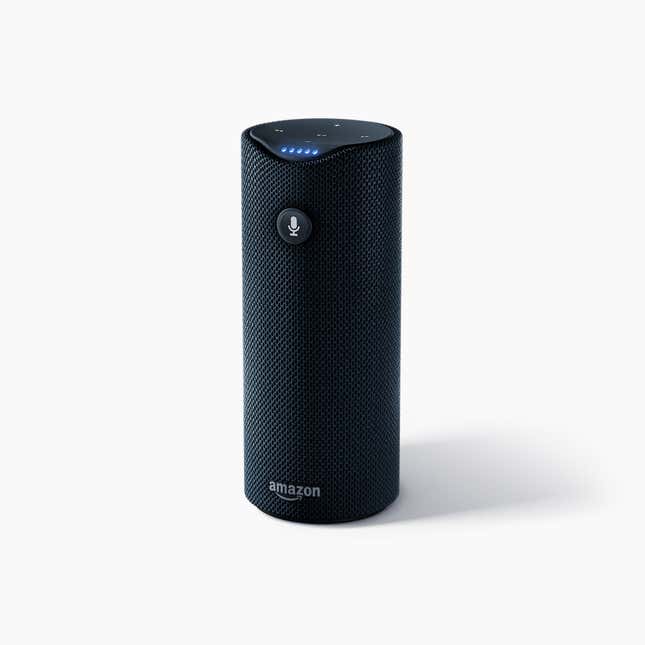 Echo Auto
This device is designed to sit on your car's dashboard and connect to Alexa via your phone. It's currently only available for purchase by invitation for $24.99, and you can request an invitation on the product's Amazon page when logged in with an Amazon account. (Amazon has been mum about how it chooses invitees). The Verge reports that once it's widely available, it will cost $49.99.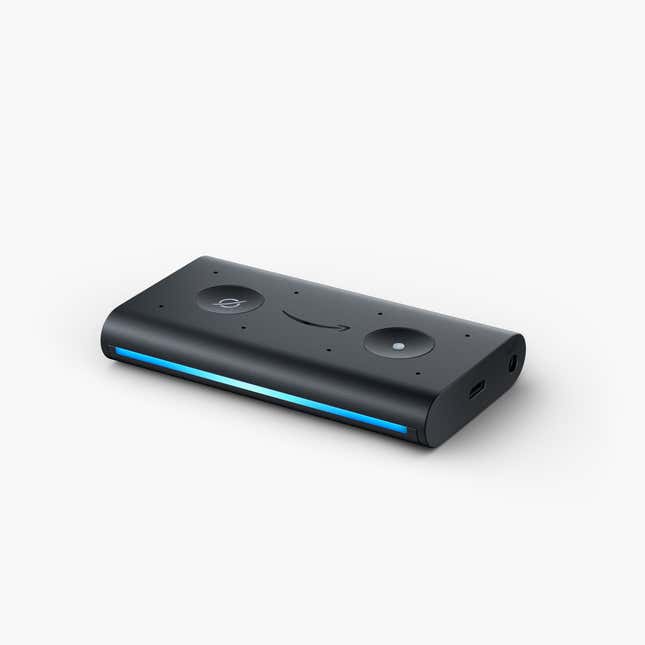 Echo Spot
The Spot has all the same voice-activated capabilities as other Echo devices, but also includes a 2.5-inch touch screen display, which can display weather information, or other queries you ask Alexa, as well as connect to any connected cameras you have around your home. It can also be used to make and receive video calls. It costs $129.99.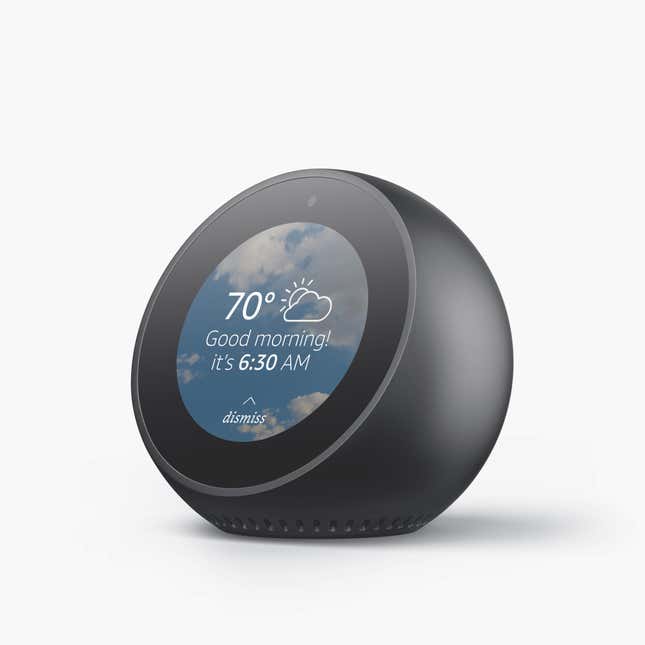 Echo Show
The Show is effectively a larger version of the Spot, with a big 10.1-inch, high-resolution display, as well as higher quality speakers and camera. Amazon sees it as a replacement to a tablet or other device in communal areas, like the kitchen or living room.The upgrades are reflected in the price; it costs $229.99.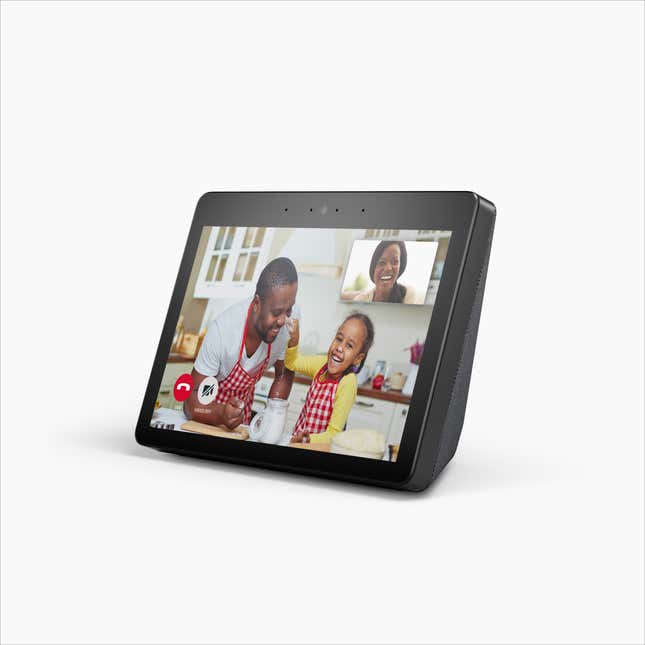 Echo Input
If you already have speakers in your home that you like, but want to be able to talk to them, the Input connects to any external speaker with a standard 3.5 mm audio cable or Bluetooth, and adds Alexa capabilities. It's currently available for pre-order, and will be released Dec. 12. It costs $34.99.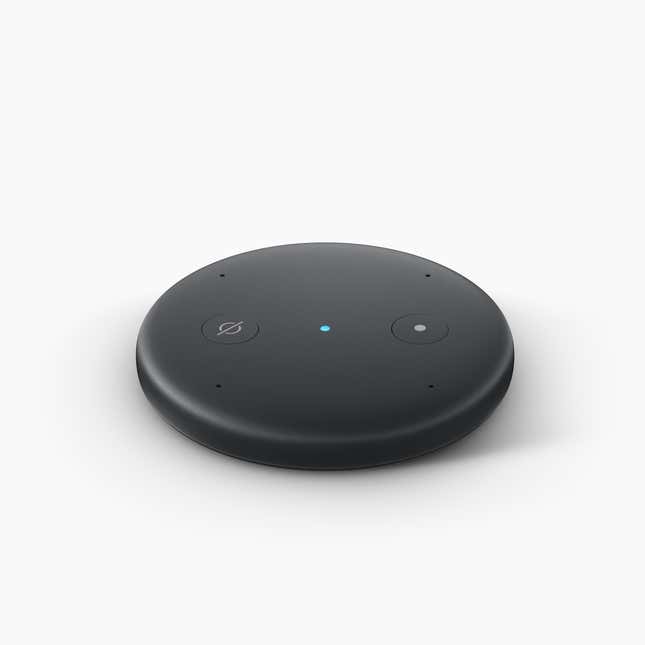 If you already have an Echo or Alexa-enabled device:
Echo Sub
This subwoofer pairs with any Echo devices for a fuller sound. This could be useful for any current Echo Dot user who wants to upgrade the quality of their Echo's speakers. It costs $129.99.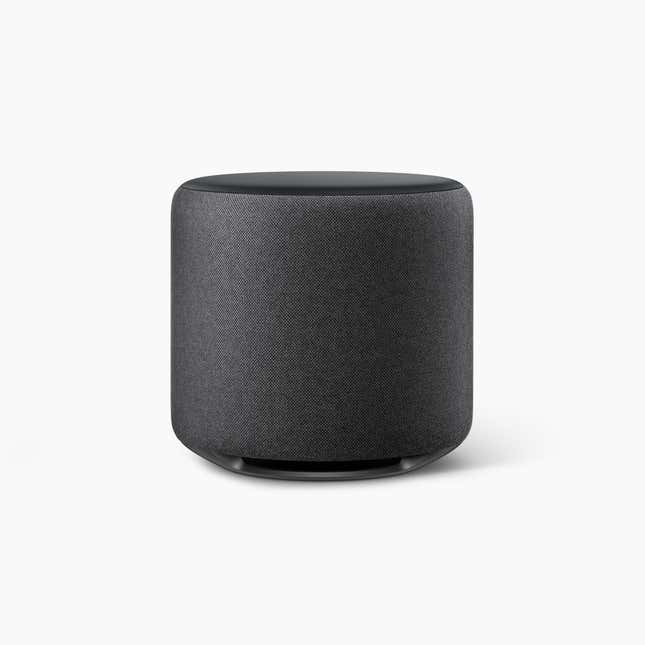 Echo Connect
This Echo accessory connects to your landline, allowing you to make calls from your home phone via Alexa. Given that you can make free calls with your existing Alexa-enabled device, the Connect makes the most sense if you're really attached to your home phone number. It'll run you $34.99.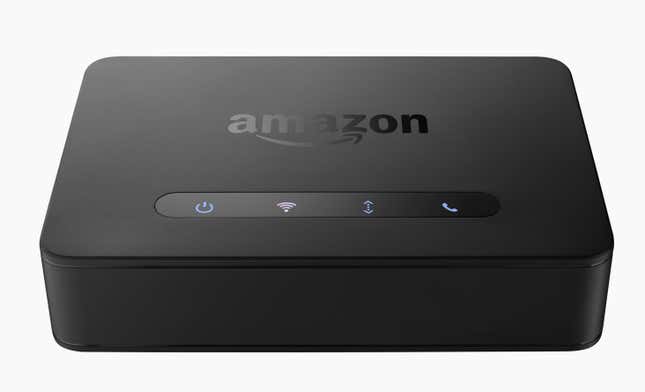 Echo Look
Then there's the Echo Look, which is surely the most absurd of Echo's accessories. The Look is essentially a connected camera that costs $199.99, designed to take photos and videos of your outfit and provide feedback on it. If you've seen the movie Clueless, this is a 2018 version of Cher's wardrobe-matching computer software.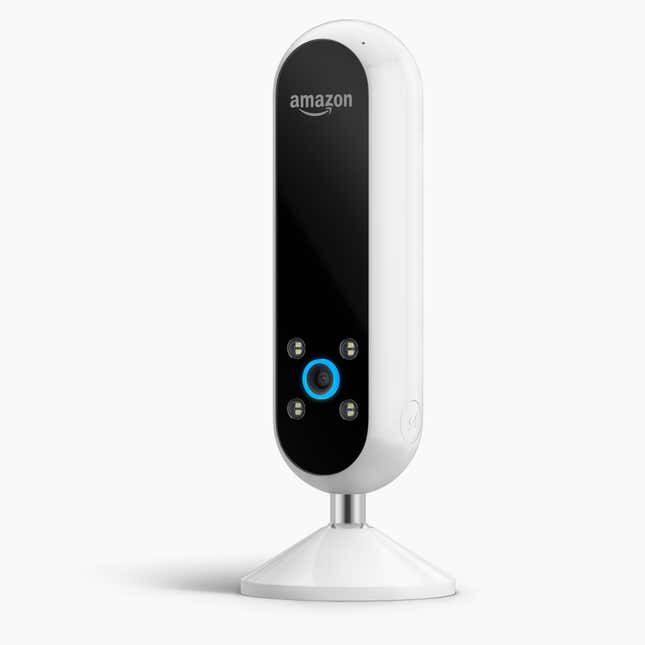 Coming soon
Amazon also plans to release the Echo Wall Clock, which looks like an old school wall clock that allows you to set alarms, reminders, and timers with it using your Alexa-enabled device. It's not yet available, but will cost $29.99.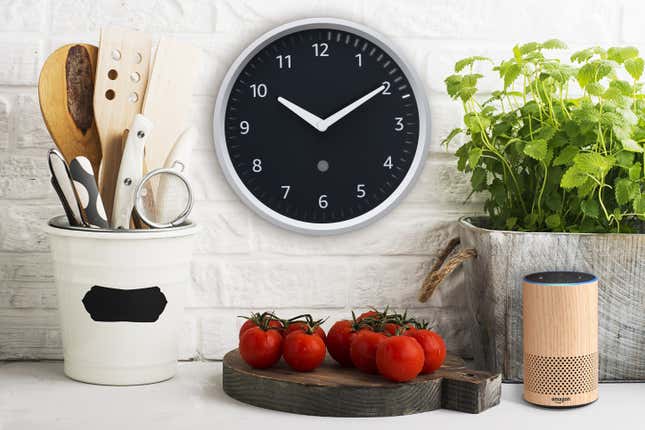 Also in the works are the Echo Link ($199.99) and Link Amp ($299.99), which allow you to control your existing speakers via Alexa.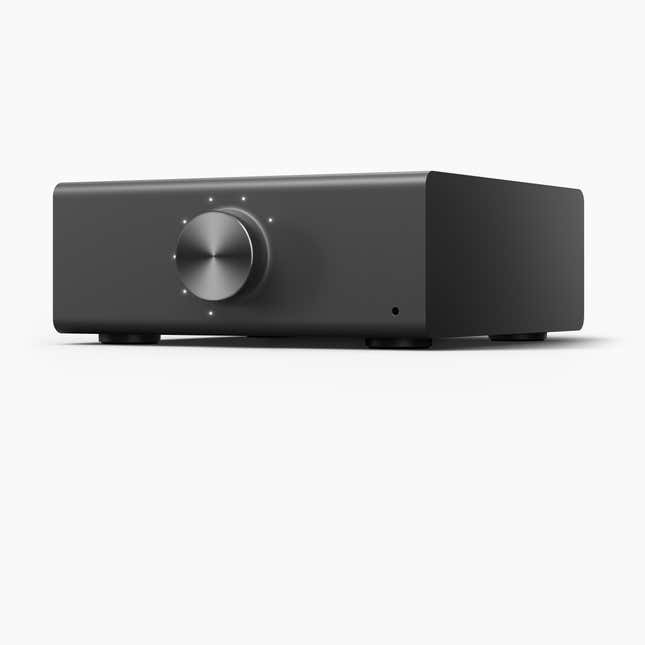 Other Alexa-enabled devices
You can also use Alexa's voice command functions on both of Amazon's Fire tablets, which start at $49.99, and streaming devices, like the Fire TV stick ($34.99) and TV Cube ($59.99).