San Francisco-based Twitter's hitch-free IPO seemed to to cement it.
In the decades-long tug-of-war between San Francisco and New York, the tech-and-housing fueled economic engine that drives the city by the Bay is purring, while New York, the epicenter of the recent financial crisis, still hasn't quite returned to pre-crisis form. Here's a quick look at how the two regional US titans—they both rank among the country's most affluent areas—stack up in a few key areas.
Unemployment
The geographic swath that includes the bulk of the Bay Area saw its unemployment rate fall to 6.9% in August, as the jobless rate decline approaches nearly four percentage points since peaking in early 2010. The New York area's unemployment rate has improved a bit too lately, but it's still around 8%.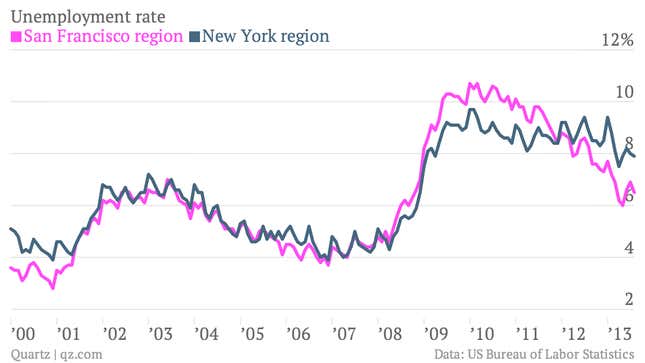 The trend is the same if you drill down. San Francisco county—which is essentially the city—has seen unemployment fall to 5.4%, much closer to its pre-crisis levels than Manhattan (New York county.)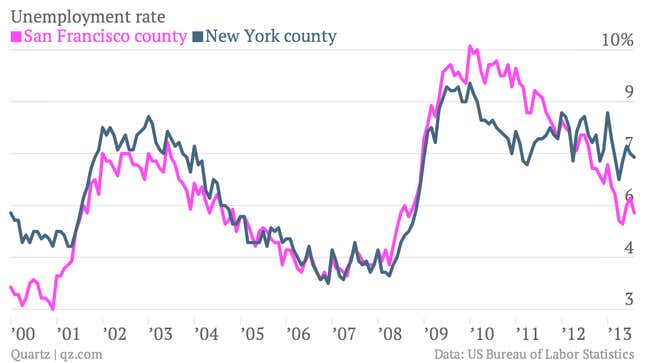 Income
While New York has closed the per capita income gap over the last few years—it grew to nearly $9,000 during the mid-2000s, when the house-flipping mania was at its most feverish—the Bay area continues to hold onto its money-making lead over NYC.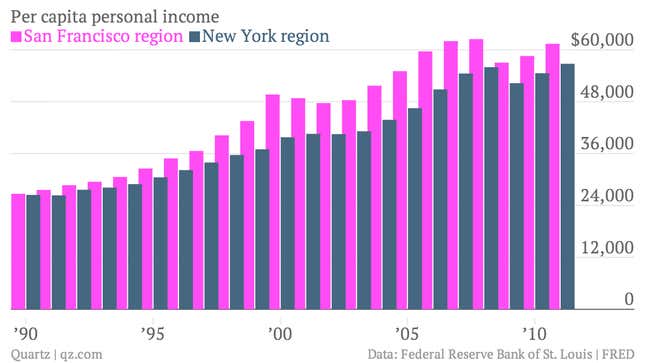 Housing
Analysts at Fitch Ratings also spotlighted the recent housing surge in the San Francisco area, where prices are up 30% since bottoming in 2009. That increase outpaces New York by a long shot. (The chart below uses Core Logic Case-Shiller home price index data for the San Francisco-San Mateo-Redwood City census division, which leaves out slower-growing East Bay communities such as Oakland. The New York data is for the five boroughs and parts of the suburbs just north of the city.)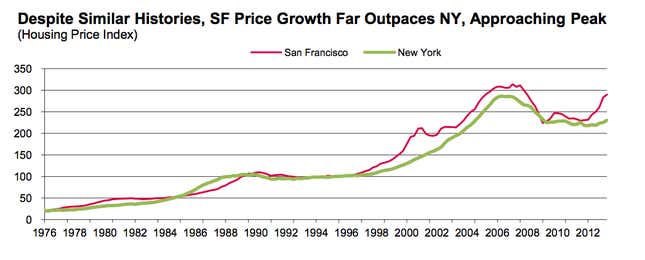 Of course, the US learned the hard way that a surge in home prices isn't always a good thing. And Fitch thinks that house prices in San Francisco are even starting to outrun sound economic fundamentals of the area. "Based on the historic relationship between home prices and a basket of econometric factors, Fitch considers Bay Area home prices to be nearly 30% overvalued, which approximates the environment in 2003, three years into the formation of the previous home price bubble," Fitch analysts wrote in a recent research note.