---
When you're as rich as Alphabet, you can divert a (relatively) small amount of your funds into trying something that others find completely out of reach. Through subsidiaries, the company is taking on such lofty goals as curing disease and death, making cars drive themselves, fixing cities, and connecting the world to the internet. Yes, the world's largest digital advertising platform does have a vested interest in finding new customers, but others in similar positions have tried and failed. But Alphabet may have found a rather novel way to bring the internet to the unconnected that isn't all hot air. (Well most of it is, actually.)
Loon began life within X (originally called Google X), Alphabet's "moonshot factory," where the company researches ideas and technologies that have the potential to change the world. The lab has given birth to Google Brain, the AI research that now powers Google searches around the world, and Waymo, the self-driving car company that has a shot at being one of the first to offer an autonomous ride-hailing service in the near future.
Loon started out as a zany idea in 2011—could weather balloons, those light, giant inflatables used to send meteorological equipment high into the atmosphere to record and transmit weather data, possibly send other types of data back down to the earth? In fields near their Mountain View, California, offices, X researchers tied coolers containing radio equipment, insulated with duct tape and aluminum foil, to latex party balloons. They eventually got them in the air, and a very ambitious mission was born: to connect the unconnected using massive balloons that float slowly around the Earth, talking to each other and the world below.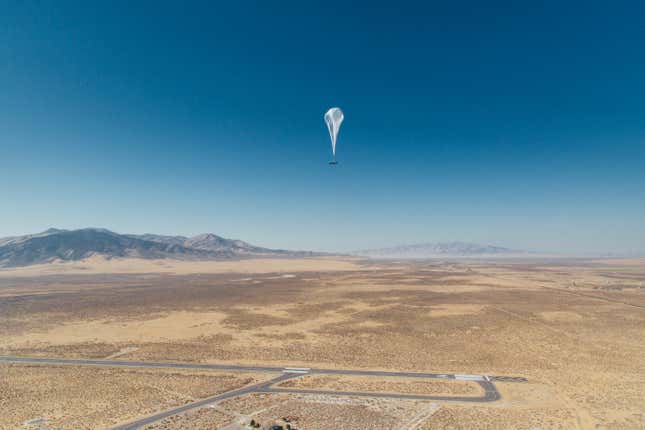 Over seven years ago, the United Nations declared access to the internet a human right, but some 3.4 billion people across the globe still don't have access. In countries lacking the funds to lay cables and build towers to bring the web to their citizens, there's been little growth in web access. To reach these areas, it will take resources and creativity, something Silicon Valley has an abundance of. Alphabet is one of many companies that sees the value in connecting the unconnected—not just for feel-good, humanitarian reasons, but also because it unlocks billions of potential new customers and users of its products at a time as its advertising revenue growth—where the bulk of its cash comes from—has started to stagnate.
When I visited Loon's headquarters, the company was gearing up for its latest transition. Over the summer, Loon "graduated" from being a project within X to being its own fully-fledged company under the Alphabet umbrella. The new company still resides within X's main office, though, a former suburban mall turned into a rugged, post-industrial research factory. The company delivered connectivity to Puerto Rico after Hurricane Maria last year, and saw its successes there as proof that it could start rolling out its work commercially. Loon recently teamed up with the Kenyan government to deliver internet to rural regions of the country in the near future. It's been working on a "launcher"—an 80-foot-tall platform made out of a modified boat crane on wheels that can send up balloons every 30 minutes—at its testing facility outside Winnemucca, Nevada, that would allow Loon to provide coverage to an entire country. In the past, it had taken the team about a week to launch a single balloon.
Here's how Loon works: Inside the payload that hangs below the balloon, there's a transmitter and receiver radios, along with navigation and telecoms technology stored in a styrofoam-coated box, all of which are powered by a set of fold-out, paper-thin solar panels that allow it to stay in the air for days at a time. A balloon connects to a base station, which will have a fast wired broadband connection, and then the ballon can beam that signal back down to mobile devices or other stations on the ground, hundreds of miles away. Balloons can also connect to other balloons, creating an interconnected mesh that can transmit a single data signal for a thousand miles, only needing that one station on the ground to potentially connect scores of people.
Loon's main lab floor looks like a cross between an exploded Ikea showroom and, well, a lab, with large wooden crates (which Loon employees call MOACs—the "mother of all crates") full of disassembled payloads, which were being readied to ship to Winnemucca. With the team's new launcher, they could pack up balloons, ship them overnight to Nevada, and have them start their long journey to wherever they're going around the world.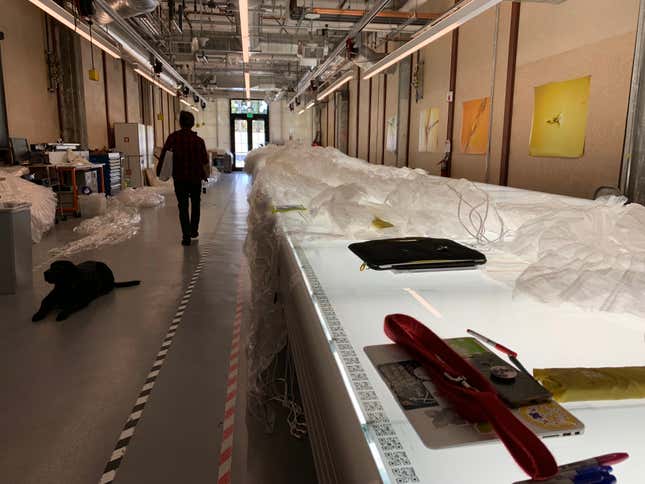 In another lab down the hall, Loon houses one of the largest flatbed scanners in the world. The device, which looks more like a giant, illuminated catwalk, is used to inspect, in excruciating detail, every aspect of the balloons that are shipped, as well as the ones that return from flights. The textiles team, led by Pam Bergmann, loads each balloon that flies (and many before they fly) onto the massive scanner to check for microscopic tears, stretches, or anything else that could affect how long the balloon stays afloat. The team stores all the information in the hopes of getting more efficient at keeping balloons in the air, and providing information back to manufacturers with the same goal.
A balloon is steered, inasmuch as it can be, by controlling how inflated it is at any given time. It's filled with helium, and air is let in to make the balloon denser, or let out to make it lighter—the denser the balloon is, the more likely it will sink. The balloons autonomously navigate to their destinations using wind currents, which travel in different directions at different altitudes. It takes between one and two hours to navigate from the top to the bottom of the balloon's operating altitude range. Once they get to the rough area that they're trying to get to, they float around in circles within their broadcasting area.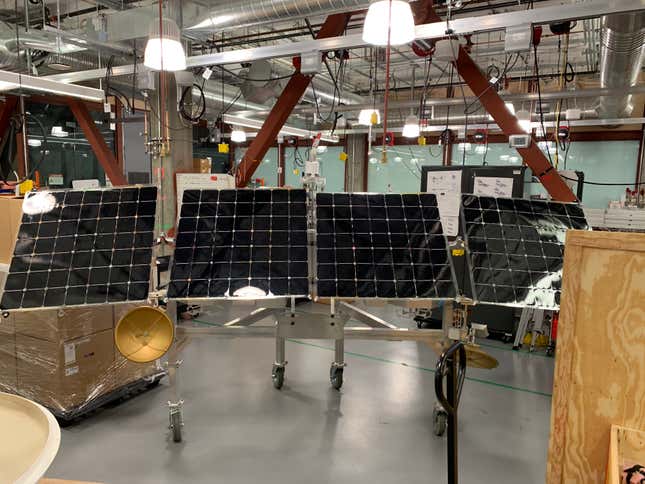 It took years of design to build the balloons—and the algorithmic forecasting for windstreams—to be able to direct them. Loon's original plan had been to flood the stratosphere with balloons along certain latitudes, creating a kind of conveyor-belt of balloon connections, but it now needs far fewer balloons to service an area, thanks to the ability to steer. "The first time I saw it work, even I was a little surprised," Sal Candido, the company's engineering head, said. Now, "Loon navigates on the wind," he added. "It's a stratospheric submarine."
Loon's technology had a trial by fire in Puerto Rico in 2017. The company managed to connect over 250,000 people to the internet—some who had never been connected in the first place—and kept balloons in the area for months. (It hopes, in the future to be able to keep balloons in the air for 300 days at a time.)
Next year, Loon will work on connecting Kenya—it's already installed much of the infrastructure it needs on the ground there—and other customers beyond that, and to increase the internet speeds the balloons can deliver.
Other tech giants have dedicated resources and time to bridging the digital divide. Although it's had some rather public setbacks (like shuttering its massive, high-altitude internet drone program), Facebook is still trying to bring people online through its Connectivity Lab, which also sent technicians to Puerto Rico last year. Microsoft has committed to helping connect 3 million people in rural America by 2022, through a series of local partnerships, like the one it set up near the Canadian border that could solve rural connectivity for millions of people. The Mozilla Foundation, the nonprofit group known for producing the Firefox web browser, also recently awarded $1.6 million to two US groups aiming to bring more Americans online with novel technologies.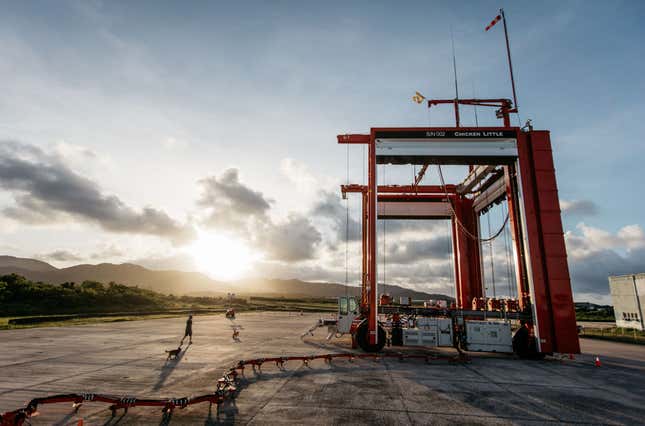 And then there are efforts led by smaller organizations, like goTenna, which uses a similar concept to Loon (on the ground, however), to mesh together small receivers that allow people to connect to others. It's a wireless, peer-to-peer network that is, effectively, a distributed internet between everyone connected with a device. There's even a live map of all the devices connected that you could join right now. But it has its limitations—it can only be used to send texts or GPS coordinates, which is fantastic in emergency-response situations and disasters, but not exactly the full-fledged internet society has come to rely on.
That was a common refrain among everyone I spoke with. But as Loon's CEO, Alastair Westgarth, reminded me, over 3.4 billion people still don't have any access to the internet, and Loon aims to lower that number in rural areas dramatically.
Westgarth suggested that the best approach is to layer connectivity where possible. Loon isn't designed for a downtown area where people have other ways of connecting to the internet, but can be more economical for rural areas. (Loon keeps its costs low by not needing many costly ground stations, and the machines in the sky are relatively affordable when compared to a cell tower.) "There's not enough money in the world to cover it in towers," he added. (That said, the world is quickly rushing to implement 5G wireless cell technology—there's the argument that it could potentially replace broadband for some in dense areas, but whether it could actually bring new users online is unclear.)
When thinking about connecting those who've never had access along with those who have, we will undoubtedly need multiple different ways to connect. Some may look like the ways you're used to connecting, like how you've probably been reading this story, on broadband internet connection that a telecom company paid a fortune to build and run. Some may look like moonshots.