So you want a streaming device?
Well, you're in luck. There's never been a better time to get content delivered to your face or your ears. Amazon, Apple, and Google, as well as a slew of smaller companies, have all realized that there's big money in connecting you, the consumer, to your favorite streaming services. Smart speakers, streaming sticks, and streaming boxes are all being released en masse to keep up with the unending torrent of content released 24/7. Here's a quick run-through of some of the best options available today.
Audio
Let's talk smart speakers. It feels like nobody wants a speaker that isn't smart anymore: Why look for music on your phone like a chump, when you can grumble what you want to hear to Alexa? Speaking of Alexa:
Amazon Echo

The Amazon Echo is the default smart speaker for anyone who wants to try any of these devices. They're relatively inexpensive, with the Echo Dot selling for $50, while the larger, better-sounding Echo sells for $100. They can connect to Amazon Music (naturally), but can also be set to default to Spotify or Pandora if that's the streaming service you use.
If you feel like splurging, you can also get multiple Echoes and link them into a room-wide speaker system. It works pretty well.
There are roughly one thousand Alexa products besides the Echo and the Dot (we're only slightly exaggerating here), and we've written a handy guide for you to tell exactly which one you might need if you want an Alexa device for your car, kitchen, or bedside table.
Sonos One / Play:1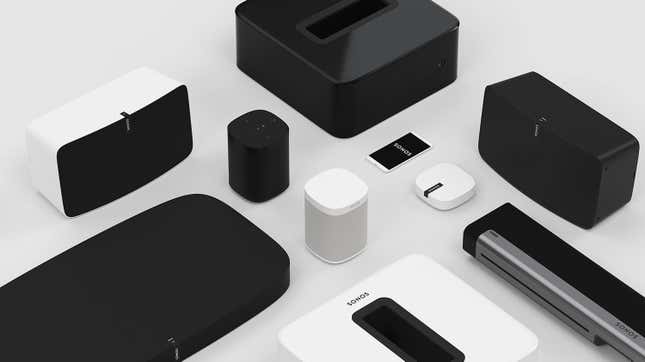 If you (or your giftee) really cares about sound quality, skip Amazon's Echo and consider a Sonos One or the Sonos Play:1.
The Sonos One is your pick if you still want to have a smart speaker, because it comes with Alexa built in. But if that's not a concern, the Play:1 connects to your smartphone over wifi and will save you $50. The Sonos One costs $200, and the Play:1 costs $150.
JBL
If these options are still too pricey, or you're looking for something that's a little different than the typical Amazon and Sonos offerings, then JBL is likely your best bet. The company makes smart speakers in just about every configuration you could need, from bedside alarm clock smart speakers, to portable smart speakers, to boomboxes. These devices range from $70 to $200.
Video
Here's the dirty little secret about video streaming devices: They're mostly all the same. Pick a company whose streaming service you like, and make sure the device in your budget works with it.
Amazon Fire TV Cube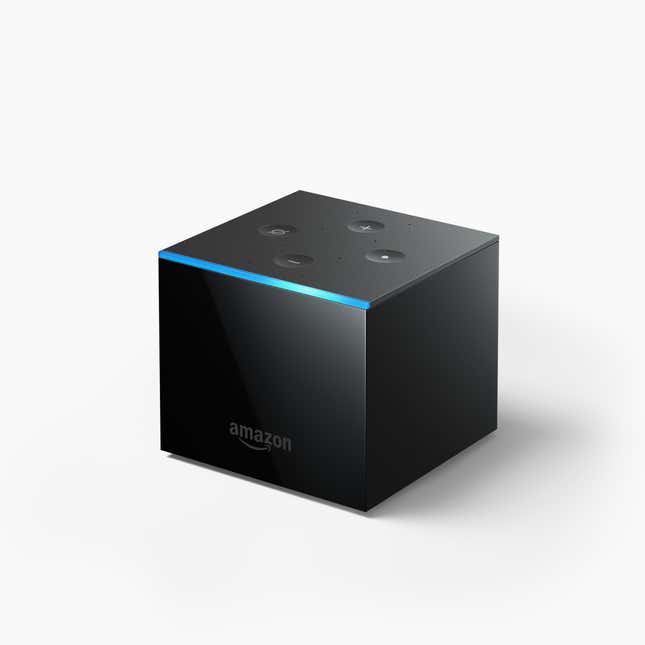 Amazon now sells a cube that you connect to your TV, and when you speak to it, the device plays your shows or movies. It connects to Netflix, Hulu, Amazon Prime Video (naturally), and a number of cable stations that have standalone TV apps. It also connects to to music services like Spotify and Pandora, so this might be the do-it-all device for you, if you don't mind listening to music over your TV. It can even turn on your TV for you, if you ask it nicely.
The device is now on sale, and since its sale price is only $60, it's kind of a no-brainer if you want a basic, but full-featured streaming device with voice commands. Amazon also sells a Fire TV Stick for $25, but its won't be as fast as its more three-dimensional counterpart.
Chromecast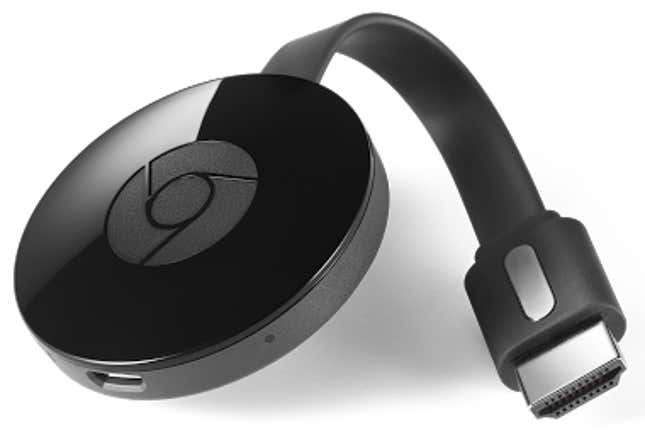 The Chromecast, made by Google, is a great option if you don't mind using your phone or laptop for all your media. Unlike the Amazon Fire TV Cube, with the Chromecast the video is "played" on your device and streamed over your wifi to the TV. That means your remote is your phone, but it also means you can't play music in the background while you watch TV. (But…why would you.)
Chromecasts are cheap, ringing in at $35, and connect seamlessly with most apps on iPhones or Android phones. It doesn't play nice with Amazon Prime Video, however. If you have a Google Home speaker (Google's answer to the Amazon Echo), though, you can ask it to fire up whatever you want to watch on your TV through the Chromecast, which is fun.
Apple TV
Right now anything an Apple TV can do, an Amazon Fire TV device or Chromecast can do cheaper. It costs $179.
Roku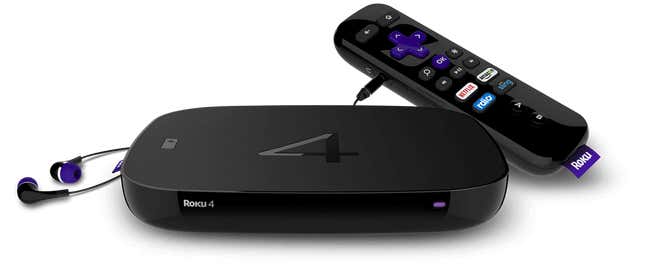 If you don't want to trust Amazon or Google with your TV watching data, Roku is an early-entrant into the streaming business that still makes some of the best streaming sticks and streaming boxes. You can stream Netflix, Hulu or Amazon Prime Video, among other services, and they all work pretty well. Roku also works with a number of TV manufacturers to build its software right into the TV, which could be a convenient 2-in-1 solution. The lowest-priced streaming stick is $29, and the product line ranges up to its high-end $100 streaming box.