As Taiwan gears up to vote on same-sex marriage on Saturday (Nov. 24), its LGBT community has been battling a flood of misinformation proliferating across social media platforms like Line, the Japanese chat app that's dominant in Taiwan.
The messages most likely to go viral are the ones that connect same-sex marriage with HIV, said Johnson Liang, the founder of CoFacts, a voluntary, collaborative chatbot for factchecking questionable messages being disseminated on Line. CoFact volunteers verify the content of messages and the bot then responds back to the Line user.
One example (link in Chinese) of a message that went "super viral" on Line last year, said Liang, is one titled "Strange! Why do they want to rush to legalize same-sex marriage?" The message, whose source is unknown, claims that Taiwan—which offers universal health-care—will become a magnet for HIV-positive homosexual men, who will flock to the country and marry a Taiwanese man in order to use the health-care system. Because of the high cost of treating HIV/AIDS, the ultimate beneficiaries will be drug companies while taxpayers and the health-care system will suffer, the message goes on to say.
Taiwan's National Health Insurance Administration responded to (link in Chinese) these rumors last year, clarifying that the cost of HIV/AIDS treatment in Taiwan was not as high as the figure purported in these messages, and that foreign spouses of Taiwanese citizens are not automatically entitled to free health-care as soon as they get married.
Like many other countries, Taiwan is facing serious problems with the spread of misinformation online—president Tsai Ing-wen even warned that in the run-up to crucial local elections this weekend, people need to be more vigilant about spreading fake news, and accused China of being the source of some of these messages in order to create divisions in Taiwanese society.
"Touch, click, select, and forward"
The volume of misinformation against Taiwan's LGBT community has noticeably increased in recent months as the country prepares to vote in a number of referendums relating to the legalization of same-sex marriage, said Benson Lee, spokesman for the organization Marriage Equality Coalition Taiwan, an umbrella LGBT group that gathered the 280,000 signatures required to place an issue on the ballot. They're asking Taiwan's nearly 20 million voters if they support changing civil law, which currently defines marriage as being between a man and a woman, to allow same-sex unions.
Other referendums before voters ask if marriage should remain between a man and a woman, as it currently is.
Lee said that some organizations intentionally create and spread falsehoods, while "panicking and anxious" parents contribute to its spread by being too quick to share it.
In October, France's de facto embassy in Taiwan—the island has official ties with less than two dozen nations—had to issue a statement to refute messages spreading around (link in Chinese) Taiwan's internet that claimed that 200,000 people had protested in France demanding that the country roll back same-sex marriage. The Bureau Français de Taipei said in a Facebook post that there has been no such large-scale protest against gay marriage in the country, and reiterated France's commitment to equal rights for all regardless of sexual orientation.
In a talk delivered earlier this year, Wu Ming-hsuan, an activist and member of the g0v tech community in Taiwan, said that a major factor explaining the proliferation of fake news and misinformation in Taiwan was the prominence of closed messaging groups on Line or Facebook, where many people, particularly the elderly—many of whom had never used the internet before—simply "touch, click, select, and forward" messages.
Line, which is also popular in Southeast Asian nations like Thailand and Indonesia, didn't immediately respond to a request for comment on what it's doing to weed out misinformation in Taiwan. Earlier this year, the platform said it was taking steps like allowing users to report spoof accounts and working with some government authorities to combat misinformation in Thailand.
Playing with parental anxieties
Saturday's referendums come after lawmakers did little to implement a May 2017 ruling from Taiwan's top court that found same-sex marriage to be a constitutional right, ordering that the law be changed by May 2019.
Conservative groups mobilized against the ruling and now hope to use the plebiscites to stymie the advance of marriage equality. Supporters of same-sex marriage fear that a referendum result that goes the way of the conservative groups could result in the government introducing a watered-down version of marriage that leaves gay couples "equal but different," through the creation of a same-sex partnership law that gives legal protections inferior to those in heterosexual marriages.
They hope instead that the government will amend Taiwan's civil code so that marriage is no longer defined as being between a man and a woman. Just weeks ahead of the vote, tens of thousands gathered for Taiwan's pride march last month, the biggest in Asia.
One of the referendum questions submitted by conservative group Happiness of the Next Generation Alliance also seeks to ban references to homosexuality in Taiwan's gender-inclusive curriculum in elementary and high schools, and some of the misinformation has particularly targeted parents.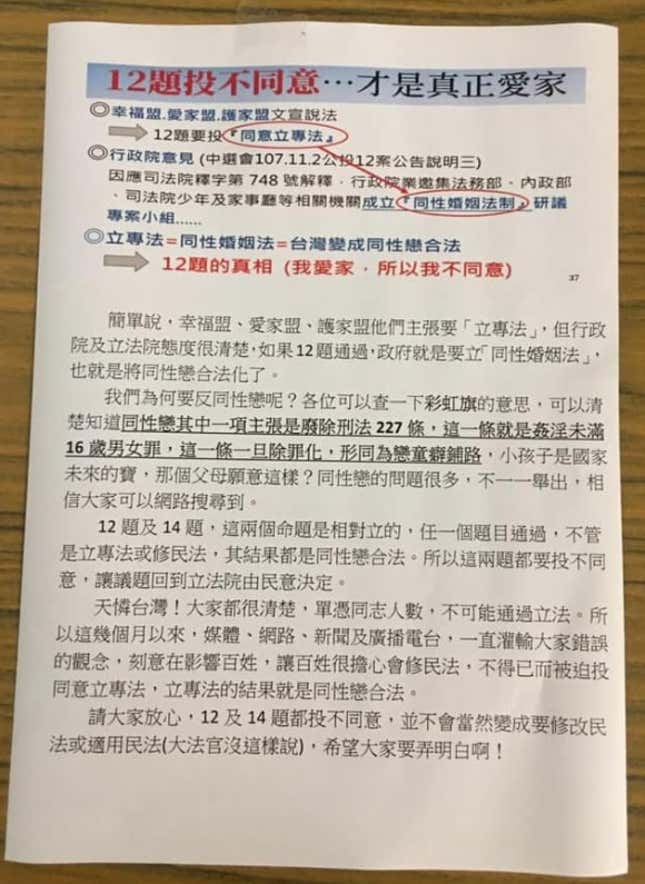 A leaflet from a conservative group that was placed in mailboxes in Taiwan, supplied to Quartz by a member of Taiwan's LGBT community, said that "based on the meaning of the rainbow flag," legalizing same-sex marriage would make it legal to have sex with minors under 16. Voting in favor of marriage equality means "paving the way for pedophilia," said the leaflet, adding that "children are the treasure of the country's future, what kind of parent would want this to happen?"
Another video that spread on Facebook in January 2017 shows a group of protesters supporting a mother who said that because of Taiwan's gender-inclusive, progressive curriculum, her child was taught how to masturbate in class alongside students of the opposite sex. The woman claimed that she was the victim of smearing campaigns by groups supporting marriage equality.
Geoff, a US-based graduate student in the US in his 30s who only wanted to be identified by his first name, said that his family members in Taiwan have been "forwarding without filtering" messages of misinformation against LGBT people on Line. He said he tried to offer counter information against those messages, but felt like he was fighting a "losing war." Now, he says, he's "checked out entirely" from those chat groups.