China's got the bitcoin bug. A real estate developer in Shanghai just announced that it's now accepting bitcoins for one of its mid-range flats in a posh Shanghai suburb. That's after a unit of Baidu, China's leading search engine, announced it would accept bitcoins in mid-October. Half of the world's daily bitcoin trading volume now comes from China, according to the Genesis Block, a research firm that follows bitcoin. (That's a trend we called back in April.) Moves in the yuan-bitcoin exchange rate are now a leading indicator of dollar-bitcoin price spikes, reports the Genesis Block: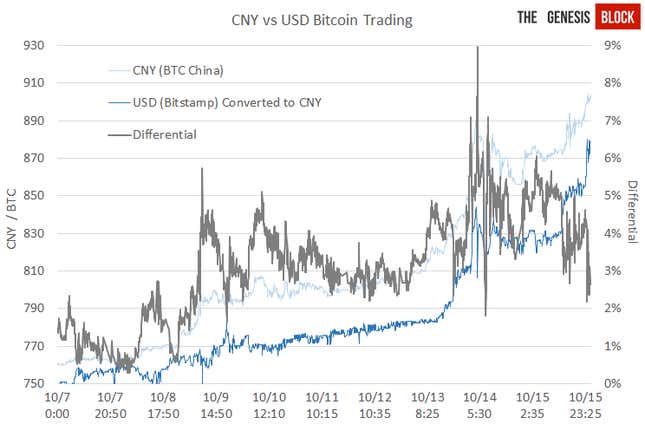 Will Shanghai real estate sales whip up China's bitcoin trading frenzy even more? Hard to say—it's not clear whether the developer's announcement is a marketing gimmick or a real expansion of bitcoin's practical value. Even the company's president isn't sure.
"One reason we're doing this is to show that our development isn't like traditional real estate companies—it has the internet in its genes," He Daxiong, Shanda Tiandi's president, told First Financial Daily (link in Chinese). Shanda Tiandi appears to be affiliated with Shanda Games, one of China's big online games companies.
"The second reason is that we want to test out bitcoins as an actual payment method, to see if this thing is really feasible," he said.
The target market for the development, the name of which roughly translates to "Amidst Heavenly Youthfulness," is young tech-y entrepreneurs in need of either a home or an office—the sorts of people who actually might have bitcoins.
And with the price of the notoriously volatile cryptocurrency nearly double—in US dollar terms—what it was in early November, and more than 32 times what it was worth in January, it might be time to cash in.
And there's an even better reason Chinese investors might want to consider selling. In late October, a Hong Kong-registered online bitcoin trading platform abruptly disappeared, leaving 500 or so Chinese investors with a combined 30 million yuan ($4.8 million) in losses. Other estimates put losses for 130 people at 46 million yuan (link in Chinese). That site allowed users to bet on bitcoin price movements by borrowing up to 10 times the amount they had deposited in order to speculate. This caused wild swings in its trading volume (link in Chinese), according to the IT Times, and the company faced a cashflow shortage in September.
By the way, this wasn't the only bitcoin platform that's suddenly disappeared. A recent study from Southern Methodist University and Carnegie Mellon University found that 18 of 40 bitcoin trading platforms created in the last three years shut down. Of those, 13 did so without warning. Four never paid anyone back (pdf, p.3).