In two years, Chinese tourists could be spending as much as $194 billion a year in Europe, the US, Asia and other vacation spots. That's according to Morgan Stanley, in a research note this week on luxury companies.
That figure speaks of the growing economic clout of China's middle class—but also the irony that so many are spending their wealth abroad when one of the country's priorities is boosting consumption at home. Last year, Chinese travelers became the world's biggest spenders (pdf), shelling out about $102 billion overseas, according to the United Nations World Tourism Organization (UNWTO).
There will be an estimated 100 million Chinese traveling abroad (pdf, p. xi) by the end of 2015, according to the UNWTO. Morgan Stanley compared the spending of these Chinese travelers with estimates from McKinsey of the luxury goods market, and found a remarkable result: by 2015, total Chinese spending abroad will exceed total global luxury sales, having been only one-third of the total in 2008.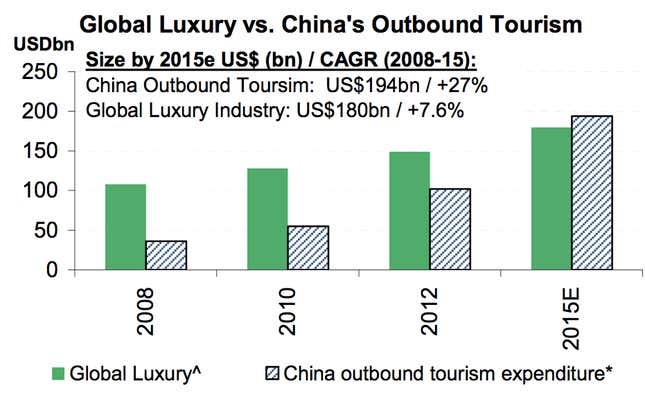 Many of these travelers buy Western or designer goods abroad because import duties and other taxes add up to 60% to their prices in China, compared with cities like London, Paris or Hong Kong. Chinese business leaders have been calling on the government to cut taxes to lure luxury shoppers back home, but there are few signs it will do so. Its reluctance may be partly down to the association of designer goods in China with corrupt officials.
Campaigns against government graft and conspicuous consumption have also played a part in sending luxury spending abroad. In 2012, the year that then-prime-minister Wen Jiabao called for a crackdown on corruption, growth of luxury sales in China slowed to 6%, but Chinese luxury spending abroad increased 37%, according to estimates from the consultancy Bain. This year, amid president Xi Jinping's crackdown, luxury sales have tumbled for high-end liquor, watches, and more.
Even if they're not appreciated at home, wealthy Chinese shoppers remain coveted the world over. The city of Paris released a manual to try to help locals understand and appeal to the visitors. In Australia, a coastal town near Sydney is building a $500 million theme park that includes a full-size replica of the gates leading to Beijing's Forbidden City.