Don't forget your disclaimers.
That's the expensive lesson for boxer Floyd "Money" Mayweather Jr. and music producer DJ Khaled, who settled charges brought by the US Securities and Exchange Commission this week for failing to disclose large payments they received to promote initial coin offerings on social media. The cases are the SEC's first charging touting violations related to ICOs, which raise funds for cryptocurrency ventures.
"These cases highlight the importance of full disclosure to investors," explained SEC Enforcement Division Co-Director Stephanie Avakian. "With no disclosure about the payments, Mayweather and Khaled's ICO promotions may have appeared to be unbiased, rather than paid endorsements."
ICOs rose to prominence last year as hundreds—and perhaps thousands—of wannabe entrepreneurs rushed to cash in on the crypto craze. Project founders crowdfunded billions of dollars in cryptocurrency (typically bitcoin and ether) from investors around the world, ostensibly to finance and build blockchain-based applications. Almost none, though, have delivered on their grandiose promises—often to restore power, financial control, and data ownership to consumers.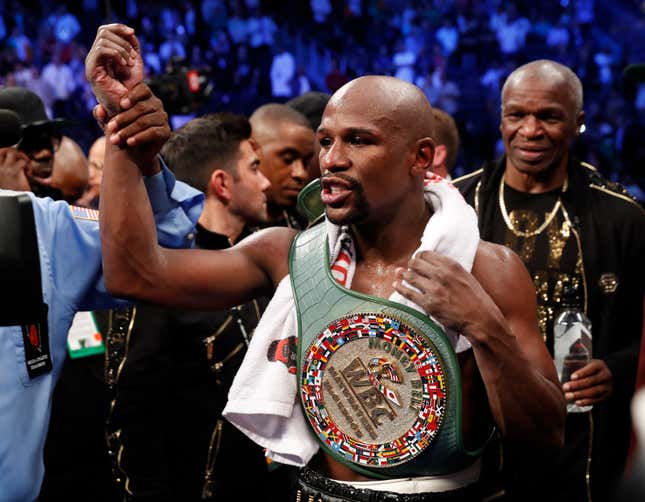 As ICO hype reached a peak last year, projects enlisted celebrities like Mayweather and Khaled to post on social media to bring attention to their digital tokens. Leveraging their millions of followers undoubtedly helped the projects raise more money.
Celebrities routinely promote consumer products without disclosing payments via Instagram, YouTube, and Twitter. However, they could violate US securities laws to do the same for cryptocurrency projects. Part of the challenge is that some cryptocurrencies do constitute securities like stock investments. Others—including bitcoin itself—are more like commodities. Mayweather and Khaled's cases were pretty cut and dry for the SEC though, because one of the projects that they touted—Centra Tech—seems to be a pretty obvious instance of securities fraud.
The SEC said that without admitting or denying the findings, Mayweather agreed to repay $300,000 in ill-gotten gains to the crypto companies he promoted, a $300,000 penalty, and $14,775 in prejudgment interest. Khaled agreed to $50,000 in disgorgement to Centra Tech, a $100,000 penalty, and $2,725 in prejudgment interest.
This may be just the start of the SEC's actions against celebrity endorsement of ICOs, a practice which the agency warned against in November 2017.