Luxury is an elastic concept.
In fashion, the ultimate luxury is typically defined by haute couture. These costly, labor-intensive garments are adjusted for the wearer's measurements and tastes. But beyond couture, there's an even higher strata of luxury goods that can't be bought or custom ordered. The French call it the "griffe."
From the French word for claw, the griffe refers to "something unpredictable that leaps out powerfully and leaves its poignant mark," says luxury branding expert Jean-Noël Kapferer. "The griffe is the mark of an inspired and instinctive creator…Its obsession is to create a work of unsurpassable, striking, perfection, which hits you in the face," he writes in Managing Luxury Brands.
In describing the hierarchy of brands, Kapferer suggests that luxury is about rarity. Initiated by a designer, the griffe is an article tailored for an individual that can never be reproduced or copied. Compared to prêt-à-porter which is mass produced and sold in retail stores or haute couture which is based on pre-existing designs, the griffe exists as an edition of one for one.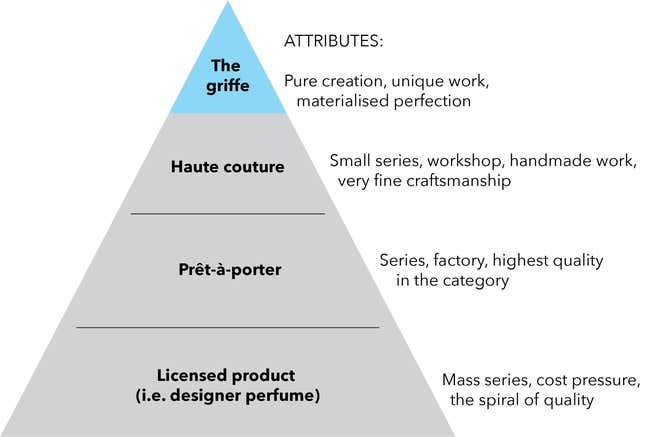 The griffe manifests when a designer like Christian Dior approaches someone like Grace Kelly and proposes to make a dress inspired by her aura, explains Liam Maher, creative director of the Danish shoe brand ECCO. After making the dress, Dior signs it, then destroys the pattern so it can never be replicated.
"Even though it's incredibly individualized, it's the height of this abstract idea we call fashion," says Maher. "The griffe is an homage to the wearer. It's a fashion fantasy—an act of love."
The griffe for all?
At a conference Bloomberg hosted in November, The Year Ahead in Luxury, several speakers hearkened the spirit of the griffe, albeit with a rather banal name: hyper-personalization. Using technology and consumer data culled from various sources, luxury brands are racing to find ways to create the singular experience for every customer.
Suzanne Cohen, Marriott International's VP of luxury brands, for instance, shared that Marriott has in-house "command centers" scouring guests' social media accounts to anticipate their preferences. "If they're posting on Facebook or Instagram about a special occasion about something they're doing, we're feeding that to our hotels so they can personalize their stay," she says. "That's the magic behind the curtain."