Are you the parent of a child aged 8 to 13, preferably living in the Los Angeles area? Are you also irritated by the idea of your kid(s) wasting time in school learning things like human languages, when real-time computer-assisted translation will probably be available in the near future?
If so, an incredible opportunity awaits your family: Ad Astra School, the private academy funded by Elon Musk, is accepting applications for the 2019-20 school year.
Ad Astra opened quietly on the SpaceX campus in Hawthorne, California in 2014, shortly after Musk pulled his five sons from Los Angeles's Mirman School, a K-8 school for "gifted" children. Musk also hired one of Mirman's teachers, Joshua Dahn, to run Ad Astra. In the new school's first year, the Musk children (twins born in 2004 and triplets born in 2006) made up more than half of the student body; the rest were all children of SpaceX employees, according to Ars Technica.
The school has since expanded. Today, more than 30 students aged 7 to 14 (including the Musk children) take part in a curriculum heavy on science, math, engineering, robotics, and artificial intelligence. Virtually everything about Ad Astra is unconventional, from its grades (there aren't any) to the secrecy of its admissions process. Reportedly, spots were limited to the children of SpaceX employees, and even then, were invitation only. "I've heard from various SpaceX families that they have tried and failed to get information about the school, even though they were told it was a benefit during the interview," Christina Simon, co-author of Beyond the Brochure: An Insider's Guide to Private Elementary Schools in Los Angeles, told the Hollywood Reporter.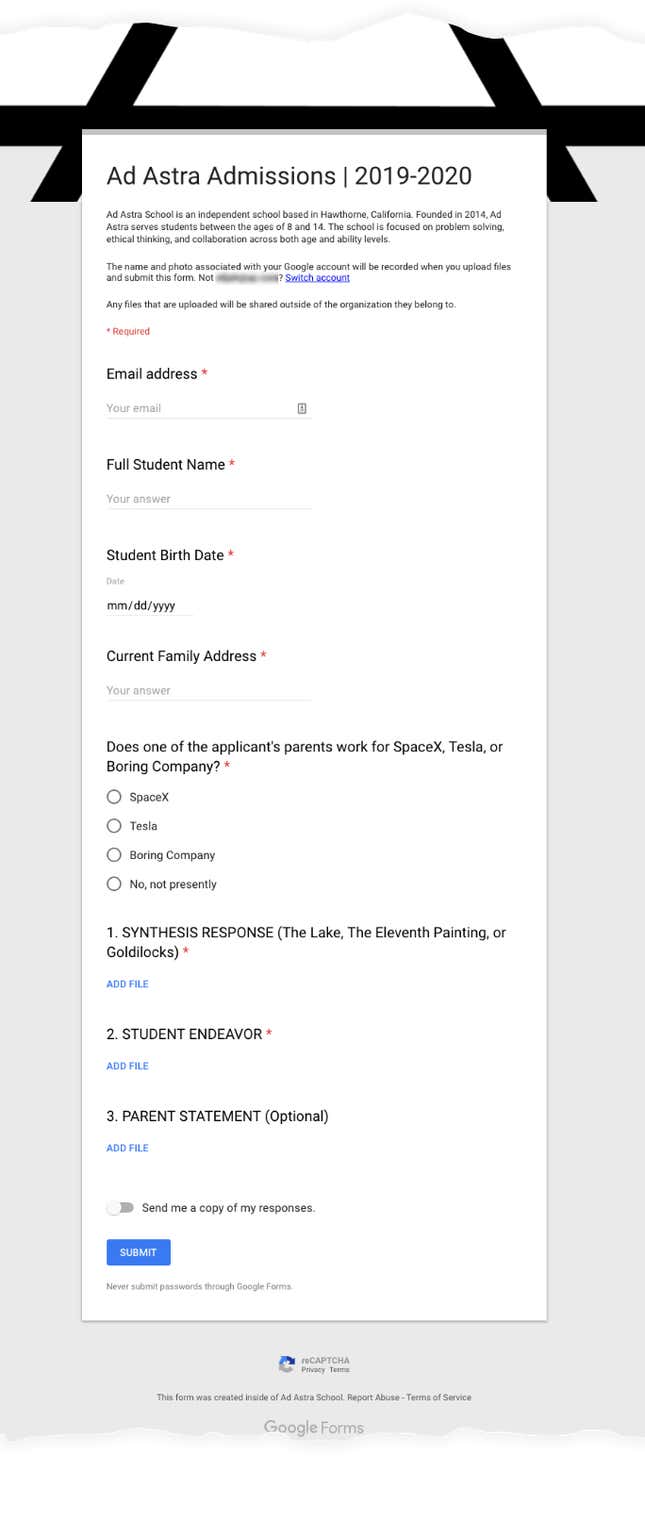 It seems things have changed. In June, the school's website consisted of only a logo and email address. A recent visit to the site shows links to a password-protected portal for current parents and to admission information for the coming school year.
"Our admissions process is designed to identify students and families that could most significantly contribute to the creativity and diversity of our small school," the site reads. Students must be between the ages of 8 and 13, and while candidates already living in Los Angeles are "strongly preferred," those from elsewhere will be considered. (Quartz has contacted Ad Astra for comment and will update this post with any response.)
Applicants must fill out a basic information form (which asks if any of the applicant's parents work for SpaceX, Tesla, or Boring Company—three of Musk's companies), an optional parent statement, an example of a project or endeavor that shows the student's "commitment, ambition, and originality," and the student's answer to one of three "synthesis" questions.
The problems posed in these questions are all very Muskian. In the first, called "Goldilocks," prospective students are presented with descriptions of 11 fictional planets and asked to identify the best three choices and worst three choices for a new human colony. (Leaving Earth ASAP is, famously, a top Musk priority.)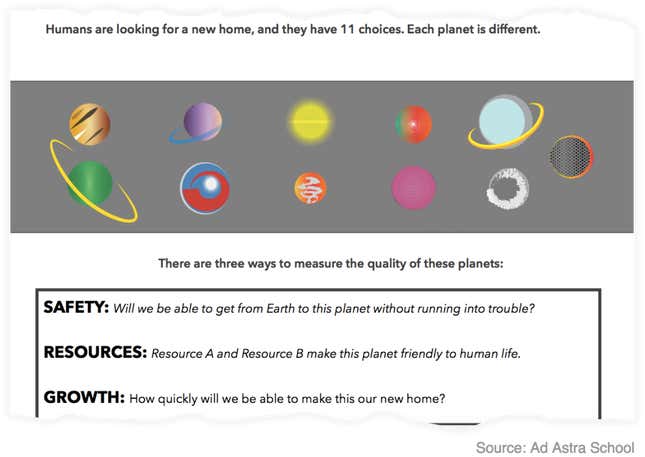 "The Eleventh Painting" presents a scenario in which a lost work by a fictional famous (and dead) painter is discovered during construction in her home town in Mexico. When alive, the artist had stipulated that any sales of her work be used for children's arts education. Applicants who choose to respond to this "synthesis question" are presented with five prospective buyers, offering vastly different amounts of money and public access to the work; they need to rank the potential buyers from best to worst.
In "The Lake," students are given a description of an environmental catastrophe at a local lake and asked to apportion the amount of blame among six parties involved: scientists, politicians, voters, the media, the polluter, and a shadowy figure known as the "puppetmaster," who is described as "a wealthy individual who is afraid that new regulations could affect their business empire."
Applications are due Jan. 1. Selected students will be invited to tour the school, and to undergo subsequent rounds of interviews. The school will make its final admissions decisions in March 2019.
Unsuccessful candidates may still be able to recreate the Ad Astra experience at home: in an interview with entrepreneur Peter Diamandis highlighted by Ars Technica, Dahn said the school will offer its curriculum online for free to applicants not given a spot, whose parents are willing to have their children be home-schooled.
There are downsides to entrusting your children's education to the whims of a mercurial billionaire. Ad Astra is almost entirely funded by Musk himself, who gave the school $475,000 per year in 2014 and 2015, as Ars Technica discovered in a tax document filed with the US Internal Revenue Service. It's not clear what Musk's long-term commitment to Ad Astra will be once his own children outgrow it.