Humans have always interacted with their homes in ways that complement and reflect their lifestyles. Early man etched on walls; modern humans talk to their remote controls.
Today, technology is transforming our homes and how we live in them. Advancements in automation and the Internet of Things mean that people are inviting smart technologies into their homes at an unprecedented rate. This year, the number of IoT-connected technologies is actually projected to surpass mobile phones. And as these beloved devices are adopted, they become more and more essential to our daily lives.
There has undoubtedly been an explosion of choice and opportunity in the voice-activated smart home assistant market, for instance. In fact, a recent report found that 72% of people who own voice-activated speakers use them as part of their everyday routine. Because of this rise in IoT-based systems, there's now need for a centralized, customizable way to interact with ubiquitous home technology—and for a platform that simplifies the user experience (UX) across platforms.
As consumers clamor for new functionality, companies are adapting to keep pace with market demands. Here's what data suggests about today's tech habits—and how they're shaping the smart home environment of the future.
Voice control
One telling study predicts that up to 50% of all search queries will be asked via voice command in just two years' time. In other words: it's a smart home staple that isn't going anywhere. Today, we are using voice control to access some of life's most basic information—virtually replacing our older habit of interacting directly with the devices around us or by text search. For example, typical voice control actions include playing music and checking the weather.
Comcast is one company answering consumer demand for voice-activated features. For instance, X1—a first of its kind entertainment platform—comes with Voice Remote navigability. Users are responding enthusiastically: In 2018, Comcast recorded an average of more than 600 million voice commands per month. In the third quarter alone, there were 2.1 billion voice commands across the network.
Voice-control technology is much more than a novelty—it's increasingly offering practical applications that continue to extend throughout the home. In October 2018, for example, more than 300,000 Comcast customers retrieved their wifi password simply by asking for it.
Convenience and speed
It's no surprise that today's consumers also display a need for speed. Gone are the days in which people will wait patiently for their apps or live-streamed games to load. They want their programming faster and more seamlessly than ever before. In fact, one report found that 53% of mobile users will leave if a website doesn't load within three seconds. And with a reported 127 new devices connecting to the internet every second, speed is more important than ever.
With speed as table stakes, data is also pointing to an increased demand for convenience. When it comes to these features, Comcast is leading the way. Xfinity customers, for instance, have access to more than 19 million wifi hotspots around the US. From 2001 to 2018, too, the company's fastest internet speeds increased from 1.5 megabits per second to a remarkable 2 gigabits per second (2,000 megabits per second) allowing customers to receive much more data in the same amount of time.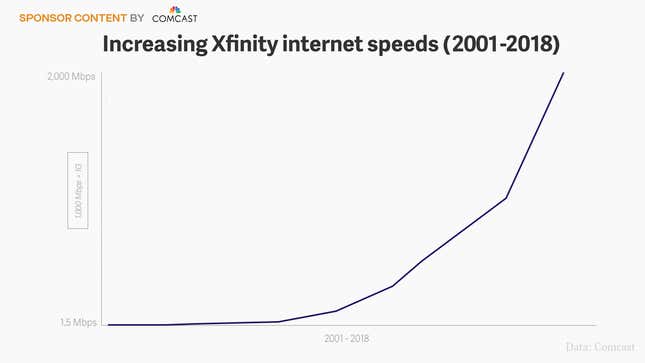 All these advancements mean greater potential for browsing, streaming, gaming, and generally streamlining every facet of your daily routine.
A visual, centralized IoT control center
This explosion of IoT home devices has made it essential for the user experience to be simple, personal, and flawless. Led by consumer demand for intuitive design, digital platforms are becoming both more visual and easier to use than ever.
One thing that hasn't changed is where consumers keep the technology that matters to them most: the living room. But now, it's become much more than a place for movie night. Research shows that consumers use voice-activated technologies most frequently in the common areas of their homes—making the living room the IoT control center.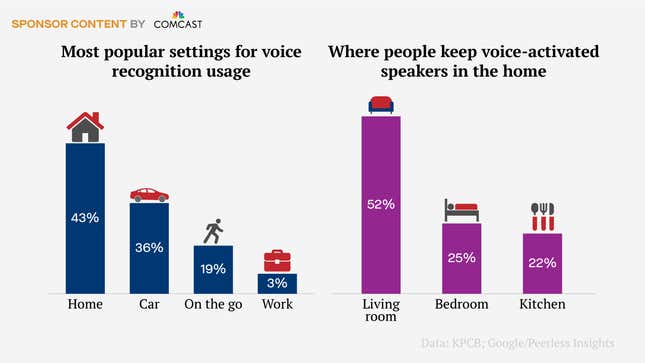 Comcast is centralizing the smart home experience by bringing all of your connected devices onto one primary access point and what remains the largest screen in the home: the television. Comcast is also partnering with a number of the most innovative smart home brands—such as Nest, Lutron, and August Home—to integrate them into the Xfinity Home platform and bring functionalities like lighting and security controls straight to your TV. This means that customers can check out the front door camera, close the garage, change the room's temperature, or pause the internet on their kid's tablet without ever leaving the couch.
With more connected devices than ever, Comcast has created xFi, a digital dashboard that personalizes, monitors, and manages all of the wifi-connected devices in the home. For example, customers can hit the "pause button" on their wifi networks quickly and easily—a feature that has been used nearly 10 million times to date.
xFi usage patterns suggest that it's satisfying consumers' needs for greater whole home control. 15 million xFi customers have introduced 311 million devices to their home networks since the platform's launch in May of 2017.
Moving forward, smart home ecosystems will be a collaborative product of consumers' preferences and technology platforms' ability to innovate. Companies that are trying to create the home environment of the future will need to solve the puzzle of connectivity's increasing complexity.
Comcast is shaping the future smart home ecosystem.