Boeing booked a personal best $95 billion in sales at the Dubai air show. It's a big win for the company at the heart of the US attempt to rebalance its economy and grow through exports—a strategy championed by President Barack Obama—and shows those efforts can boost an industry, but perhaps not its employees.
An export powerhouse
Led by Boeing, the United States is the top exporter of aircraft and parts, accounting for 36.6% of all trade in the sector in 2012, per the International Trade Centre. In June 2013, aircraft accounted for 7.5% of all US exports, a three-and-half-year high, according to US Census Bureau data. It was during that quarter that Boeing delivered 169 aircraft, the most since 1998, as part of the troubled roll-out of its Dreamliner 787.
Aircraft deliveries frequently dominate the trade balance with individual countries, as well. Qatar, which just ordered 50 of Boeing's latest airliner, the 777X, saw aircraft make up 81% of its imports from the US last January. The aircraft delivery bulge even effects the wealthiest economies: A third of April's exports from the US to France, some $895 million, were aircrafts and their parts, and 15.9% of trade with China in September, or $9.6 billion, were aircraft.
You can see this reflected in Boeing's own filings. Between 2000 and 2008, only about 40% of the company's sales came from overseas. Since then, they have steadily grown, and last year, 55.5% of sales, or $44.5 billion, were to clients abroad, particularly in Asia and the Middle East, where oil money and emerging markets are leading to more demand for civilian aircraft.
Subsidies boost sales…
One reason Boeing has been so successful overseas is the diehard support of the US Export-Import Bank, a government bank that provides cheap loans to foreign countries and companies seeking to buy US goods. The biggest recipient is Boeing. In 2009, an analysis by the Pew Charitable Trusts showed some 60% of the bank's long term loans in the 2007 and 2008 were for Boeing purchases worth $10.2 billion to the company, about 17% of its plane sales in those years.
Boeing's chief competitor, Airbus, takes advantage of similar financing, but US airlines, particularly Delta, complain the export credits give overseas airlines a better deal than them. And perhaps unsurprisingly, airlines and airline manufacturers disagree about whether the subsidies are hurting the industry by creating unused capacity, or if there is demand for aircraft that wouldn't otherwise be filled absent the government guarantee.
…but do they boost anyone else?
The other recent news about Boeing is its battle with the workers who will make all the 777x planes it just sold. The biggest source of US aircraft exports is Seattle, Washington, and many other cities that produce aircraft exports are shipping products made there: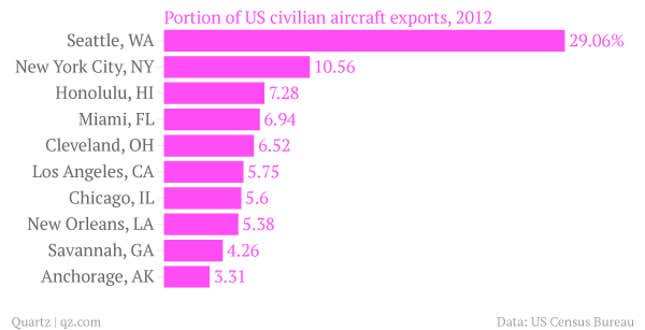 The 67% of the union that represents 30,000 Seattle Boeing workers voted to reject a contract offered by Boeing to build the 777X when it goes into production in 2017. The contract would have converted guaranteed-benefit pensions to a defined-contribution plan, limited raises to 1% every other year on top of cost-of-living adjustments, and delayed how long workers would reach the top of the pay scale. Their decision to reject the contract has other states with Boeing facilities but without unions—including California, Utah, Texas, and Alabama—scrambling to pick up the business, even as Washington state officials attempt to lure Boeing and its union back to the negotiating table.
Before the union vote, Washington passed a $8.7 billion tax break as part of its plan to keep production in Seattle. The advocacy group Citizens for Tax Justice reports that in its 10 profitable years from 2003 and 2012, Boeing was able to use tax breaks and credits to earn $1.8 billion in federal tax refunds, for a net tax rate of -5%.
While it is worth noting that the number of Boeing commercial airline employees has grown by 14,000 in the last five years to 81,328, moving its production facilities, though a boon for workers in the winning state, means that Boeing will offer worse jobs to American workers. Meanwhile, the reason cited by its lobbyists to protect the Export-Import bank and its tax breaks? Protecting high-quality aerospace jobs.