There are 268 items for sale on the Trump Organization's online store. Of those, 41 are made in the USA and listed in a separate section highlighting US goods. That means American products make up exactly 15.298507462686567% of the Trump Store's available merchandise.
During an April 2017 visit to the Snap-on-Tools headquarters in Kenosha, Wisconsin, president Donald Trump signed his so-called "Buy American and Hire American" executive order for US government agencies.
"With this action we are sending a powerful signal to the world," the president announced. "We are going to defend our workers, protect our jobs, and finally put America first."
The 41 US-made offerings in Trump's web shop are denoted by a small American flag icon. They include a Trump-branded football ($185), a 21-ounce jar of lavender-and-sandalwood bath salts ($25), and the "Trump Double Trouble pullover" ($150), which will  "quickly become your go-to item when an extra layer is required."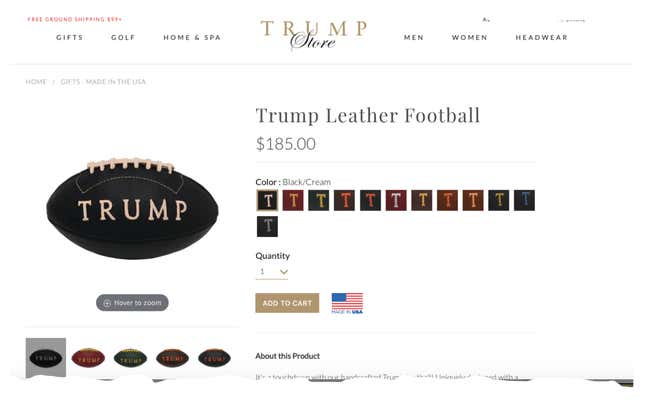 The other 227 products without the "Made in America" designation don't list their countries of origin. Some are easy to trace, like the set of two "exquisite" Riedel red wine glasses ($48). Made in Europe, Riedel describes the machine-blown glassware as part of its "starter" Degustazione collection and can be found elsewhere online for $4.99 each.
It's slightly more difficult to pinpoint the origins of other products not bearing the US-made mark, like the Trump "signature briefcase" ($150), which features a "highly durable nubuck leatherette body" and a "beautiful Trump crest 'coin' decoration on front"; chocolates that look like gold bars, stamped with "TRUMP" on top ($10); or the "unique and beautiful blade putter cover [which] is sure to become both a treasured possession and a conversation piece" ($50).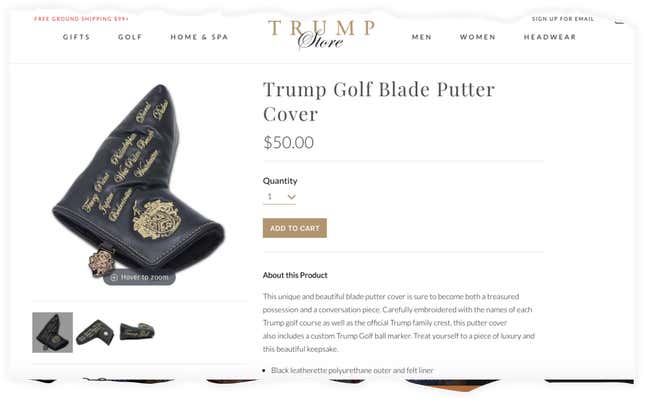 After Nabisco sent some factory jobs from the US to Mexico in 2016, Trump responded by saying he would no longer eat Oreos, a Nabisco product. His own products, according to a 2016 Washington Post investigation, are made in 12 foreign countries: China, Mexico, India, Turkey, Slovenia, Honduras, Germany, Bangladesh, Indonesia, the Netherlands, Vietnam, and South Korea.