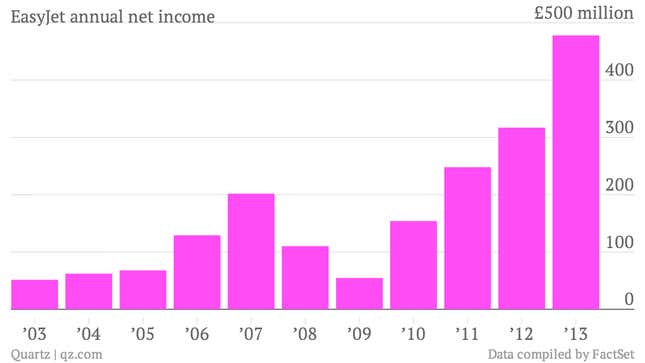 The numbers: Super budget airline easyJet reported yearly pre-tax profits of £478 million ($770 million), marking a 51% increase from last year. Revenue for the fiscal year came in at £4.3 billion, up 10.5% from last year. The company's shares are up sharply on the news.
The takeaway: EasyJet's profits per seat are soaring. The company made £7.03 per seat this year, 46% more than it did last year. Increased traffic coupled with the company's allocated seating policy, which allows flyers to book preferred seats in advance for an extra fee, has helped easyJet milk more out of its customers, and lure those who wouldn't fly with the budget airline if it were a free seating airline. As a result, the company has been able to attract the sort of customers other discount airlines have failed to—specifically "retirees, business passengers and families," CFO Christopher John Kennedy pointed out in the company's earnings call this morning.
What's interesting: As we have pointed out in the past, easyJet is getting more and more businesspeople to fly budget. That's largely because of allocated seats, flexible tickets and increased route frequency and more flights between key cities for less. Fares for every one of the company's top 20 business routes are currently cheaper than those offered by any other airline, CEO Carolyn McCall said in a statement. "About 80% of these routes easyJet offers at least a 30% average savings," she said. The budget airline lured 11 million corporate customers this year, up from 10 million last year. If businesspeople increasingly prioritize savings over luxury, easyJet will continue to set a precedent for how to serve corporate clients going forward. How long will it be before all airlines—in Europe at least—look the same?